Minoas Sky Villa Heated Pool – Chania, Greece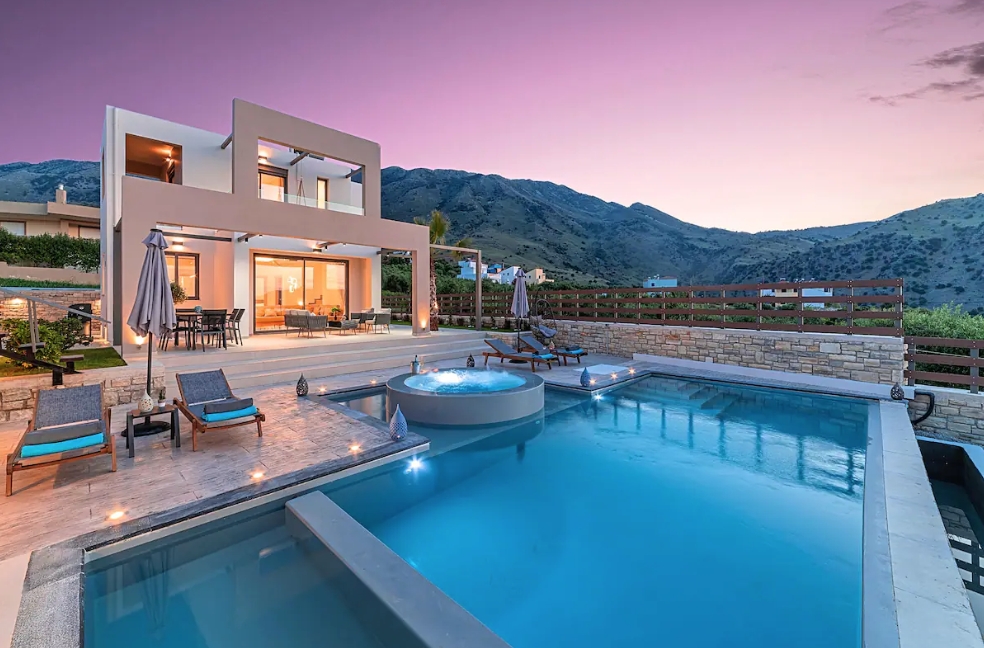 Anyone up for a private villa in Greece?
Located above the sun-kissed beach of Georgioupolis in Crete, Minoas Villas captures the essence of chic and luxurious living only a few minutes away from the shimmering sea. Along with a large living-dining room that opens up into the terrace and three gorgeous bedrooms, guests can enjoy a private heated swimming pool and jacuzzi overlooking the scenic mountains. After taking a dip, take a rest in the sun lounge area with its sun beds and shaded umbrellas.
Average Price Per Night: $316
Historic Villa and Trullo With a Private Pool – Ceglie Messapica, Apulia, Italy
Travel back in time to this historical villa in the countryside of Italy. Built in 1780 and named Trullo Fedele Bonotto, the villa has been fully restored but maintains its classic and timeless history among the centuries-old olive trees. Admire the historic stone walls, lounge in the private pool and solarium, and enjoy the beautiful garden area, all the while being immersed in the breathtaking countryside located close to the center of Ceglie Messapica.
Average Price Per Night: $350
Historic Guesthouse & Gardens by the Marietta Square – Marietta, Georgia, USA
Consider exploring the historic town of Marietta this summer with a beautiful garden oasis stay. The garden pool in the back is framed among towering oaks and magnolias, offering a serene and peaceful getaway from the rigmarole of life. Formerly the home of two Georgia governors since the 1800s, the property is also overflowing with Southern charm and history. With the pool, spa, cabana, and fireplace, this rental is brimming as an ideal romantic getaway or restful retreat this summer.
Average Price Per Night: $160
SkyHouse Joshua Tree: Private Villa with Pool/Spa – Joshua Tree, California, USA
Live in luxury like Hollywood stars in this private, award-winning home. A pretty house calls for some pretty gigs, and SkyHouse has been featured in films such as Andy Samberg's Palm Springs, national ad campaigns, fashion shoots, and music videos. This signature architectural and inspirational hideaway is perched on eight private acres in the heart of Joshua Tree, with direct walk-on access to the Desert View Conservation Area of Joshua Tree National Park and only a four-minute drive to the center of Joshua Tree with restaurants, coffee shops, yoga studios and more.
It's truly the expansive 1800 square-foot outdoor deck that hits it home, featuring multiple integrated gardens while framing a saltwater pool and hot tub. There's also an oversized 10-foot-long fire pit for staying warm under the vast stars and relishing in the unobstructed views of the valley and snow-capped Mount Gorgonio.
Average Price Per Night: $500
The Wave Twin 1 Infinity Villa – Kathisma Beach, Greece
With it being less than two years old, this modern villa overlooks the west coast of Lefkada for a breathtaking visual spectacle of the sea and sunset. I mean seriously, can you imagine relaxing in this pool during golden hour and sunset? What's even better is when you're not in the pool, you can take a short five-minute walk to the famous Kathisma beach.
Average Price Per Night: $432
Amazing 6BR w/ Gym,Massage Room & Yoga Shala – Kecamatan Ubud, Bali, Indonesia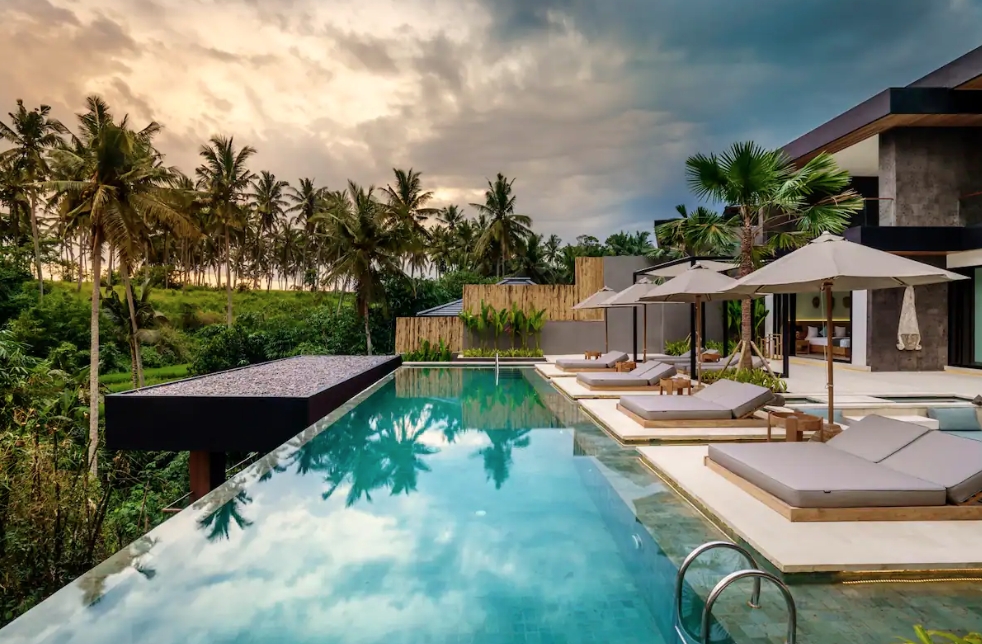 If you're going to make the trip halfway around the world, let's at least make it worth it. This private getaway seems to encapsulate all that is great about Ubud, boasting six bedrooms located in different, spread-out areas of the house for enhanced privacy. Along with offering a gym, massage room, yoga shala, and a "secret" passageway that leads to a private enclosure full of 180-degree views of the lush rainforests, there's also a jungle-view infinity pool. If you want to lounge by the jungle oasis pool all day without getting out, anyone who stays here is also offered a personal butler to ensure you get to live in luxury. Gather your crew or family and take on Bail this summer.
Average Price Per Night: $763
Stunningly Renovated 4 Bed Private Riad & Pool – Marrakech, Medina, Morocco
When you're not out exploring the idyllic deserts of Morocco, lounge back at a private interior luxury pool. Located near Dar el Bacha, a lovely quiet and central area within the Medina, this private home's courtyard swimming pool is placed in the center of all four en suite bedrooms. Decorated with ancient treasures and African antiques, the space also offers four living spaces including a rooftop terrace and outdoor dining area, four fireplaces, and an outdoor shower on the roof.
Average Price Per Night: $276
Casa Herdz-Heaven In The Caribbean – Aguadilla, Puerto Rico, USA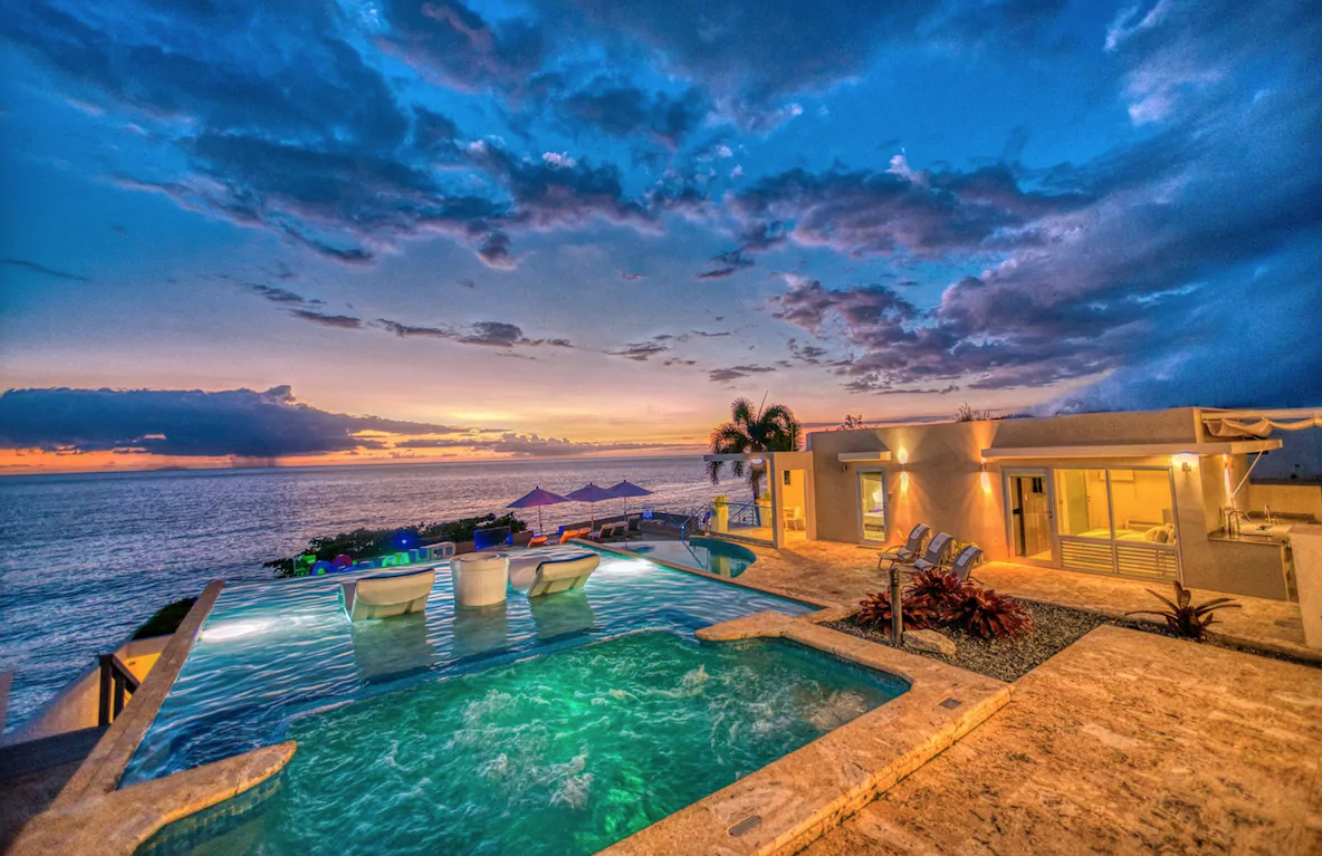 With sweeping sunset views that look like this…count us in. Located on the northwest coast of Puerto Rico, over 16 guests can comfortably indulge and enjoy the tropical paradise found at this private oceanfront landscape. Luxury has fully taken over the home throughout its seven bedrooms and eight bathrooms, allowing the family and all of the friends to float away with the sea.
Average Cost Per Night: $1,900
Villa Royale: Majestic Frontline Beach Mansion – Estepona, Andalucía, Spain
We already know that Spain and luxury go hand-in-hand and with an actual mansion available for booking, no detail was left untouched, including the pool. Fit for a prince, the mansion is exquisitely adorned with chandeliers and gold trimmings all throughout its rooms. The huge swimming pool is cast among its jacuzzi counterpart, where guests can lay out on the sunbeds and look out into the Mediterranean Sea.
As if that weren't enough, there's also a sauna, hammam, bar with a whole dancing and lounge area, and beautiful, vast gardens that lead to a quiet, almost private beach.
Average Price Per Night: $2,461
Chalet GM – Brand bei Bludenz, Vorarlberg, Austria
Everyone knows a Chalet is perfect for direct access to the mountains, but little did we know that it comes with a scenic alpine-colored pool. If you're looking for a true nature escape alongside recreation and comfortable privacy, this is the place to be. Located on a mountainside near the village center of Brandnertal, this chalet truly allows you to sleep – and swim – with the mountains. Built from a composition of natural materials, guests will be blanketed with warm wood all throughout the house, full of fresh alpine atmospheres.
The open deck leads out to the pool and hot tub that hold 360-degree views of the surrounding mountains, putting you closer in touch with the serene nature and elements.
Price Per Night: $1,482
Two Br Luxury Peaceful Mylo Villa w/ Living Room – Milopotas, Greece
Located on a secluded spot on the island of Ios – two minutes from the island's most famous beach of Mylopotas – guests will enjoy the finer things in life at this luxury Aegean villa. Having incorporated natural elements into its design, the villa offers an ultra-modern aesthetic with futuristic characteristics, full of floor-to-ceiling windows and an open living room and terrace boasting panoramic views of the sea and the mountainous hills.
Swimming in the pool at night will serve a starry-eyed delight due to the villa's more remote location, so you can go swimming in a sea of stars while floating atop the water.
Price Per Night: $851
EDITOR'S PICK — The Onyx House: Secluded Villa, Pool & Yoga Deck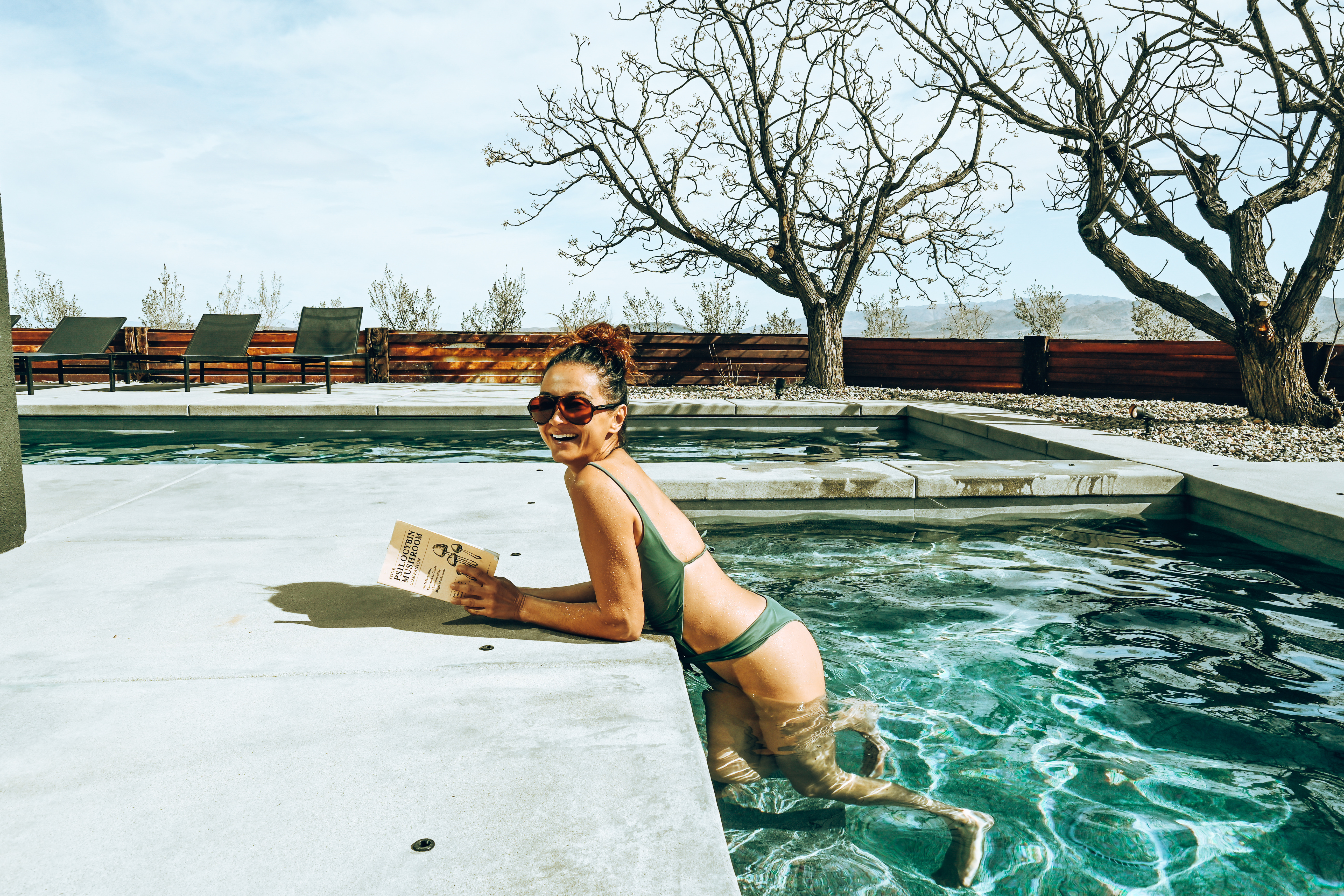 As I've written before, this is my favorite pool on the sexiness scale. It's concrete and saltwater and the deck isn't slippery and it just generally feels like it's an ideal place for lounging in super sexy swimsuits with the occasional dip mixed in. The home is incredibly private and quiet and — I swear — if you can find me a more well-appointed Airbnb, where you really think "wow, this team didn't miss a thing," I'll be shocked.
Plus the hot tub is enormous. And oh, those Joshua Tree night skies. Yeah, if you have "secluded summer getaway" longings, this is the place.
Price Per Night: $641