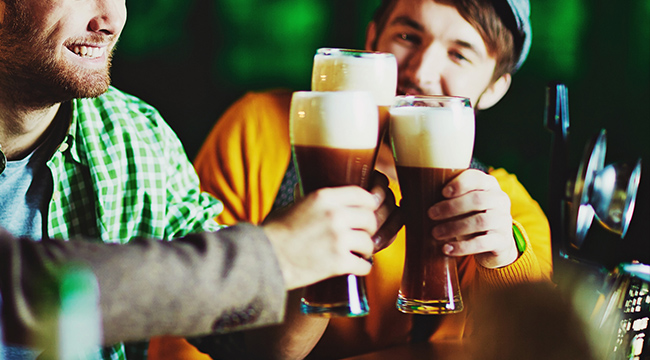 It's almost impossible to spend time in Dublin and not hit a pub or two. Pub culture, pub grub, and beer dominate the local scene. Over the past decade or so, that culture has moved away from the macro and deep-fried fast food version of everything towards the local, seasonal, and sustainable bounty that Ireland has to offer the food and beer lover.
Tiny breweries have popped up all over Ireland and Dublin is the epicenter of this new movement. Finding the best pub or beer bar in Dublin is not that difficult. A stroll through the ancient city streets is all you really need to do. If you see a pub overflowing with locals all holding pints of beer, chances are it's a great spot. If you need a place to start, we have ten can't-miss opportunities to start your beer-fueled journey across Dublin. Dip in, order a beer or two, eat fish and chips, and strike up a conversation with a local. It'll be a blast.
P. Mac's
P. Mac's is a pretty standard pub which just so happens to have a fantastic beer selection. This place is cozy and convivial. It'll be almost impossible not to make new friends here, especially if you're into beer.
The beer selection is broad. The tap list ranges from local specialties from Dublin brewers to well-curated bottles from California to Belgium. Our recommendation is to ask the bar staff about something local, find a table with a big ol' candelabra with dripping red wax, and settle in for a long drinking session.

L. Mulligan. Grocer.
L. Mulligan. Grocer. is one of our favorite places to eat local and seasonal Irish food and drink great Irish beer. The gastropub has a chill vibe that marries cozy wooden paneled bar with a comfy living room at a friend's house. Then there's the food. Their Scotch Egg is a fabulous example of the dish. The Irish beef and lamb shines with an array of on-point seasonal vegetables. And definitely don't sleep on their in-house made black pudding (blood sausage).
All of the food at L. Mulligan. Grocer is expertly paired with their beer list. There are around 20 taps of some of the best Ireland has to offer with a few German and American beauties peppered in for good measure. There's also a very long list of bottles that highlights the best beers being bottled from around the world. This is, without hyperbole, a food and beer lover's wonderland.
The Brew Dock
The Brew Dock is part of the Galway Bay Brewery network that has pubs all over Dublin and Ireland thanks to their stellar beer. The bar is a little more post-modern when compared to the classic pub — which is a nice change of pace.
The 20 plus tap list ranges from local brews from Stone Barrel, Tempest, Thornbridge, Trouble, and Galway Bay to greats from the U.S., Belgium, and Germany. This is a place where you go to sample the best of the best right now while noshing on a killer plate of fish and chips.
The Bull & Castle
FX Buckley's The Bull & Castle is where amazing Irish beef meets delicious Irish beer. While most people will hit this joint for their expertly aged cuts of beef and their beautifully lush seafood chowder, it's the beer that really rounds out the menu. The whole place has a very steakhouse-by-way-of-a-pub feel to it, with long wooden tables and leather booths.
The beer list here is curated to stand next to big slabs of meat. O'Hara's local craft brews are usually on tap alongside a constantly rotating list of seasonal brews from the region. You'll have to ask what's on as the taps as they can rotate fast. Then there's a wonderfully selected bottle list of small breweries from all over the island. Each bottle shines and is worth a little exploration between bowls of delicious chowder.

Camden Exchange
Camden Exchange toggles between modernist and hip. The space is covered in very Instagrammable murals, making it a chic spot where the beer flows freely. There's a small but well thought out food menu, which leans local and seasonal. There's also a very on-point cocktail scene here as well. It's kind of the best of all worlds.
The beer list changes continually according to the season and what's available around the country at that moment. Then there's a long list of cans and bottles that'll fill in any gaps from the Irish scene. Once you start digging into their beer menu, it'll be easy to spend a whole day or night at Camden without really even thinking about it.
The Long Hall
The Long Hall Pub is a classic establishment steeped in James Joyce. This is the sort of place that you likely have in your mind when you think of Irish pubs: Cozy, dark, leaded glass, and a lot of Guinness and whiskey. Hell, there are even muskets on the walls next to old oil-paintings of the landed gentry. All of that aside, this is a great place to while away the hours drinking beer.
Literary history is rife at the Long Hall and so is the Guinness. The pub is often cited as the best place to drink a pint of the dark stuff as they pull the pints just right. This might seem a bit persnickety but, trust us, there's a right way and a wrong way to pour a Guinness. The Long Hall gets it right every single time. So, settle in, order a Guinness, and get ready to make new friends while you argue the merits of Joyce's work.
The Beer Market
The Beer Market is also part of the Galway Bay Brewery chain. Don't let that stop you from hitting this place up. The Beer Market is one hell of a good time when it comes to meeting new people and drinking copious amounts of beer.
The 20 taps hit on the best Galway Bay has to offer and then dives into the best of Ireland and Europe. This is the sort of place you dip into for a quick pint and then next thing you know you've ordered some chicken wings and settled in for the long haul. Then, after three or four more beers, you'll find yourself ordering some nachos because you just have to know what Irish nachos taste like. More beer will follow along with good times and new, beer-loving friends.

Taphouse
Taphouse is just a good time. The bar is surrounded by walls of books and a lively crowd of locals looking to get a little tipsy. The food is well thought out and hits that sweet spot between crafty and comforting.
The beer list is stellar. There are seven Irish craft beers on tap at all times. That selection is supported by well-cellared bottles from all over the island and Europe with a few American greats thrown in too. This is a great place to spend a whole night reveling in the greatness of Irish craft beer.
57 The Headline
57 The Headline melds a classic pub experience with great craft beer. The vibe of this place is all about chilling out and drinking beer with some friends. There's no rush here, which allows you to really dig into the fantastically curated beer menu.
There are 14 standard taps that feature 12 beers from around Ireland, plus one American and one German beer. Then there are ten more rotating taps that generally feature barrels from around Ireland, Germany, England, and Belgium — all of which will be the best of the best. The bottle and can list is seriously deep and fills any gaps that you'd be looking for when it comes to tasty suds.

The Open Gate
Guinness reigns supreme in Dublin. With good cause, a pint of Guinness is one of the best ways to drink beer. The Open Gate is for the master brewers at Guinness to explore new and old recipes and find the best of the best and serve it up to the public.
A trip to The Open Gate pub at St. James Gate will introduce you to all the wonders of the Guinness brewing empire. Their Hop House 13 Lager, Timmerman's Lambic & Stout, and Citra IPA are but a few of the delicious beers on tap from Guinness at The Open Gate. This really is the ultimate in old meets new beer experiences in Dublin that's wholly unique. In short, don't skip this one.