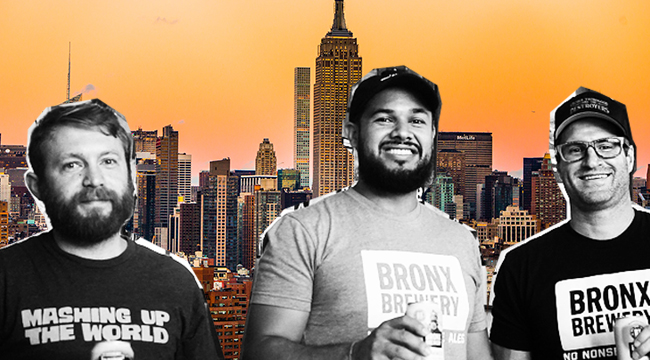 Welcome to Beer This City! If you dig Eat This City, Meet This City, and Drink This City but have always craved more beer-ness, then this column is for you. We're talking to brewers to get an in-depth look at the best places to pair amazing beers with exciting food in different cities around the world.
The Bronx Brewery makes no-nonsense ales. Established in 2011, and located in the heart of Yankeeland in the South Bronx, the brewery strives to carry the characteristics of the borough it resides in. Its stated values are "Grit, Drive, and Union" — three qualities which are deeply embedded in the BX's communal psyche. By tethering themselves to the identity of their borough, brewers Manny Salvatori, Brandon Espinosa, and Damian Brown have made a name for themselves — creating renowned beers like Strobe Light Gose, No Resolutions IPA, and City Island Sour IPA.
The trio was kind enough to answer some questions about their favorite Bronx watering holes, breweries, bars, and brewpubs. Grab a pint and check out all of their answers below.
Favorite Neighborhood Brewery/Taproom – Bronx Ale House
Damian Brown, President and Co-Founder
Bronx Ale House. For this one, I've got to go back to the first place we ever delivered a keg to … the Bronx Ale House. A place that just fits the neighborhood; great food, great beer selection, and always packed!
Say hi to James and the team when you stop by!

Favorite Bottle/Can Shop – Bricks & Hops
Manny Salvatori, B-Tracks Series Lead Brewer
Bricks & Hops. Easily one of the best beer spots in all of the South Bronx, and one of my favorite places in the borough. It's technically a beer garden, but they sell cans of some killer stuff. There's also this great mural in the back of the space, not to mention a beer garden if you decide to hang around a little before taking your beer away.
Favorite Dive for Beer – Stan's Sports Bar
Brandon Espinosa, GM of Taproom & Events
My favorite dive bar for beer in the BX is Stan's Sports Bar on River Avenue. It's less than a block away from Yankee Stadium and offers a bunch of mainstream beers, but also carries a few craft beers. This is the perfect spot to pre-game before heading in. While you're there don't forget to ask for the American Pale Ale or No Resolutions IPA, and join the Yankees faithful as you put back some cold ones without breaking the bank.
Favorite Hotel Bar for Beer – Marriott Residence Inn
Manny Salvatori, B-Tracks Series Lead Brewer
Marriott Residence Inn. The hotel bar scene in the BX isn't quite the same as it is across the river — in that hotels are mainly for people coming in from out of town — but this place is pretty great if you ARE coming in from somewhere else. Or, I guess, if you have a long day at the Bronx Zoo?