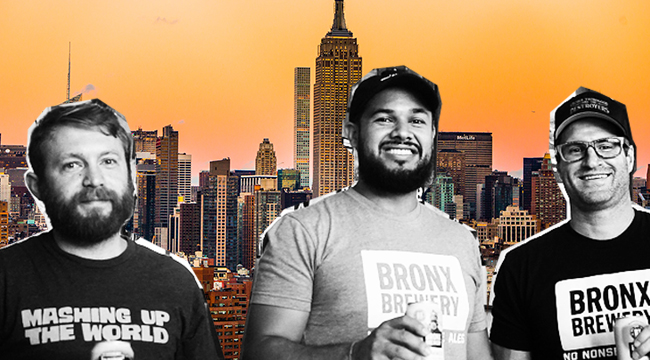 Welcome to Beer This City! If you dig Eat This City, Meet This City, and Drink This City but have always craved more beer-ness, then this column is for you. We're talking to brewers to get an in-depth look at the best places to pair amazing beers with exciting food in different cities around the world.
The Bronx Brewery makes no-nonsense ales. Established in 2011, and located in the heart of Yankeeland in the South Bronx, the brewery strives to carry the characteristics of the borough it resides in. Its stated values are "Grit, Drive, and Union" — three qualities which are deeply embedded in the BX's communal psyche. By tethering themselves to the identity of their borough, brewers Manny Salvatori, Brandon Espinosa, and Damian Brown have made a name for themselves — creating renowned beers like Strobe Light Gose, No Resolutions IPA, and City Island Sour IPA.
The trio was kind enough to answer some questions about their favorite Bronx watering holes, breweries, bars, and brewpubs. Grab a pint and check out all of their answers below.
Favorite Neighborhood Brewery/Taproom – Bronx Ale House
Damian Brown, President and Co-Founder
Bronx Ale House. For this one, I've got to go back to the first place we ever delivered a keg to … the Bronx Ale House. A place that just fits the neighborhood; great food, great beer selection, and always packed!
Say hi to James and the team when you stop by!

Favorite Bottle/Can Shop – Bricks & Hops
Manny Salvatori, B-Tracks Series Lead Brewer
Bricks & Hops. Easily one of the best beer spots in all of the South Bronx, and one of my favorite places in the borough. It's technically a beer garden, but they sell cans of some killer stuff. There's also this great mural in the back of the space, not to mention a beer garden if you decide to hang around a little before taking your beer away.
Favorite Dive for Beer – Stan's Sports Bar
Brandon Espinosa, GM of Taproom & Events
My favorite dive bar for beer in the BX is Stan's Sports Bar on River Avenue. It's less than a block away from Yankee Stadium and offers a bunch of mainstream beers, but also carries a few craft beers. This is the perfect spot to pre-game before heading in. While you're there don't forget to ask for the American Pale Ale or No Resolutions IPA, and join the Yankees faithful as you put back some cold ones without breaking the bank.
Favorite Hotel Bar for Beer – Marriott Residence Inn
Manny Salvatori, B-Tracks Series Lead Brewer
Marriott Residence Inn. The hotel bar scene in the BX isn't quite the same as it is across the river — in that hotels are mainly for people coming in from out of town — but this place is pretty great if you ARE coming in from somewhere else. Or, I guess, if you have a long day at the Bronx Zoo?
Anyway, the bar's strong, and the outdoor space is great!
Your Favorite Beer Bar (that's not a brewery) – Yankee Stadium
Damian Brown, President and Co-Founder
Yankee Stadium. Okay, so it might not be a "traditional" bar, but it's a whole lot of bars surrounded by the world's greatest baseball dynasty. Anyways, you can get our Summer Pale Ale, No Resolutions IPA, Well Earned Pilsner plus a bunch of the world's largest beer company's stuff there, so, yeah, it's got to be on the top of the list.

Favorite (Fancy) Restaurant for Beer – Zona de Cuba
Manny Salvatori, B-Tracks Series Lead Brewer
Zona de Cuba, in the Grand Concourse. It's new, but it's incredible. I always feel like the best places in NYC (ironically) transport you somewhere else, and it's hard to find a place that does it better than Zona. Get off the elevator, and bam, Havana…10 stories above the streets. It's another irony that the more attention to detail a place has, the simpler it all feels. From the food to the furniture to the tap list, it's hard to find a more vivid experience in NYC right now.
I'll even wear long pants to go here.
Your Favorite Place To Eat Pizza and Drink Beer – Nobody's Pizza
Brandon Espinosa, GM of Taproom & Events
You can't go wrong with Nobody's Pizza on Alexander Avenue. Thin crust Italian pizza made with some of the finest ingredients, paired perfectly with a cold draft beer. This is the perfect place to go for lunch, a date, or even to watch a game. If pizza is not your thing, they have a bunch of other menu offerings to choose from. In the summertime (or whenever), what's better than great pizza and beer!?
Favorite Brewery/Taproom Run By A Friend – Port Morris Distillery
Brandon Espinosa, GM of Taproom & Events
Port Morris Distillery is my favorite taproom run by a friend. The colorful decor and accents in their taproom remind me of being back in Puerto Rico. When you get there, you'll get an outstanding, curated selection of craft distilled spirits and some craft beers from local breweries. Get the Pitorro, and don't skip out on the food. They've got awesome pub fare that will, without a doubt, satisfy your hunger. Be sure to ask for a tour while you're there, too. And if you go on a Friday or Saturday, there is a great chance that they'll have some sort of cultural programming going on, so check out their schedule beforehand. Cheers!