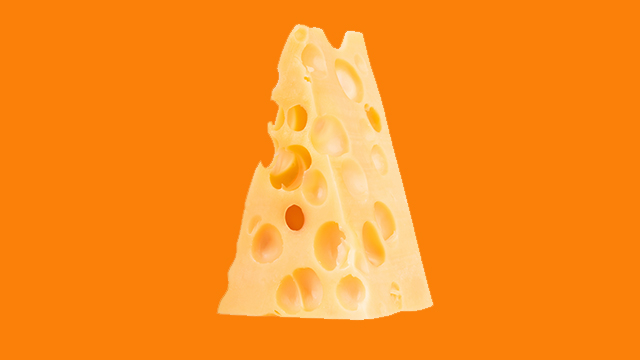 Is there a best cheese in the world? We're not too sure about that. For one, cheese is incredibly versatile. From super soft fresh mozzarellas to the funkiest of Stilton to creamy and nutty Gouda, there's just too much going on to call one better than another. Still, there are cheeses that transcend culture and place to become almost universally beloved. The cream of a creamy crop.
We figured it was high time to find out which cheese people truly love most. So we popped over to Ranker to find out what kinds of cheese people are really into. After nearly 75,000 votes a very clear top ten emerged and, we gotta say, it's hard to argue with the list. So rather than bicker, we decided to share our favorite types for each cheese to make the top ten.
Did your favorite cheese make the cut? You're going to have to scroll down to find out.
10. MONTEREY JACK
This California specialty was invented by monks who missed their European cheese from back in the old country — usually Spain. The semi-soft, white cow's milk cheese has become a major player on the American cheese market, with its inclusion in the Tex-Mex culinary world and the varying styles ranging from pepper jack to Colby and beyond.
Recommended Cheese: Tillamook Monterey Jack Cheese ($4.49) was voted the best in the country. So, yeah, go with that.

9. PROVOLONE
Provolone is a classic cow's milk cheese from the Vesuvius region of Italy. The cheese varies from young and piquant to aged and sharp with sweetness varying as well. Then there's the smoked variety which kicks ass. This is a great cheese that adds flavor and texture without overwhelming cheesiness.
Recommended Cheese: Grab a brick of Cremona Mild Provolone D.O.P. ($6.69). The original from Italy will give you a good foundation to the greatness that is provolone.
8. GOUDA
Gouda is from a small town called Gouda in the Netherlands. As with a lot of cheese, the taste and softness/hardness depends on how long it's been aged. No matter the aging, it's always smooth and nutty with a nice creaminess.
Recommended Cheese: Van Kaas Dutch Gouda ($5.29) is the best place to start with this Dutch cheese.
7. FETA
Feta's a crumbly cheese that's a little sour and funky. It's great with lamb. It's bright and earthy. It's made from sheep or goat milk, or a combination of that milk in Greece. The cheese is then brined, adding an extra layer of umami to the whole affair.
Recommended Cheese: Kryssos Traditional Feta Cheese ($5.23) is a funky and creamy cheese that'll help you fall in love with the farmhouse cheese.

6. GRUYÈRE
Hailing from Switzerland, the hard yellow Gruyère is a great melting cheese. When it's young, it's creamy and nutty. As it ages the creaminess gives way to a dense savoriness. Melt it on a Croque Madame or into a kettle of fondue and you've got yourself a fantastic cheese-based meal.
Recommended Cheese: Grab an Alpine cave-aged Grand Suisse Imported Swiss Gruyere ($12.99) brick and whip up some fondue ASAP.
5. SWISS
Swiss cheese is the Americanized version of the Swiss cheese Emmental (sometimes Emmentaler). Bacterias are added to the cheese to create carbon dioxide which creates 'eyes' or large holes in the cheese. The bacterias also give the semi-hard cheese that distinctly slight funk that makes it a classic.
Recommended Cheese: Kerrygold Swiss Cheese ($3.95) from Ireland is a great representation of the mild style.
4. BRIE
Trapped inside a rind of white mold is a creamy, gooey, piquant cheese for the ages. France's Brie is a wonder of (good) bacteria and molds that allow a truly spectacular cheese to grow. Make sure to let this one get to room temperature before you serve to assure that it's as runny (read: delicious) as possible.
Recommended Cheese: Excellence Imported French Brie ($8.03) is a funky, creamy cheese that'll stink up your fridge but delight your taste buds.

3. SHARP CHEDDAR
This English cheese from the town of Cheddar is a dominator when it comes to cheese. In grilled cheese sandwiches, on cheeseburgers, on nachos, or just on its own, this is a versatile cheese. A nice sharp cheddar is a well-aged hard cheese that leans into its piquant notes as much as its creaminess.
Recommended Cheese: Tillamook Extra Sharp Yellow Cheddar ($7.18) is aged for 15 funky months and voted 'America's Best.'
2. PARMIGIANO-REGGIANO
Parmesan from Italy is so widely used that it's not surprising to see it ranked so high. How often has anyone eaten pasta without putting parmesan on it? This is an umami hard cheese that's a perfect seasoning for your pasta but also wonderful on its own with a tart beer or dry white wine as accompaniment.
Recommended Cheese: Vivaldi Imported Parmesan Reggiano D.O.P. ($8.49) should be in your fridge right now.
1. MOZZARELLA
Another Italian classic comes in at the top. The cheese that tops every single pizza in the world deserves the number one spot. If you've eaten a pizza (and you likely have), then you've eaten mozzarella and loved it. This is the cheese of cheeses that we all know and love. What more is there to say?
Recommended Cheese: Vivaldi Mozzarella di Buffalo D.O.P ($8.89) is the delicate and creamy mozzarella of your dreams.