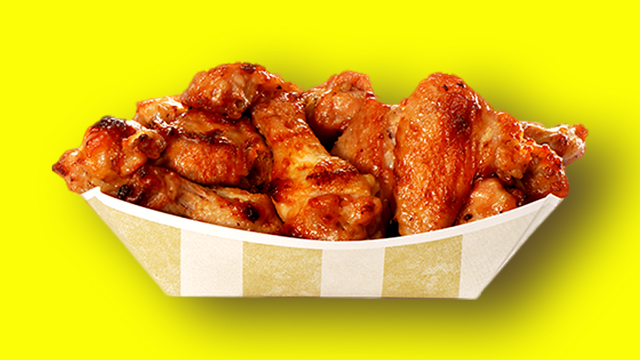 Chicken wings are kinda the best. They're small delivery systems of savory, sweet, and spicy flavor. Throw some in a deep frier and then toss them in a great sauce … Brilliance. But deep frying food at home is a pain in the ass. Wings are something we tend to go out for. Hence almost every fast casual has an assortment on their menus and even pizza delivery has gotten in the game.
So where can we get the absolute best wings in America? To complete this masterful task we have to take a few things into consideration:
First, let's set aside the classic fried chicken joints — we can't have Popeye's winning every chicken-related competition.
Next, let's just focus on the fast food and fast casual wing-heavy places that are mostly nationwide. That way you'll have a chance to actually try these wing joints.
Third, let's stop talking about it and rank some wings.
10. Domino's
When it comes to wings Domino's > Papa John's. Where Papa John's wings get a bit sloppy, Domino's tend to be crisply fried and simply dressed in hot sauce. There's not a whole lot going on otherwise. These are the sorta wings you order as an afterthought like, "Sure, fill up a pizza box of wings for me too, YOLO."
9. Cheesecake Factory
If we're talking fast casual, The Cheesecake Factory is the mountaintop. Sorry TGI Fridays and Applebees. So long Ruby Tuesday. The Factory (that's what the restaurant's acolytes call it, right?) buffalo wings are perfectly suitable as an appetizer. They're crispy and saucy like any good buffalo wing. And that's about it. They aren't mind-blowing or transcendent. They're just good — if you can find them on The Factory's (we're sticking with this one) insanely deep menu.
8. Pizza Hut
Pizza Hut is one of those pizza chains where the wings aren't an afterthought. The main reason being that they're more creative with the saucing options. Their seven flavors are good wing options in general. Spicy Garlic, Hawaiian Teriyaki, and Cajun Style are among the best ways to get down on some Pizza Hut wings.
7. P.F. Chang's
Back in the fast-casual world, P.F. Chang's dominates the wings selection. Dragon Wings are tasty AF. These are some of the better-dressed wings on this list with a great spice matrix of cayenne, soy sauce, orange, ginger, garlic, sesame, and sweet brown sugar. Add in a pretty decent bar to the mix and you've got a great place to eat some delicious wings during happy hour.
6. Buffalo Wild Wings
If you're going out for wings, BWW seems like the second option you'd settle for when you find your favorite wing joint is closed. Don't get us wrong, the wings are perfectly fine here — it's what they do best after all. The Thai Curry wings are legit tasty. But there's a bro-culture you have to deal with at the bars — which, meh. And the wings are just … pretty okay.

5. Wing Zone
This is where wings start getting more serious. Wing Zone's locations mostly fall east of the Rockies where they fry up some serious wings that'll satisfy your appetite for small pieces of deep fried chicken. Their Lemon Zinger and Garlic Parm flavors shine brightest alongside a pile of potato wedges. Their Nuclear Habanero Buffalo Wings pack enough kick to put a full-grown buffalo down in the dirt.
You'll need a lot of napkins for all that sweat that'll be rolling off your brow, bro.
4. Anchor Bar
This is where it all started. Buffalo Wings were invented at this Buffalo, NY bar back in 1964. The Buffalo Wings from Anchor Bar started it all so they get some respect on this list, even though you can only get them in New York, Virginia, Texas, and California as of now. The wings are deep fried with a great sauce that has echoed through the ages. If you're near an Anchor Bar, it's absolutely worth dipping in for an order of the world's most famous chicken wings.
3. Hooters
Hooters are everywhere. And, you know what, their wings are actually good. They hit the mark with perfectly crispy wings, dressed in a tasty sauce that doesn't make the wings lose their crunch. Their Signature wings and Daytona Beach wings stand out as great additions to the wing pantheon. Plus, they serve bacon-wrapped wings for maximum #YOLO. Bacon plus wings equal very, very good.

2. Wingstop
Wingstop is everywhere as well. Their wings are near perfection. The crispily fried aspects of Wingstop's wings is tasty on its own but it's their sauces where things really start to shine. Habanero Mango is sweet and spicy in all the right ways. Cajun, Louisiana Rub, Hickory Smoked BBQ, and Teriyaki all hit the mark with deeply rooted flavors that wonderfully accent the crispy wing underneath. These are great wings.
1. Bonchon
Bonchon started out as a hometown fried chicken wing joint in Busan, South Korea. The wings were so delicious, Bonchon quickly spread across American, Asia, and the world. The wings are perfectly fried to crisp perfection and then dressed simply with heavy doses of umami and spice, alongside whispers of sweetness tying the whole wing together. Bonchon is the type of place that you may have never thought of going to. But once you eat there, it'll be the only place you'll ever want to go back to for all your wing needs.