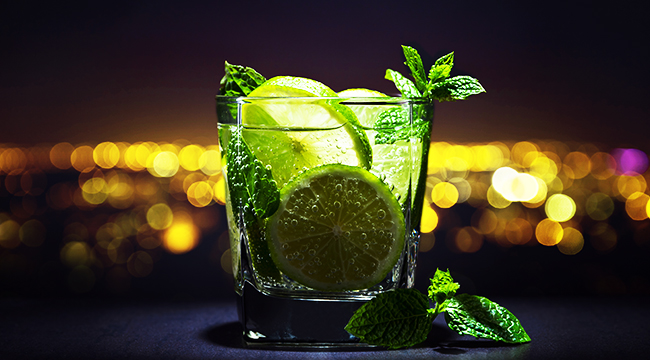 April 9th is a special day, and not just because it's National Cherish An Antique Day (although that does seem like a pretty rowdy holiday), but because it's also a day for fans of the magical combination of gin, tonic water, and lime to have their day in the sun. That's right, it's National Gin & Tonic Day, folks. If you're not a fan of the juniper-based, botanical-infused spirit, you might not have circled this date in your planner. The rest of us, however, are already planning tonight's happy hour.
There are few drinks more adapt at bridging the gap between winter and spring than the classic Gin & Tonic. It's fresh, effervescent, and packed with citrus and herbal flavors. Plus, if you get tired of gin, tonic, and lime, the drink is easily adaptable to any palate. Hence the existence of the Spanish Gin Tonic — with its ingredients like cucumbers, peppers, and herbs.
Like us, bartenders celebrate this important rite of spring by mixing up their own versions of the iconic drink. And some of the masters of the cocktail were kind enough to tell us their favorite gins to do so. Check out all of their answers below.
Plymouth Gin
Sally Gatza, head bartender at L.A. Jackson Bar in Nashville
"For me, it's less about the gin and more about the tonic. Any high-quality gin is going to be masked by a super bitter, unbalanced tonic. There are some great things out right now that are very easy to find. Fever Tree tonic or if you want to really blow it out of the water (literally), try Jack Rudy tonic syrup with Plymouth Gin."

Gray Whale Gin
Alicia Ajolo, the beverage director at Terranea Resort in Rancho Palos Verdes, California
"I love Gray Whale Gin – it's fresh and vibrant and all the botanicals are beautifully balanced. And, a portion of their proceeds are donated to their namesake — what else could you ask for?"
Ford's Gin
Crystal Pavlas, head bartender at Bywater American Bistro in New Orleans
"Ford's Gin hands down. It's easy to use this brand of gin because it mixes so well. It has the perfect balance of spices, citrus, and botanicals. Plus, it was created with bartenders in mind, the bottles are reusable."
Dorothy Parker Gin
Alli Torres, Bartender at Refinery Rooftop in New York City
"My favorite gin to work with right now is a local one from New York Distilling Co; Dorothy Parker. It has some fun botanicals that really pop when mixed with a strong tonic. Highlighting the elderberries and cinnamon in the recipe, I like to use Q-Indian Tonic with a cracked cinnamon stick and a slice of pear in my Gin & Tonics. It's so clean and delicious, it doesn't need much to showcase the flavors."
Castle and Key Gin
Nahm Kim, beverage director at Sunda in Chicago
"Castle and Key makes a ridiculously good gin. So good it makes me want to deconstruct and reimagine different types of tonics to pair it with to see what flavor profiles would emerge within. With gin makers recognizing and utilizing regional ingredients to put their own geographical fingerprints on their products, I'm enjoying how gin is developing different types of accents from all over. Kentucky should be proud of this one."

Nolet's Silver Gin
Amir Babayoff, head bartender at Ophelia in New York City
"My favorite gin depending on the season. With spring approaching, Nolet's silver gin would be my choice for a gin and tonic, A la Espanola style with enhancement of its natural botanicals like: Raspberries, peach and Moroccan rose. I like to throw in a few strawberry slices, rhubarb and lemon wheels."
Gin Mare
Gavin Koehn, bar manager at Otoño in Los Angeles
"My go to for a gin and tonic is Gin Mare from Barcelona. I like it with a lighter style of tonic like 1724 or fever tree Mediterranean in a big wine glass with lots of ice and a sprig of rosemary. It always takes me straight back to Ibiza in the summer."
Malfy Gin
Andrew Holmes, director of food & beverage at 8UP in Louisville
"Malfy is the gin to add to my G&T for the spring/summer, the bright and inviting bottle tells you what you're in for – a gin with a pleasant splash of lemon and citrus notes. It adds a dash of lemon to your G&T. Rim the glass with some peel for an added kick of freshness."
Monkey 47
Shawn Stanton, bartender at Public House in New York City
"Monkey 47 – It has a unique flavor. It's made with cranberries in addition to other botanicals, it's not overly piney. You only need a splash to make a gin and tonic delicious."
St. George Botanivore Gin
Maggie Dandrea, bartender at Hot Tin in New Orleans
"I like St. George Botanivore Gin from California. Bright citrus notes play against an intense herbaceous flavor profile in this gin and combined with tonic, this simple drink is tops in refreshment."
Letherbee Gin
Felipe Ojeda, beverage director at Taurus Beer & Whiskey House in Miami
"I am loving the Letherbee seasonal gins right now. They make some killer stuff out of Chicago, very few botanicals, and the seasonal ones really highlight specific flavors. A couple of years ago, they did one with rosemary that if you garnished with a lemon wheel and rosemary sprig — it just popped out of the glass."
Bombay Sapphire Dry Gin
Bryson Downham, beverage director at Toups Meatery in New Orleans
"Bombay Dry for sure. It's sharp and dry, with all the distinctive gin notes. Tonic is sweet and medicinal, which strikes a perfect balance with the bright, crisp botanicals and citrus that Bombay Dry presents."