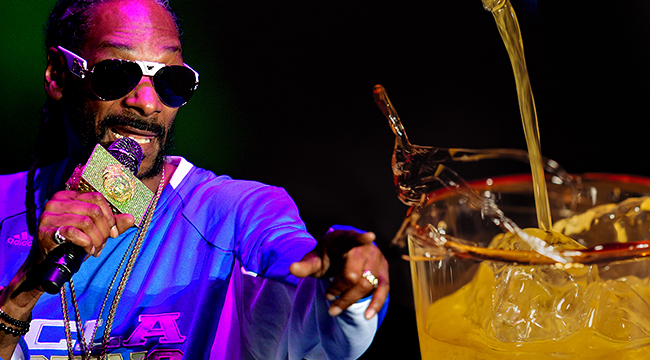 Gin is great. The (generally) grain spirit takes on a secondary botanical distillation with herbs, berries, citrus, and florals that makes almost every gin unique. Juniper berries are the through line that unite all gins. From there, it's on the master distiller to decide what botanical flavors create the sought-after levels of nuance.
Gin, generally, doesn't need to age. That's a big advantage in the price department. Aging means barrels and storage time which means more expense. That equates to a higher cost to you. Gin, like vodka, doesn't really have that issue — although there are specialty gins that are being slightly aged now. Still, the cost of gin is never prohibitive. You'll rarely pay over $100 for a great bottle and, for us, there's ample selection in the $40-$80 range.
So, what are the best bottles of expensive gin for your Snoop-inspired gin and juice? We've got a selection for you below. This is a pretty wide-swath of gins that are Britain-centric with a few locals, Japanese, and European classics thrown in.
The Botanist Islay Gin — Editor's Pick!
We're coming out the gate swinging with a great gin here. The Botanist is distilled up in Scotland with 22 wild botanicals which are foraged by the distillers from the windswept hills and bogs of Islay. This is a truly unique bottle of booze.
The gin starts off with a big rush of botanicals. There's juniper, menthol, citrus, roses, and more bursting forth from the glass. What's sort of amazing here is that it's a very mellow drink with a lot going on. Herbal notes tumble into florals and then are cut with bright, fresh citrus zest. This is a real winner.
Greenhook Ginsmiths Old Tom Gin
Let's get an aged gin on your shelves. Greenhook Ginsmiths out in Brooklyn makes a great American gin from maize. That's then redistilled with juniper and a mix of proprietary herbs and spices. The spirit then goes into bourbon barrels for a year before getting finished off in sherry casks.
The end result is a light and slightly sweet gin with a big kick. This is high proof booze at 50.5 percent. The taste is juniper at the very front followed by a sweetened chamomile, candied lemons, and an oaky vanilla whisper. Then you'll get a real sense of a honey sweet thanks to the sherry followed by a nice twinge of juniper bitterness and an earthy grassy echo. It's complex yet easy to drink.
Hendrick's Gin
https://www.instagram.com/p/BpphF0bF8JH/
Hendrick's Gin is a classic. The distillate is infused with standard botanicals and juniper berries. Then fresh citrus, coriander, cucumber, and rose pedals are added to the mix. This gives Hendrick's its own unique kick and nuance.
The cucumber really shines here. So, if you're making and gin and tonic, maybe garnish it with cucumber. What's beautiful about this gin is the subtly. It's balanced with hints of juniper, hints of rose, hints of coriander. Nothing overpowers here. The fresh citrus zest comes in and brightens the whole drink up and then the mellow fruit of the cucumber cuts through and creates a smooth-as-velvet sip.
Nolet Dry Gin Silver
Nolet Dry is just a good goddamn gin. It's excellent stirred up in a martini with a dash of dry vermouth. It's also very sip-worthy, with just a dash of Angostura Bitters in an ice-cold glass.
What sets Nolet's apart is how the drink leans into fresh, bright berry. There's a real raspberry essence that's followed by a ripe peach and, then, dried rose. The juniper comes in at the end as a sort of reminder that, yes, this is indeed gin.
Nikka Coffey Gin
Nikka Coffey Gin is magic in a bottle. The gin is distilled with juniper, coriander, angelica root, sansho pepper, apple, and lemon, yuzu, kabosu, amanatsu, shequasar, and orange rinds. It's a bold display of citrus, spice, and earthiness.
Those six citrus rinds make this gin burst with brightness and drinkability next to the slight savory of the coriander and angelica root which has an almost celery edge to it. This all comes together under the mild juniper at the end to create a delicious gin.
Plymouth Navy Strength
Plymouth makes a killer gin. Their "Navy Strength" is one of the best gins on the market and, easily, the most quaffable on this list. That's kind of a small miracle given that this is a heavy-hitting booze with a 57 percent ABV. That's 114 proof.
This one is a bold opener with juniper, coriander, and green cardamon right up front. Next, lemon and orange zest cut through with a burst of sunshine followed by the mellowing angelica root and distant whispers of violet from the orris root. If there was ever a gin to get you drinking gin straight or on the rocks, this is it.
Monkey 47 Schwarzwald Dry Gin
Germany's Monkey 47 is a wonderful gin. The botanicals lean heavily into the dark woods of the Black Forest with ever so slight touches of German Christmas cake underneath a lot of juniper.
The sip starts with an almost pine essence that accents the juniper perfectly. From there a slightly sweet spiciness comes through that's a blend of cardamon and allspice. Finally, a burst of orange and lemon citrus arrive on the palate and tie the whole drink together in one delicious package in a glass.
Ki No Bi Kyoto Dry Gin
Ki No Bi is a truly unique and glorious expression of gin. The distillers gather local and wild botanicals, berries, and florals and distill them separately according to exacting specifications for that ingredient specifically. Then they blend all those distillates into the final gin. It's mind-boggling craftsmanship and works wonders for the flavor.
The gin has a clean juniper and citrus rind essence right up front. Then it mellows with the addition of earthy bamboo shoots, cypress, yuzu fruit, and gyokuro tea. It's bold, centered, and delicious.
Riviera Gin
Rivieria Gin was the brainchild of a British solider stationed in Italy. The addition of local botanicals from the surrounding countryside help make this one shine. Local juniper, sweet orange, bergamot, cinnamon, elderflower, coriander, and ginger create a dynamic gin that's worth hunting down.
The gin opens with a fresh ginger and spicy cinnamon burst. Then the floral notes of the elderflower come shining through before the orange takes over and brings it all home. This is a great gin and it's dope AF in a negroni.
Cambridge Seasonal Gin
If you can snag a bottle of this gin, it'll change the way you think about gin. Cambridge Seasonal is a one-off distillation using local and wild botanicals twice every year. Then that's it. You won't ever get that particular recipe gin ever again.
This year's Spring 2018 has a special blend of honey, magnolia blossom, and lemon balm. This gives the drink a distinct mint and basil start that's followed by citrus brightness and bursts of spring florals. It's a bit like walking through a wildflower field as the sun reaches its daily peak. This is a great sipping gin and kills in an ice-cold martini.