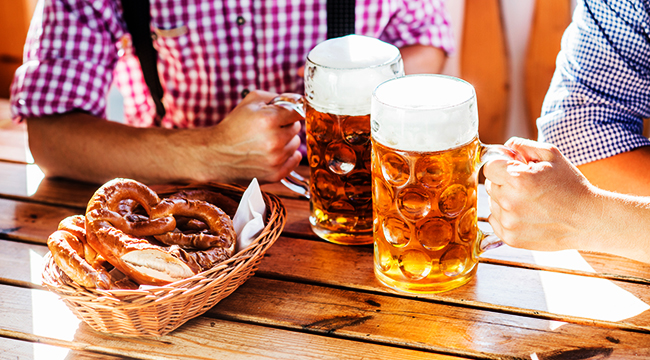 This is an update of last year's piece.
In less than a month Munich's Oktoberfest will kick off with the tapping of a huge wooden keg. Millions of people will flood into the city to consume amazing amounts of sudsy lagers and mountains of roast chickens, sausages, dumplings, and pretzels. But not all of us are going to make it to Munich this year — cheap flights aside.
Luckily, that doesn't mean we can't partake in a little bit of Oktoberfest bacchanal right here at home. The US Census Bureau pegs German heritage at 15 percent of our population. That equates to a lot of German culture bleeding into the American tapestry — especially if we're talking beer. So we dug in to find some of the best Oktoberfest celebrations around the country. These are all worth a visit for a beer or three plus at least one of those giant pretzels.
LEAVENWORTH OKTOBERFEST, WA — Weekends of October 5th/7th, 12th/14th, and 19th/20th
Out in Washington state is a tourist town called Leavenworth. Years ago, the former mining town reinvented itself as a Bavarian tourist spot and hasn't looked back. The town was almost entirely rebuilt in a postcard-perfect Alpine fashion and has a real feel of being in a small Bavarian village in Germany. Leavenworth's Oktoberfest gets tens-of-thousands of visitors yearly. And it's pretty idyllic. There are local breweries, German eateries — it's a legit Bavarian town nestled high in the Cascade mountains that'll transport you to an Oktoberfest without leaving America
https://www.instagram.com/p/BLpeDQxAEAR/

REVOLUTION OKTOBERFEST CHICAGO, IL — Weekend of September 28th/29th
https://www.instagram.com/p/BK0_Vd6jUYw/
Revolution Brewing is a Chicago institution. This year, they'll be taking their beer onto the streets along N. Milwaukee Avenue and Logan Square to celebrate their Revolution Oktoberfest brew and all things beer, Bavaria, and Chicago — and, assuredly, there'll be some great sausages being grilled. There's a suggested donation of $5 for entrance that'll benefit the neighborhood school programs for Friends of Goethe School. Otherwise, it's free to wander around the booths and beer taps at your leisure.