THE TREND — Traveling For Wellness
Would you travel across the globe if you could take part in another country's spa traditions? I traveled all the way to Japan to visit a traditional Japanese onsen (well, for that and the sushi), and let me tell you, it was a once-in-a-lifetime type of experience.
An onsen is a Japanese traditional bath, usually found in regions with natural hot springs, and is deeply rooted in the country's culture. At its best, it is soothing, calming, and elegant (in contrast to many American hot springs which can be… a tad seedy).
Where To Experience It:
At HOSHINOYA Tokyo, an urban twist on a traditional ryokan, they're seeing a wave of younger travelers (under the age of 29) staying at the property (there's been a 17% monthly increase in the demographic as of July 2023). The hotel's general manager, Geunju Lee told me, "This year at HOSHINOYA Tokyo, we're finding that younger people are looking for special ways to unplug and recharge."
I chose this hotel because I got a two-in-one — a location in the center of the city and a true sanctuary. The top floor's onsen baths are fed by hot spring waters drawn from 1,500 meters below the ground and located at the bottom of an open-roof chamber with high walls that frame the sky above. Through the open roof, guests are presented with a private viewing of the ever-shifting colors of the Tokyo night sky. At night, cool breezes blow in, bringing seasonal aromas with them.
In case you've never been to an onsen, note that you'll be fully nude. Bring a small wash towel for the washing area (you need to rinse before getting in). Keep in mind, tattoos are a bit of a taboo for the Japanese's older generation; however, this attitude is changing with younger generations, especially those living in the bigger cities.
THE TREND — Spa Menus Using Trending Seasonal Ingredients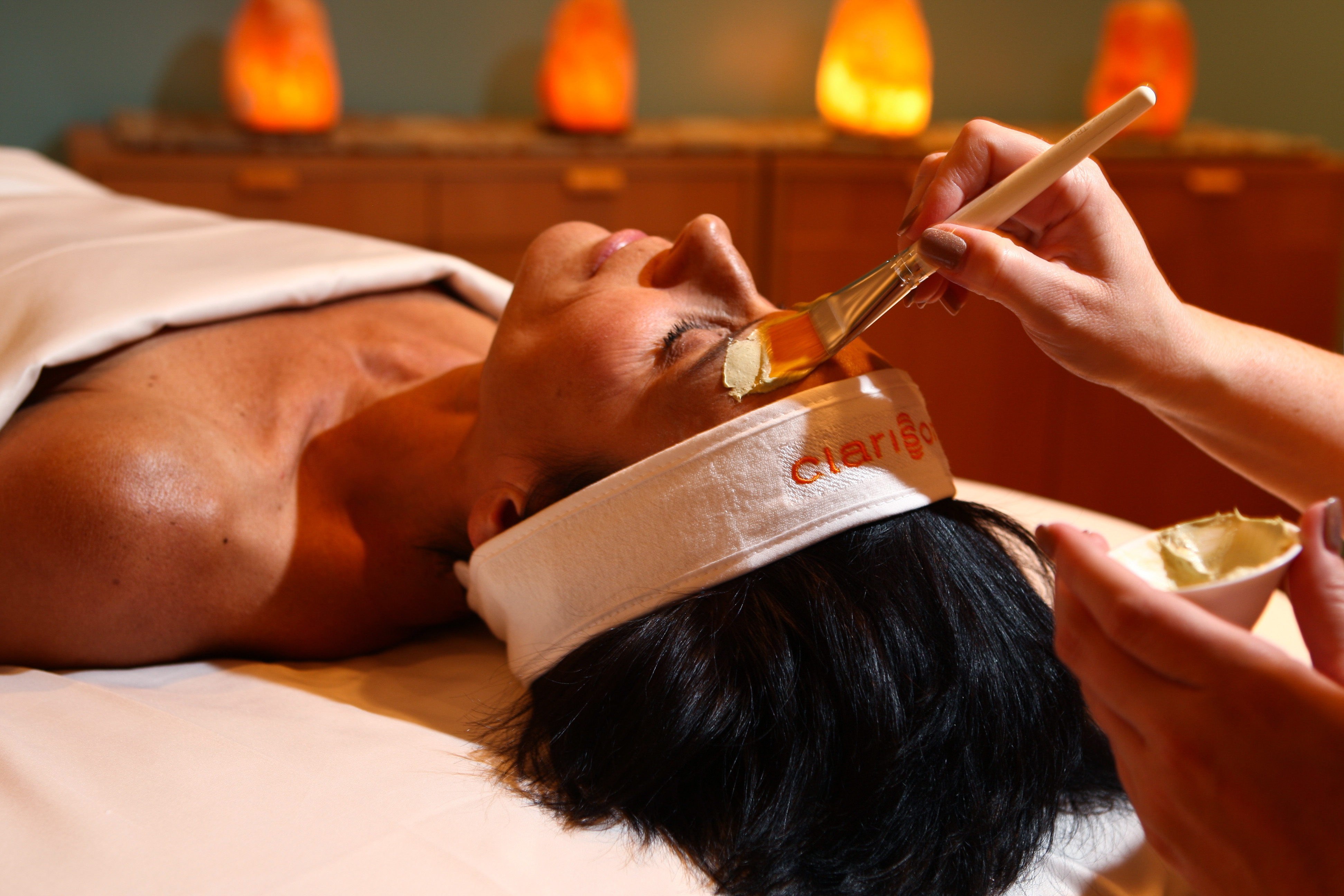 Pumpkin spice latte what?
Spas are catering to the younger crowd with trendy seasonal specials. These customized treatments not only address specific body needs but also offer a sensory journey aligned with the changing seasons. It's essentially the "eat local" movement ported over to spa culture.
Where to Experience It:
At VH Spa at Hotel Valley Ho in Scottsdale, Arizona, guests can choose from new menus of special treatments with ingredients from every season. In the fall, you can expect an Apple + Pumpkin Pie Massage that's finished off with a pumpkin-orange enzyme foot treatment or a Whipped Elderberry Facial for an antioxidant-packed mask that leaves you with a golden glow. They also offer midweek "happy hour-esque" deals on treatments and unique offerings like chromotherapy saunas, CBD oils, and more.
Also, The Lodge at Woodloch (in Hawley, PA) incorporates body polishes inspired by the season. In fall, they use warming scents of pumpkin and spices for cozy comfort, and in the winter you'll find an aromatic pick-me-up of coffee.
THE TREND — Healing With Crystal Therapies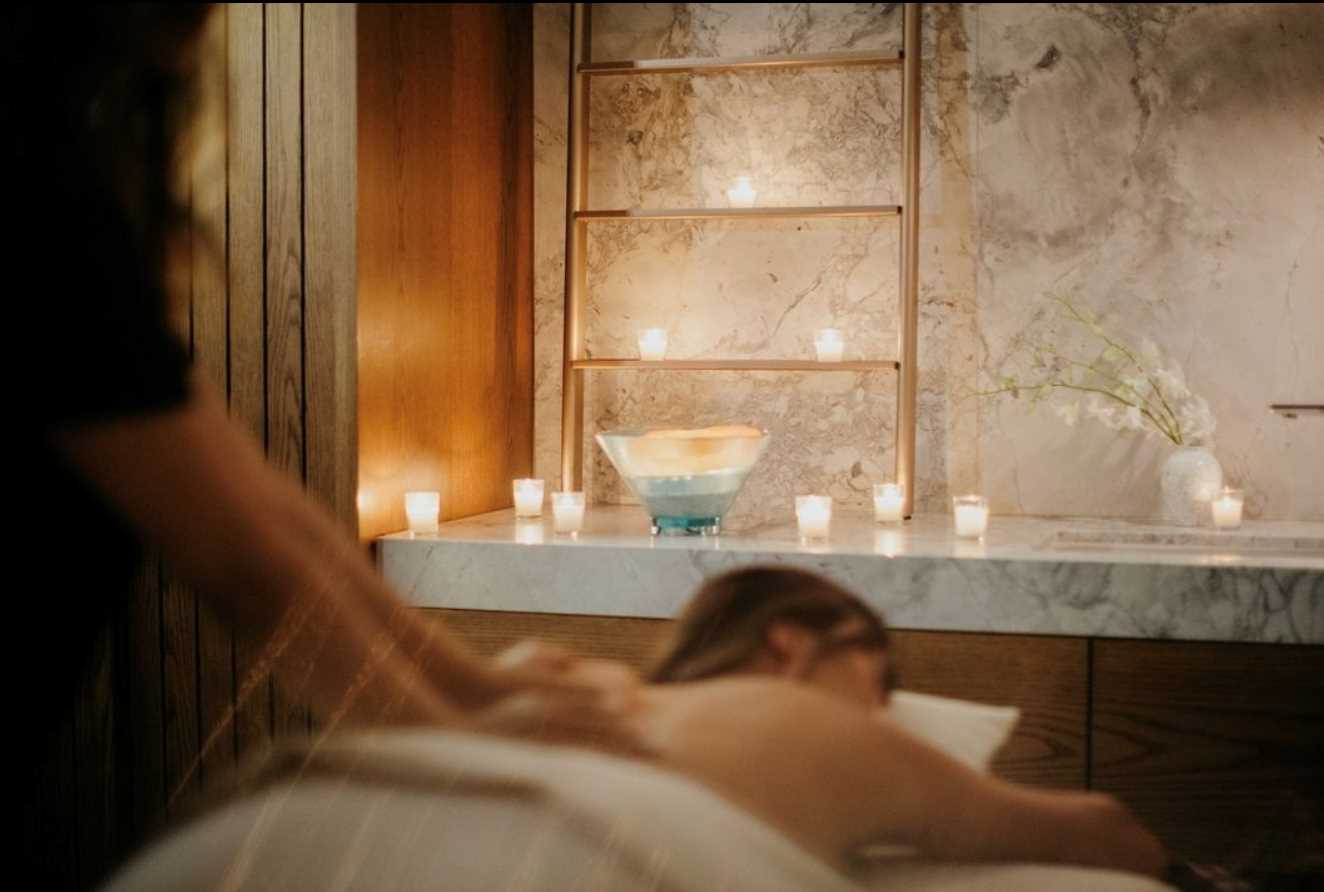 Spas around the world are now utilizing crystals throughout their treatments to enhance energy healing and alleviate stress. Many claim that incorporating crystals helps enhance relaxation and promote holistic well-being by harnessing the unique energy and soothing properties associated with these natural gems.
Where to Experience It:
I tried the 90-minute Rose Quartz Remedy massage at the The Ritz-Carlton New York, NoMad and it was unlike any other massage I've ever gotten because it started off with a dry scrub. It's a full-body massage and exfoliation treatment that began with a grounding tea ceremony. The powerful effects of Frangipani, Rose Geranium, and Palmerosa went to work, and the experience concluded with a scalp massage with rose quartz crystals which are believed to be connected to the heart chakra.
The spa's director Rita Rroku-Berishaj told me, "Since opening a year ago, we've quickly seen wellness activities become an everyday essential in some visitors' lifestyles. Amongst the millennial demographic, they love our clean, organic aromatherapy approach as well as the sustainable brands we're partnered with such as Augustinus Bader and ESPA."
THE TREND — Wellness Goes High-Tech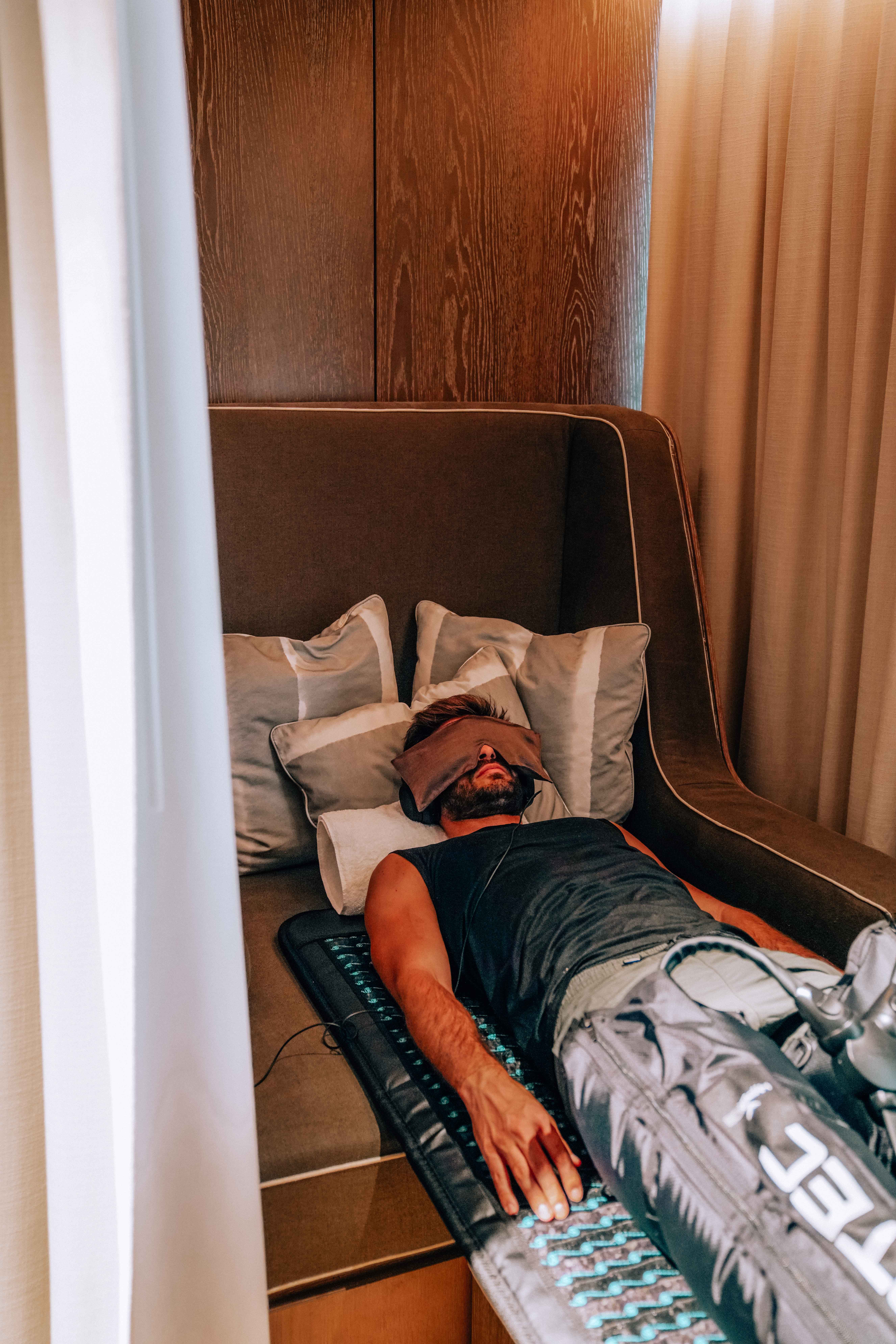 It's no secret the younger generations are drawn to the latest technologies, and that doesn't end with phones and social media. Spas are keeping up on the latest opportunities and big ideas when it comes to how technology can enhance a wellness experience for the better.
Where to Experience It: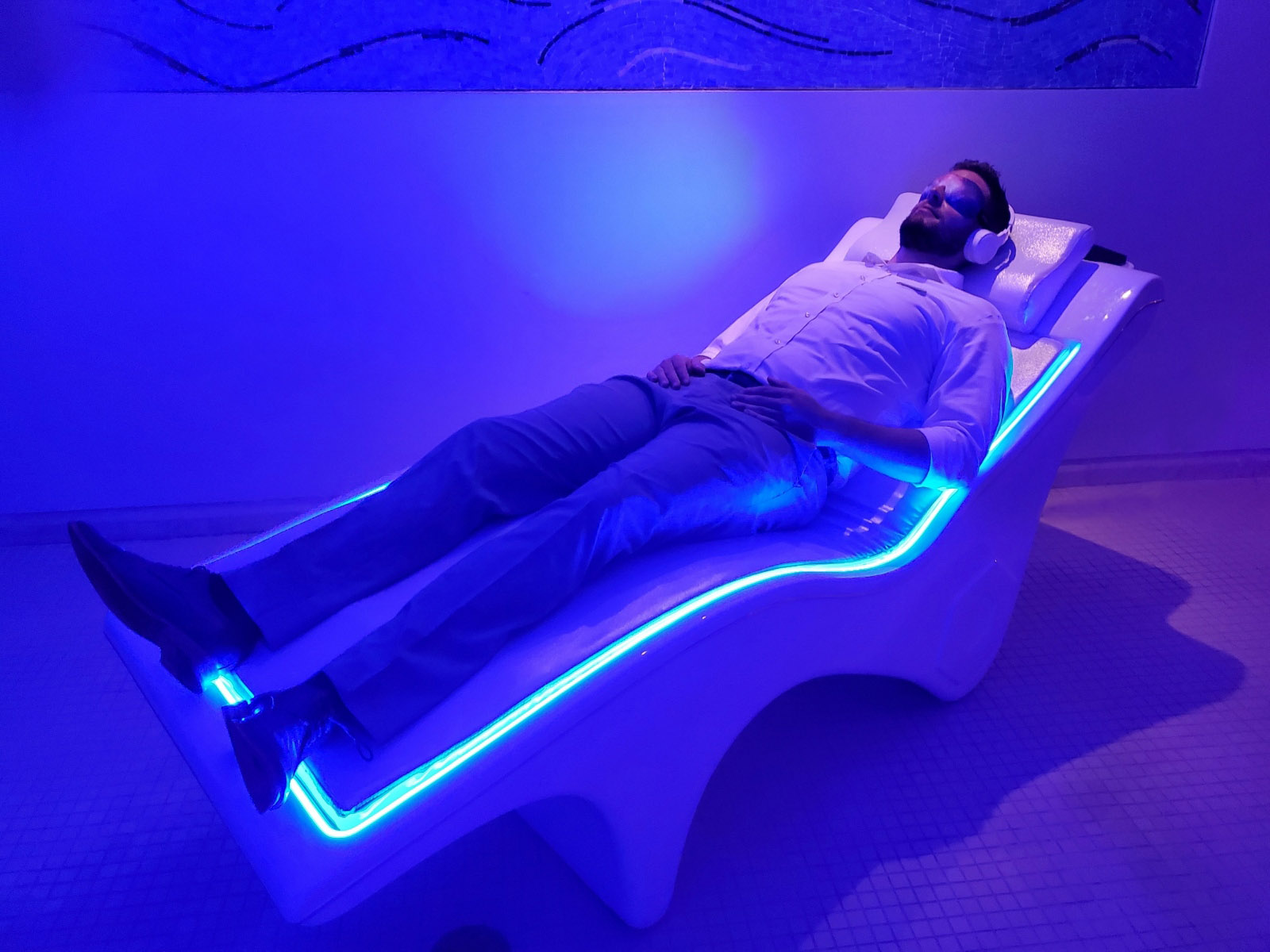 At the Conrad Los Angeles, they offer high-tech wellness therapies delivered to what's called a Recovery Cabin. These cabins tap into powerful neuroscience technology with NuCalm Recharge meditation that organically diffuses the stress response and improves the quality of sleep. In the cabins, guests can use the HigherDose Infrared PEMF (Pulsed Electromagnetic Field) Mat, which helps to ease chronic pain, recover from workouts and aids total body relaxation. The innovation doesn't stop there, the Carillon Miami Wellness Resort is a leader in wellness menus and offers "touchless wellness." Think: prism light therapies, a wave massage machine, a Somadome meditation pod, and coming soon — a power plate to send tiny vibrations through your body.
WRITER'S PICK: THE TREND — Adding Sound & Light Into The Mix
Light and sound therapies are the next wave, literally (as in… light and sound waves). Whereas many spa treatments are unproven, freaking NASA is all in on light therapy. And the healing qualities of sound waves — aka music — have been well documented. It certainly tracks that spas, which have long thrown around words like "holistic" would start paying increased attention to the other sensory elements of relaxation beyond just physical touch.
Where to Experience It:
One of my favorite rooms at The Spa at Séc-he — which impressed me so much that it landed on the 2023 Uproxx Fall Travel Hot List — was the Acoustic Wellness Lounge. Sound therapy is gaining popularity for its proven benefits of lowering anxiety, stress, depression, sleep disorders, and high blood pressure. This room was lined with zero-gravity vibrational (and heated) loungers for binaural therapy. I loved this room because after a massage I always want to continue feeling ultra relaxed and I'm never ready to enter the real world… y'know, with other humans in it. I also usually want to take a nap.
This room allows not only for that nap but also offered the added benefit of audio therapy. On the left side, the loungers offered a variety of healing sounds. I was able to enjoy a guided breath-work session in 25 minutes (bonus!). Other options include chakra–sound waves to work on all six chakras, gamma meditation that focused on memory, perception, and compassion, vibrational wellness, meditation energy, and, my favorite ~sleep wave~. As someone who is chronically underslept, the power nap and deep sleep options were a godsend.
There was also a weight management option. I didn't ask questions, I just hit "play" and hoped some weight was being magically redistributed while I relaxed.