It certainly feels like heavy-duty stout season, as the leaves crunch under feet and frost glistens in the mornings. While standard dry stout is all about that spring rebirth (and St. Partick's Day), imperial stouts tend to lean more into fall and winter vibes, thanks to a flavor profile bursting with dark spices, marzipan, bitter dark chocolate, toasted coconut, and meaty dried fruits (amongst tons of other flavor notes). And there's really no better example of that than Goose Island's yearly and highly coveted Bourbon County Stout series.
Below, I'm going to rank all seven bottles of the 2022 Bourbon County Stout lineup. I was lucky enough to taste these with the Goose Island team this year. It was a great source of insight into this very special lineup of beers that carry serious bourbon whiskey notes. Incidentally, this year's lineup also celebrates the 30th anniversary of Bourbon County Stout.
Beyond the tasting notes provided below, I'll also be ranking these expressions according to what tastes the best. Spoiler alert: These are all pretty great, especially if you're looking for a bourbon-forward stout experience. Look at it this way, this ranking is more to guide your hand when you're in the beer store and actually come across one of these bottles, which admittedly are often rare finds. That also means the price of each of these bottles is going to vary pretty wildly since Goose Island doesn't suggest a retail price. So you might be able to find them from anywhere between $11 and $30 a bottle this year and into the hundreds of dollars for the same bottles by 2023.
I will warn you, as well, that if you're not an avid whiskey or bourbon drinker, then some of these might hit a little hard on the palate. Each one has a high ABV (above a standard bottle of wine) and often is best enjoyed shared with a friend next to a nice backyard fire under some flannel with some hot dogs and marshmallows roasting on the end of sticks. Let's dive in.
Also Read: The Top 5 UPROXX Bourbon Posts Of The Last Six Months
7. Goose Island Bourbon County Coffee Stout
ABV: 13.2%
Average Price: $12-$20 (16.9 oz. bottle)
The Beer:
This brew integrates Intelligentsia's Turihamwe (which means "together") coffee blend from Burundi. The coffee has a clean and sweet edge that imbues itself into the stout as it ages in the bourbon barrels.
Tasting Notes:
Dark chocolate-covered coffee beans lead to creamy espresso and a hint of drip filter coffee on the nose next to rich caramel maltiness with a hint of spicy nuttiness. There's a clear sense of freshly brewed coffee throughout the palate that leans toward mocha lattes and creamy dark chocolate bars just touched with cinnamon and clove. The end is full of more bitter coffee and chocolate with hints of spices, nuts, and vanilla pods.
Bottom Line:
This is probably the most one-note of the bunch. It's great if you're looking for a coffee boost but that's about it. Look, it's well-made and drinkable but unless you really want a coffee-bomb stout, it's a bit monotone.
6. Goose Island Bourbon County Proprietor's Stout
ABV: 13.4%
Average Price: $15-$30 (16.9 oz. bottle)
The Beer:
This beer is a nod to Chicago's cocktail scene. The idea was to mimic the flavor notes in a Jungle Bird Cocktail — a 1970s tropical shaker with blackstrap rum, Campari, pineapple juice, lime juice, and demerara syrup. To do that, the brewers added banana, coconut, lime, and pineapple into the bourbon barrels before aging.
Tasting Notes:
The tropical fruits really pop on the nose with a clear sense of grilled pineapple next to Almond Joy candy bars, banana bread with walnuts and cinnamon, and a hint of fresh citrus next to dried florals and woody dark spices. The palate leans into the Almond Joy vibe with rich dark chocolate next to peach skins and lime leaves with a subtle hint of nutmeg and cherry/vanilla tobacco. The end fades through those acidic fruits towards a soft vanilla-laden finish.
Bottom Line:
This was nice but very fruity. It kind of feels like some of the bourbon-y notes were drowned out. That said, this was a bright and fruity spot amongst some very dark beers. It just wasn't my cup of tea.
5. Goose Island Bourbon County Sir Issac's Stout
ABV: 13.9%
Average Price: $12-$20 (16.9 oz. bottle)
The Beer:
This beer was devised as a nod to Fig Newtons. The brew was aged with 10,000 pounds of Black Mission figs, Graham Crackers, and natural flavors to achieve that flavor profile.
Tasting Notes:
This pops with Fig Newton energy on the nose with a clear sense of the cookie's jammy interior and honey-laced cookie exterior next to a hint of orange oils and light molasses. The palate leans into spiced fig pudding with a hint of creamy brandy butter, soft nutmeg, and a hint of sour cherry next to malted vanilla, pipe tobacco, and rum raisin. The end really circles back around to the Fig Newton vibe while adding in more honey and spice with a vanilla lusciousness.
Bottom Line:
This is pretty damn good and really delivers on what's promised on the label. It's balanced and not overdone with a serious imperial stout depth and a hint of bourbon still in the mix. That said, if you're not into Fig Newtons, this might not be your jam.
4. Goose Island Bourbon County Biscotti Stout
ABV: 14.3%
Average Price: $12-$20 (16.9 oz. bottle)
The Beer:
This stout came about trying to recreate almond biscotti dipped in dark chocolate sauce. To achieve this, the brewers at Goose Island added cocoa nibs, toasted almonds, anise seed, and natural flavors to the bourbon barrels while the stout aged.
Tasting Notes:
That anise really kicks on the nose with a slight salted black licorice essence next to moist marzipan covered in dark chocolate and a good dose of salted toffee sauce cut with bourbon. The palate leans into the almond vibes while adding a cinnamon toast feel next to spiced Christmas cake, dried red berries, candied citrus, and plenty of fatty nuts. The end has a very waffle feel to it with cinnamon syrup and roasted almonds mixing with a lush vanilla base.
Bottom Line:
I really like this (I'm a sucker for a lot of almond flavor notes). That said, this was a tad one-note on that almond front. I don't say that as a slight to this beer because I really like it, but it's definitely not a universal crowd-pleaser (for bourbon stout drinkers) like the next few on this list.
3. Goose Island Bourbon County Stout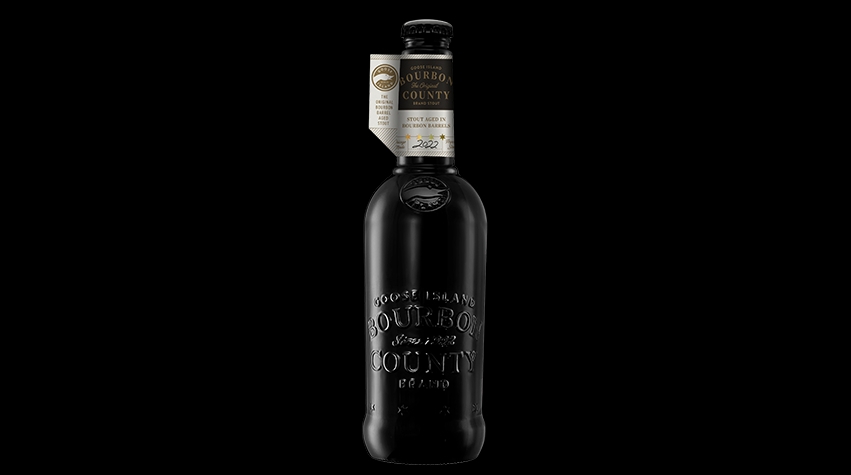 ABV: 14.3%
Average Price: $12-$15 (16.9 oz. bottle)
The Beer:
This is the classic and original imperial stout from the Goose Island Bourbon County line. The brew is aged in freshly emptied bourbon barrels from Heaven Hill, Four Roses, Wild Turkey, and Buffalo Trace. Those barrels are then blended into this dark and thick elixir before bottling.
Tasting Notes:
The nose is just classic imperial stout with big notes of salted chocolate bars, creamy vanilla malts, and tons of nutmeg next to a hint of sour cherry and canned brown bread. The palate leans into that deep and malty vanilla with a swirl of dark chocolate sauce next to some blackstrap molasses, Almond Joy, and rum-raisin with a dash of sweet cinnamon, allspice, and mild anise. The end lingers with a lush finish full of almond shells, stewed pear, and woody cinnamon next to that smooth vanilla maltiness.
Bottom Line:
This is the quintessential imperial stout. It's deep, viscous, and full of big flavor notes that really lean into classic bourbon notes.
2. Goose Island Bourbon County Two-Year Barleywine Reserve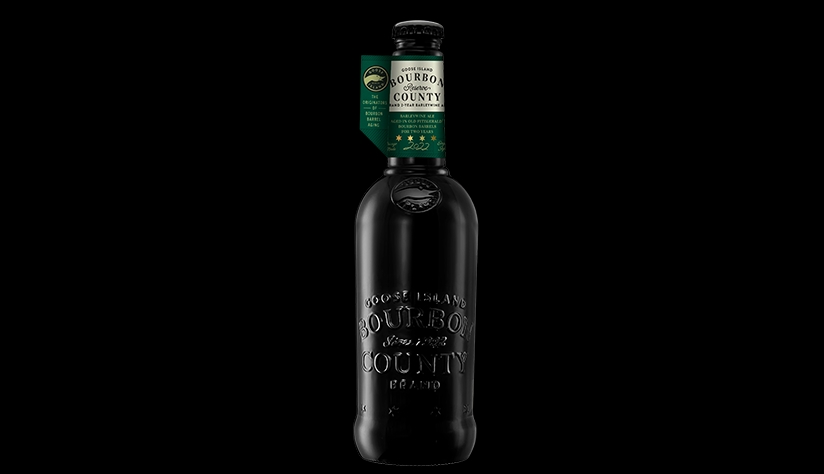 ABV: 17%
Average Price: $15-$30 (16.9 oz. bottle)
The Beer:
This blend of imperial stouts is made from wildly rare bourbon barrels. Goose Island was able to secure Heaven Hill's Old Fitzgerald Bottled-in-Bond barrels for this expression. The barrels held Old Fitz's 14-year, 16-year, and 17-year-old bourbon expressions. Goose Island's stout was filled into those freshly emptied barrels and left to rest for two long years before blending and bottling for this year's run.
Tasting Notes:
There's a deep sense of burnt caramel malts (they almost spell out "Malliard" to the senses as you inhale this one) with dark chocolate powder mixed with buttery toffee cut with dark sour mash bourbon notes, sour cherries tossed in kosher salt, and a hint of figgy jam pies dusted with powdered sugar. There's a sense of rich and moist marzipan on the palate with a hint of orange oils and a wink of dried roses next to creamy dark chocolate and a whisper more of sour cherry. The end layers the vanilla into the dark caramelized malts and dips it all in that dark chocolate with woody anise, clove, and cinnamon adding a moment of warmth.
Bottom Line:
This is just phenomenal. It's kind of funky and sour while delivering seriously thick bourbon vibes.
1. Goose Island Bourbon County 30th Anniversary Reserve Stout
ABV: 14.4%
Average Price: $15-$30 (16.9 oz. bottle)
The Beer:
This expression celebrates the original collaboration between Goose Island's Gregory Hall and Beam's Booker Noe (both legends in their fields) all that way back 30 years ago when they first started Bourbon County Stout together in 1992. This beer is aged in Beam barrels from the Small Batch Bourbon Collection. The end result is a blend of beers aged in 36% Booker's, 33% Knob Creek, 17% Basil Hayden, and 14% Baker's barrels.
Tasting Notes:
That Beam-iness comes through straight away on the nose with an old-fashioned sourdough doughnut vibe next to a sour cherry compote, vanilla malt, and hefty dark chocolate with a hint of milkiness and espresso bean roast qualities. The palate pops with cinnamon candy and eggnog creaminess and nutmeg next to dark chocolate brownies bespeckled with dried sour cherries and just kissed with finishing salt. The end has a fancy Mounds bar vibe next to shredded toasted coconut and rich marzipan cut with burnt orange and dark cherry bark tobacco.
Bottom Line:
Exceptional. There's nothing more to say.