Bulleit Frontier Bourbon and Bulleit 95 Rye are two bottles of American whiskey that truly helped herald the modern whiskey boom. Back in 1999, Tom Bulleit created the brand and proceeded to make it an international hit by 2000. Today, Bulleit is ubiquitous. It's in every liquor store, bar, restaurant, and Costco. It's a truly international brand. It's also a very versatile whiskey shingle with several expressions that go well beyond the initial Frontier Bourbon and 95 Rye in quality and craft.
That's why it's time for a full-line ranking by me, your friendly neighborhood whiskey critic.
Let's get a little footing before we dive in. A big part of Bulleit's overnight success was focusing the marketing on the fact that the bourbon is a high-rye whiskey (28% rye in the mash bill/recipe) and the rye as high-rye whiskey (at 95% Indiana rye — the eponymous "95" in the name). This prompted many a PR team to say that Bulleit had a "spicier" and thereby deeper profile than your average whiskey. 23 years later, Bulleit's marketing is so ingrained that most people now automatically think "rye=spicy." It doesn't always mean that* but here we all are.
Still… none of that takes away from the fact that this brand, now owned by global spirits behemoth Diageo, is a cornerstone of the 21st-century whiskey movement.
Today, Bulleit whiskey is being brewed, distilled, and aged in Kentucky at a state-of-the-art sustainable facility. There are still a lot of sourced barrels in the mix though, since the distilling started in earnest in 2017 — only six years ago. As of 2023, we're still dealing with whiskeys made from some of the best barrels of Kentucky whiskey from huge (unnamed) distilleries blended with a scant few Bulleit-made barrels that are ready and that sweet and much-beloved 95% MGP Indiana rye.
And that's what I'm ranking below — the full line of 2023's Bulleit whiskey expressions.
* Rye whiskey was marketed as "spicy" for much of the aughts and teens. Today, that definition is finally losing its stranglehold on the style. While rye grains (a wheat varietal) can impart mild spicy notes like nutmeg, it's not necessarily a "spicy" grain any more than wheat or barley. In fact, what rye does impart is nutty, very herbal (dill, caraway, mint, sage), and earthy malted grain (think rye bread) flavors with mild creamy tropical fruitiness.
The spiciness in all whiskey is mostly derived from yeast strains and wood aging. That's why whiskeys with exactly zero rye grain in the mash bill/recipe can be spice bombs, and always have been. Why did this happen? Long story short, it was an easy way for PR and marketing departments to shorthand why rye whiskey was special or different from bourbon in an era when consumer knowledge was at an all-time low.
Basically, it all came from a marketing meeting in moment that must have felt both revelatory and nonsensical. Much like "It's toasted!"
Also Read: The Top 5 UPROXX Bourbon Posts Of The Last Six Months
6. Bulleit Bourbon Frontier Whiskey Kentucky Straight Bourbon Whiskey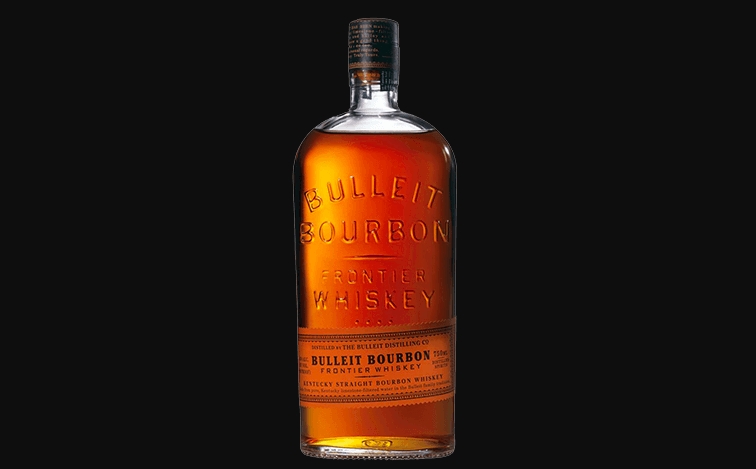 ABV: 45%
Average Price: $24
The Whiskey:
This whiskey embraces a high-rye mash bill that's comprised of 68% corn, 28% rye, and 4% malted barley. The hot juice is then rested for six years before blending, cutting down to proof, and barreling. As far as we know, this is still mostly sourced juice but will likely start including Bulleit's own whiskey in the next year or two.
Tasting Notes:
Nose: The nose is classic Kentucky bourbon with clear dark cherry tobacco, apple cider doughnuts, plenty of cinnamon, eggnog creaminess, and a little rye grassiness (think dry sweetgrass).
Palate: The spice on the palate is squarely in the cinnamon category with creamy vanilla, more warm fruity tobacco, and a hint of orchard bark lurking in the background.
Finish: The end is warm but fades pretty quickly, leaving you with soft oak, dark spice, brown sugar, and a whisper of sweet and creamy grits.
Bottom Line:
This is a solid standard bourbon. I'd use it for mixing highballs, taking shots (if you keep it in the freezer), or mixing a basic cocktail like a punch, smash, julep, or sour. This is a good table bourbon.
5. Bulleit 95 Rye Frontier Whiskey Straight American Rye Whiskey
ABV: 45%
Average Price: $28
The Whiskey:
Bulleit's rye has a mash bill of 95% rye and 5% malted barley from MGP of Indiana. The rye is aged for four to seven years before blending, proofing, and bottling.
Tasting Notes:
Nose: This nose opens up with a mix of resinous cedar, sharp rye grassiness, creamy vanilla eggnog, and a hint of fresh mint that's just kissed with fresh and dank pipe tobacco.
Palate: The taste delivers on those notes while folding in hints of dark chocolate, savory fruits (think melon or overripe banana), and a crumbly buttermilk biscuit with a hint of maple syrup, salted butter, and sage.
Finish: The end is pretty short and thin but circles back around to that cedar and maple syrup with a tobacco edge and a touch of winter spice.
Bottom Line:
This is a nice rye but very pedestrian in 2023. I'd lean toward using this for citrus-forward cocktails and maybe shots more than anything else. I'd also use this for baking and cooking. There are some nice notes here that'd play well with doughnut icing, cake batter, or pancake mixes.
4. Bulleit Bourbon Frontier Whiskey Barrel Strength Kentucky Straight Bourbon Whiskey
ABV: 60.1%
Average Price: $45
The Whiskey:
This is Bulleit letting that high-rye bourbon whiskey shine at full force. The bourbon is small-batched from hand-selected barrels and bottled at the new Bulleit distillery in Kentucky with old sourced barrels that they've been stewarding for years now.
Tasting Notes:
Nose: Sweet woody cedar notes pop next to oily vanilla on the nose with a rush of black peppercorns, dried red chili pepper, and a hint of dark caramel just kissed with salt.
Palate: The taste delivers ripe peaches next to more peppery spice and a hint of Christmas spice barks and burnt orange with the vanilla taking a backseat and the oak really stepping in with hints of dill and mint (both dried).
Finish: The end leans into the spice barks and burnt orange with a touch more of that creamy vanilla that mellows into a nutmeg-heavy eggnog lusciousness.
Bottom Line:
This is a nice pour of whiskey. I like this over a few rocks or mixed into a nice whiskey-forward cocktail.
3. Bulleit Bourbon Frontier Whiskey Blender's Select Kentucky Straight Bourbon Whiskey
ABV: 50%
Average Price: $67
The Whiskey:
This limited expression was crafted by Bulleit's master blenders. The release is a series that celebrates the women who make Bulleit bourbon. The whiskey is a hand-selected blend of three out of the 10 bourbons (hint, hint) Bulleit sources. The bourbons were aged six to eight years before blending, proofing, and bottling.
Tasting Notes:
Nose: The nose is brimming with salted peanut shells, old braids of cedar bark and sweetgrass, oily vanilla pods, and moist sticky toffee pudding with plenty of wintry spices and dark dried fruits.
Palate: Those dried fruits are soaked in rum on the palate as Black Forest cake drives the taste toward buttery salted toffee before black pepper and dried ancho chili leads to old tobacco rolled with cedar, smudging sage, and a whisper of old barrel oak with a musty edge.
Finish: The end has a great balance of creamy eggnog and choco-cherry cake next to brick rickhouses, old tobacco humidors, and singed marshmallow smushed between mincemeat pies.
Bottom Line:
This is another really good pour of whiskey. I would save this for more of a fall/winter pour with all of that rum, cake, and winter spice. Then I would mix this into a wintry old fashioned or Manhattan.
2. Bulleit Bourbon Frontier Whiskey Single Barrel Kentucky Straight Bourbon Whiskey
ABV: 52%
Average Price: $66
The Whiskey:
These releases are the picks that you'll find at your favorite whiskey bars, restaurants with a great whiskey list, and liquor stores. That means that the profile will vary slightly depending on who's doing the picking. That aside, this is still Bulleit Bourbon but in single-barrel form. That means you're getting the best barrel experience.
Tasting Notes:
Nose: Dark spiced cherry leans into pecan waffles covered in salted butter and rich maple syrup with a hint of marzipan cut with orange liqueur and dipped in salted dark chocolate on the nose.
Palate: That rich and sweet dessert vibe drives the palate toward chewy pipe tobacco laced with apple cider, mulled wine, and brandy-soaked figs next to more marzipan and chocolate.
Finish: The end leans into the barkier aspects of the spices as braids of dry tobacco, cedar bark, and smudging sage are countered by a soft vanilla cream over stewed peaches, berries, and cherries with a buttery crumble.
Bottom Line:
This tends to be a pretty delicious whiskey that really shines as a holiday sipper. Pour one into a big glass after a big holiday meal and let the rest of the evening melt away.
1. Bulleit Bourbon Frontier Whiskey 10 Kentucky Straight Bourbon Whiskey
ABV: 45.6%
Average Price: $39
The Whiskey:
This is classic (sourced) Bulleit Bourbon that's aged up to 10 years before it's blended and bottled. The barrels are hand-selected to really amplify those essential "Bulleit" flavors that make this brand so damn accessible (and beloved) in the first place.
Tasting Notes:
Nose: The nose opens with buttery and spicy stewed apples, cedar kindling, holiday cakes full of nuts and dried fruit, and a hint of savory herbs that feel like they were roasted with sweet potatoes, marshmallows, and funky country ham.
Palate: The palate leans into a creamy vanilla cake with a hint of toffee rolled in roasted almond before veering into sourdough bread crust territory with a counterpoint of apple-cider-soaked winter spice barks, dried orange rinds, and cedar bark that's been dotted with dried rose oils.
Finish: The dried orange mingles with salted dark chocolate, dried cranberry, and brandy-stewed cherry on the finish as the spice barks intensify toward old oak cellars, fall leaves, and smoldering apple and cherry wood next to a lush sense of eggnog, s'mores, and sticky toffee pudding.
Bottom Line:
This is the most accessible and overall enjoyable Bulleit pour. It's so easygoing while offering a truly deep profile that feels nostalgic and comforting. It's really solid as a neat sipper. It works over a big rock. It also makes a killer Manhattan, Sazerac, or old fashioned, especially during the holiday season. This is a winner and a great price point too.
You can't lose grabbing this one.