W.L. Weller Wheated Bourbon — or just "Weller" — is one of the most sought-after bourbons on the market today. But as with all bourbon brands, there isn't just one expression sitting on liquor store shelves. In this case, there are eight. That's a lot of variation. Add in that Weller tends to be inflated price-wise and you have the perfect storm of limited whiskey and high prices that can be cause for pause.
To be clear: It's okay to be wary about buying bottles of bourbon that cost hundreds even thousands of dollars per bottle. It's also okay to seek advice before doing so. That's… sorta why I have a job.
I'm very aware of every expression of Weller, its strengths and weaknesses. I've tasted all the expressions year after year. Hell, I've picked single barrels of Weller for special releases. Moreover, I actually really like this brand. So I'm going to rank all eight expressions of Weller to give you a chance to understand what you're getting into before you pull that trigger on a bottle (that may be significantly marked up).
Before I do that, let's get some foundational information out of the way. Weller is a wheated bourbon made at the Buffalo Trace Distillery in Frankfort, Kentucky. Buffalo Trace doesn't release its mash bills (grain recipes). So we don't know exactly how much wheat is in that mash bill, but it's likely around 15% give or take. The rest of the mash is made up of corn and malted barley mixed with local water and a proprietary yeast strain. That sour mash is twice distilled and goes into new oak barrels where it rests in Buffalo Trace's old red brick warehouses until it's just right.
What we do know is that W.L. Weller Wheated Bourbon and the Pappy Van Winkle line have the same mash bill and are aged in the same warehouses at Buffalo Trace. Blenders go through those barrels and sort them based on the flavor profile expressed in each barrel. For instance, if a 12-year-old barrel has a Weller profile, that barrel will go into a Weller 12-Year batch. If the 12-year-old barrel next to that barrel has a Van Winkle "Lot B" 12-Year profile, it'll go into a batch of Pappy "Lot B". It's not a matter of one being better than the other. It's simply a matter of which barrel suits which profile. The actual whiskey and aging are otherwise identical.
Lastly, you can't talk about Weller and not talk about price. These whiskeys are priced at $29-$99 at MSRP (manufacturer's suggested retail price). But you will rarely find these bottles at those prices. Only three expressions — Special Reserve, Antique 107, and 12-Year — are on a regular release schedule throughout the year. The remaining expressions are released yearly and that's it.
You can still find both Special Reserve and Antique 107 on shelves at or near their MSRPs — if you know where and when to look. The rest of the lineup is going to be marked up at every liquor store and/or only available to loyal customers or via lottery. Think of rare Weller like Rolexes, Jordan 1s, or Supreme gear — the premium versions are going to be nearly impossible to find at their real prices but pretty easily available on secondary markets at much higher prices. To that end, I've linked to real-world prices for these bottles and not a fantasy MSRP price (with the exception of Special Reserve and Antique 107).
Okay, let's dive in and rank some tasty Weller Wheated Bourbon!
Also Read: The Top 5 UPROXX Bourbon Posts Of The Last Six Months
8. Weller The Original Wheated Bourbon Special Reserve Kentucky Straight Bourbon Whiskey
ABV: 45%
Average Price: $31
The Whiskey:
This is the entry point to Weller. It's a standard large-batched bourbon. The age of the barrels on this blend is also unknown. Overall, we know this is a classic wheated bourbon, and … that's about it.
Tasting Notes:
Nose: There's a sense of old oak next to sweet cherries, vanilla cookies, and that Buffalo Trace leathery vibe with a hint of spiced tobacco lurking underneath.
Palate: The palate has a sharp texture before malted vanilla ice cream over a hot apple pie cut with brown sugar, butter, cinnamon, and walnuts next to Frosted Raisin Bran takes over.
Finish: The end adds sweet cherry to the tart apple and layers it into a light tobacco leaf with a mild sense of old musty barrel warehouses with a hint of fall leaves outside but fades super fast.
Bottom Line:
This is perfectly fine $30 bourbon. I keep one on the shelf as an example pour — as in, "Here's what basic Weller tastes like…" — but I rarely use it for anything else.
7. Daniel Weller Emmer Wheat Recipe Kentucky Straight Bourbon Whiskey
ABV: 47%
Average Price: $499
The Whiskey:
We finally have a brand-new Weller release from Buffalo Trace (at an incredible cost). The whiskey in the bottle is an experimental wheated bourbon made from Emmer wheat (an ancient Egyptian strain). That whiskey is then left alone to mature for 12 years before batching, proofing, and bottling.
Tasting Notes:
Nose: The nose is very grainy with a sense of sourdough rye that hasn't been baked yet next to Nutella, fresh orange zest, and salted caramel with a hint of marzipan.
Palate: Bright orchard fruits pop on the palate as fresh honeycombs (with a hint of earthiness) vibe with more marzipan, deep sourdough bread notes, and a good bit of old oak in old rickhouses just kissed with falling leaves and soft rain.
Finish: Leatheriness comes through on the finish with more of that oak and warehouse vibe next to orchard bark, dark winter spice, and creamy honey kissed with rum raisin but then kind of just disappears.
Bottom Line:
I'm still super on the fence about this one. On the one hand, it feels like it's chasing the craft bourbon boom with that grainy nose and profile. That feels silly, in that chasing trends is the antithesis of timelessness, which is the whole damn point of Weller. Then, on the other hand, this is tasty once you get passed that bold grain-forward nose.
Is it a good example of Weller though? Does that even matter in an "experimental" expression? I just don't know yet. One thing I do know is that this isn't basic. It's special. Hence, it's not last on this ranking.
6. Weller The Original Wheated Bourbon C.Y.P.B. Kentucky Straight Bourbon Whiskey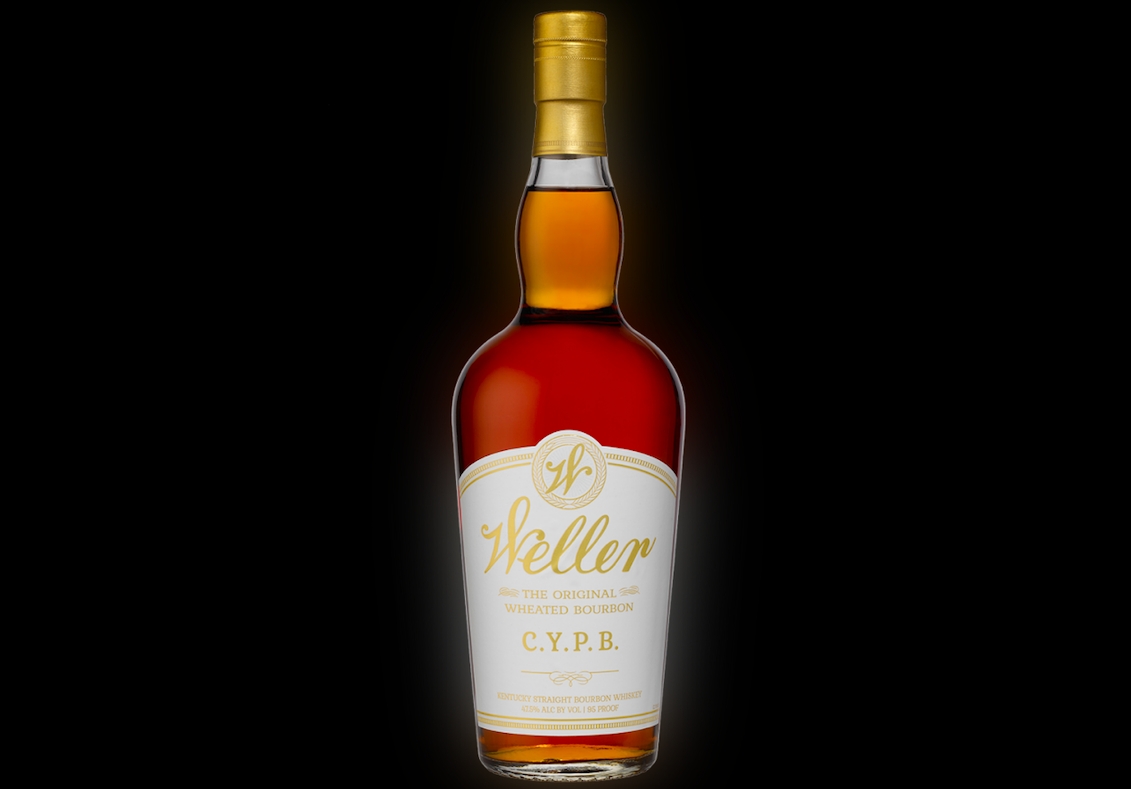 ABV: 47.5%
Average Price: $749
The Whiskey:
A few years back, Buffalo Trace asked hardcore Weller fans to "Craft Your Perfect Bourbon". C.Y.P.B. was born when fans chose their favorite bourbon recipe, proof, warehouse location, and age on the Buffalo Trace website. A consensus shook out with wheated bourbon aged on the highest warehouse floors for eight years that's then bottled at 95 proof. From that, a new whiskey was born and is now released yearly.
Tasting Notes:
Nose: Expect a nose full of dried orange peels and dry tobacco leaves braided with dry cedar bark next to a creamy vanilla sauce just touched with poppy seeds and a faint hint of real and spicy root beer laced with dark cherries.
Palate: The palate has a mild spicy warmth that leads to a salted caramel sweetness with an echo of tart apple skins before the dark cherry kicks in with a mix of winter spices and lush marzipan covered in creamy dark chocolate.
Finish: The end leans into a lightly spiced (think cinnamon, allspice, and maybe some licorice) chewing tobacco with a layer of dark cacao or almond adding a dryness to the finish.
Bottom Line:
This can be hit-and-miss depending on which vintage you come across. I really like 2020 and 2021 but was a bit underwhelmed by 2022's release. My advice is to seek these out at whiskey bars and sample a few vintages before committing to a bottle. There's greatness here, you just have to do the work to find it.
5. Weller The Original Wheated Bourbon Single Barrel Kentucky Straight Bourbon Whiskey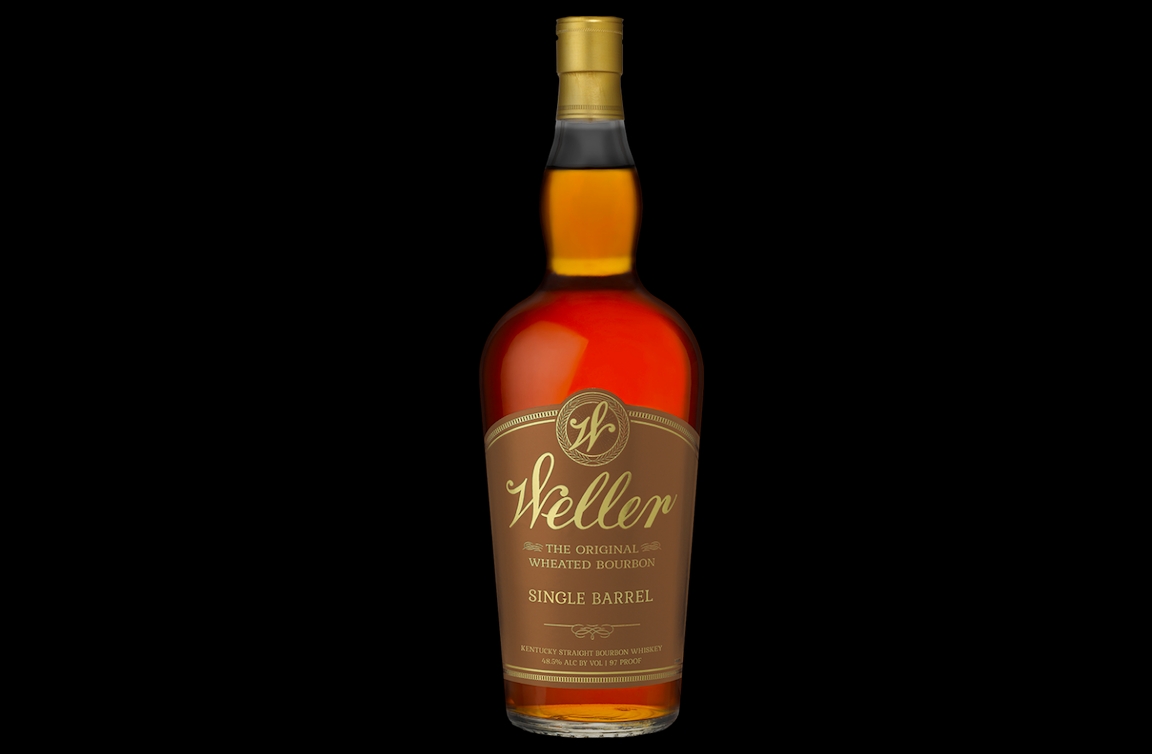 ABV: 43%
Average Price: $699
The Whiskey:
Weller Single Barrel gets a lot of hype because people tend to think of it as an alt-Pappy Single Barrel. Again, Weller and Pappy are two different beasts. That aside, the juice in play here is pulled from single barrels that hit a perfect Weller profile when proofed down to 86-proof for this as-is yearly drop.
Tasting Notes:
Nose: A bowl of fresh sour cherries just hit with salt and fresh mint mingles with a lush vanilla foundation and a hint of cedar and maybe some winter spice on the nose.
Palate: The palate amps up those winter spices with a good hit of nutmeg, cinnamon, and clove with a creamy eggnog mouthfeel before a hint of barely bitter dark-chocolate-covered espresso beans link to a whisper of white pepper.
Finish: The end layers the nutmeg and creamy eggnog into a chewy tobacco leaf and then folds that into a dry pine box.
Bottom Line:
This expression is divisive. I really don't care for the low proof. It's almost like a watered-down version of Blanton's sometimes — to me. That said, this is probably the most drinkable whiskey on the list because of that low proof. Even a noobie should be able to enjoy this neat without a hint of burn or roughness. That's enticing.
If you're looking to ease your way into Weller, this is where to start.
4. Weller The Original Wheated Bourbon Full Proof Kentucky Straight Bourbon Whiskey
ABV: 57%
Average Price: $399
The Whiskey:
This expression is a marriage of some serious barrels of unknown age. That vatted whiskey goes into the bottle at "full proof" which is not "barrel proof." The "full proof" this refers to is the proof of the hot juice when it goes into the barrel for aging. That whiskey will come out of the barrel somewhere around 57% but not right at it. So there may be a little proofing water involved. Hence, it is always 114 proof and not 114.7 one year and 113.1 the next year or 115.9 the year after that.
Tasting Notes:
Nose: Ripe and sour cherries lead the way with a thick vanilla underbelly, a hint of salted caramel, and woody cinnamon next to whole nutmeg bulbs on the nose with this slight echo of almost singed cherry bark.
Palate: The palate leans into the sharpness of the cinnamon and the lushness of the vanilla as a foundation as layers of buttery caramel cake frosting with a hint of sassafras and licorice next to dry cedar bark braids with a thin line of sweet grass and a whisper of sourdough fritters.
Finish: The end leans into creamy brandy butter cut with dark-chocolate-covered dried sour cherries sprinkled with salt and rolled in fresh tobacco leaves and stacked next to orange-laced marzipan in an old and slightly sweet cedar box.
Bottom Line:
This is getting into the good stuff when it. comes to Weller. This is a really tasty whiskey overall with a deep flavor profile and enough depth to keep you coming back for more. Moreover, the higher proof allows you to add a little water or ice to bring it down to a proof you like to sip. And that addition of water allows the whiskey to bloom in the glass, leading to more flavor notes and depth. It's a win-win.
As a side note, this is what you'll most likely see as a barrel pick at stores, bars, and restaurants. In that case, the profile might be slightly different. I've picked a barrel of this in the past that tasted exactly like WL Weller BTAC (more on that below). Either way, this is going to be a great pour of bourbon.
3. Weller The Original Wheated Bourbon Antique 107 Kentucky Straight Bourbon Whiskey
ABV: 53.5%
Average Price: $50
The Whiskey:
This is a non-age-statement bourbon that's called "Old Weller Antique" (OWA) by those who love the old-school vibes of the expression's previous iteration. The ripple with this expression is the higher proof. The barrels are vatted and barely proofed down to 107-proof before bottling (the entry proof is 114).
Tasting Notes:
Nose: The nose opens with a lovely sense of vanilla pods and orange blossom with a hint of old saddle leather and cedar bark next to wild sage, cinnamon and caramel apple fritters, and salted black licorice with a bundle of holiday spices and barks tied up with burnt orange and pine.
Palate: The palate is lush with a cream soda float with malted vanilla ice cream cut with cherries, dark chocolate chips, and espresso flakes next to cinnamon cherry bark tobacco on the mid-palate.
Finish: The end dives toward a thick braid of cedar bark, sage, and blackberry tobacco with a thin line of sweetgrass and vanilla pods woven in there.
Bottom Line:
This is the best cocktail base bourbon on the list. It makes a killer Manhattan, old fashioned, or Sazerac. I also dig it over a rock or two or neat. It's a great workhorse that you can actually still kind of find at MSRP or near to.
2. Weller The Original Wheated Bourbon Aged 12 Years Kentucky Straight Bourbon Whiskey
ABV: 45%
Average Price: $395
The Whiskey:
This is the expression that's theoretically the closest to Pappy. The whiskey rests in the warehouse for 12 long years, in the same barrels and warehouses as Pappy. The difference between this and Pappy 12 — good ol' "Lot B" — is pretty simple actually. If the barrel doesn't hit the exact flavor profile needed for a Pappy, it's sent to the blending house to become a Weller (as long as it hits Weller's flavor profile, of course). So, yes, this could have been a Pappy 12 had the flavor profile been slightly different in the barrel.
Tasting Notes:
Nose: The nose hits softly with bruised peaches and old pears next to fresh wool sweaters, vanilla pancake batter, and moist marzipan next to orange oils, worn-out wicker deck furniture, and old Buffalo Trace leather with a faint hint of dried roses.
Palate: The palate kicks around cherry bark and apple-cider-soaked cinnamon sticks with spiced cranberry sauce over buttermilk biscuits and gingerbread.
Finish: The end leans into the sharp brown spices with a mild sense of vanilla cake with apple cider and cinnamon frosting, a touch of burnt orange, and more of that moist marzipan covered in salted dark chocolate.
Bottom Line:
This is a really tasty whiskey. It's great for a neat pour thanks to that low ABV. But this one doesn't wash out like the single barrel. There's more depth at play in this pour that keeps pulling you back in for more. Then when you do add water, this really blooms in the glass and gets super creamy and nutty with a deep Black Forest cake vibe. It's great.
1. William Larue Weller Kentucky Straight Bourbon Whiskey Barrel Proof Buffalo Trace Antique Collection (2022)
ABV: 62.35%
Average Price: $2,359
The Whiskey:
Distilled back in the spring of 2010, this whiskey was made with a mix of Kentucky corn and wheat and barley from North Dakota with that Kentucky limestone water. The distillate was filled into new white oak from Independent Stave from Missouri with a #4 char level (55 seconds) and stored in warehouses C, K, and N on floors 2, 3, and 4 for 12 long years. During that time, 64% of the whiskey was lost to hungry angels. Those barrels were then batched and this whiskey was bottled as-is.
Tasting Notes:
Nose: The nose on this one is surprisingly sweet with a big slice of coconut cream pie (with a lard crust) next to your grandma's butterscotch candies straight from an old leather handbag that's held menthol cigarettes for decades and maybe some old Mon Cheri bonbons.
Palate: The palate opens with a lush eggnog full of nutmeg, allspice, and vanilla that leads to a white pound cake with a hint of poppy seed next to old leather tobacco pouches with a hot cinnamon spiciness on the mid-palate with light cedar woodiness.
Finish: The end layers that white cake into the tobacco while packing it all into an old leather handbag with whispers of mint chocolate chip, Halloween-sized Mounds bars, and old lawn furniture that's been left out too many seasons.
Bottom Line:
This is the best Weller expression by a country mile. This with a few drops of water or a single rock is bliss. Those heavier proof notes melt away, leaving you with a creamy glass of deep cherry and vanilla desserts cut with creamy nuttiness and old rickhouses on a cool fall morning. It's just f*cking delicious.
That begs the question: Would I pay the markup for this one? Yes. This is one of those rare whiskeys that's actually worth paying $100 a pour at a whiskey bar or $2,000 to actually own, even though the MSPR is $99 (for now). Think of it like finally getting a Rolex Cosmograph Daytona or pair of OG Air Jordan 1s. It's rare but lives up to the hype when it comes to quality.