"We're not going to make it less spicy because you can't eat spicy. People walk out from my restaurant, but we are happier if they decide not to eat, because if the mind is not going to open from the beginning, it's not going to work," Chef Bo Songvisava — Chef's Table, Season Five
Chef's Table, the Emmy-nominated Netflix show (which showcases a different innovative chef each episode) is trying something new for seasons five and six. They're zooming in on women and people of color. What's so great about this commitment to show diverse chefs on screen isn't just that it's happening (although that's very exciting), it's that the show's producers made the move after people complained that the series had mostly been featuring white men. Instead of becoming defensive or doubling down, the Chef's Table team listened. And then they promised to dig deeper and learn from the conversation.
This kind of thoughtful adjustment is a rarity these days and we all get to reap the spoils — a more diverse food culture is a win for literally everyone. Besides, getting to know the work of chefs like Thailand's Bo Songvisava is just plain old great TV.
Chef Bo embodies the same spirit that drove the Chef's Table creators to widen their POV. Her restaurant, Bangkok's Bo.lan, is both truly authentic and highly regional. With locally sourced, high-quality ingredients, and cooking and preparation methods that harken a return to traditional cooking.
Just like Chef's Table decided to believe that people would be just as drawn to diversity in chefs, Songvisava believed that tourists and young Thai people could embrace the actual culture and flavors of Thai food. When she opened her restaurant, she set out to give them the chance to do so.
"There is a gap in the society," Bo explains. "As culture changed in Thailand, working outside of the home became the norm and the traditional versions of recipes that were passed from mouth to mouth, mother to daughter were being lost. A lot of dishes were disappearing really quickly."
Songvisava grew up loving cooking. She adored the happiness food could bring people. But the food her family cooked, she says, wasn't traditional Thai. People in Thai cities didn't have the time to cook anymore the way they used to, and food carts and stalls dominated the food scene. As a result, anyone who wanted to be a chef in Thailand most likely ended up at a European or American-run place.
This conundrum led Songvisava to seek out a restaurant where she could learn to cook Thai food the way it used to be done. She found what she was looking for at David Thompson's Nahm in London — the first Thai restaurant ever to get a Michelin star.
Work at Nahm was hard but it was exactly what the young chef craved. The methods of preparation were gruelingly traditional. Bo was determined to succeed, something Dylan Jones, a fellow chef at Nahm, noticed. And fell in love with. A few years later the duo was striking out on their own — planning to bring traditional Thai food in a fine dining setting to Bangkok. The name they picked for their joint endeavor was Bo.lan, a play on their names together but also a homonym for the Thai word for "vintage." They wanted to handmake dishes the ways they'd been made hundreds of years ago and serve food without substitutions. And use high-quality, locally sourced ingredients.
This meant the food would come at a cost, which people weren't used to seeing with Thai cuisine in Bangkok. It was definitely a risk.
"We just spent days and days, sitting in different booths and going through all the books," Bo says of how the couple prepared to build their menu. "Because sometimes a recipe is at the back of the funeral memory book. Like a memoir."
Of course, preparing lost recipes isn't always an easy endeavor. It makes one wonder, how many of these lesser-known recipes didn't work out?
"Oh hundreds," Dylan laughs.
"Recipes didn't really get specific with the measurements," Bo explains. "Or how you do it, or how it should taste like…So some recipes, when you read it, it sounds very interesting but when you try it out, its just like ewwwwww."
On top of trying recipes that probably hadn't been attempted in the last century, Bo and Dylan were asking chefs to put in an insane amount of work in order to cook traditionally. For some, it was a deal breaker. They went through three sets of staff in the few months after opening. Bo would literally chase chefs into the parking lot, asking them why they were leaving in the middle of a workday.
"We're not going to take on a staff member that doesn't drink the kool-aid, so to speak," Dylan says. "We want everyone to be on board with our philosophy and if those people want to work for us, we want to work with them. That helps to create a really good environment because we can believe in our staff and we know that they've got Bo.lan's best interest at heart."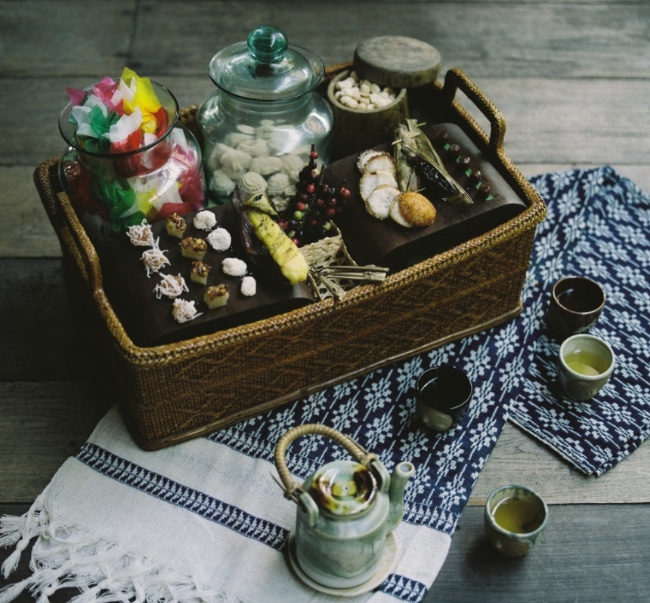 This trust of people to embrace something different extends to the restaurant's customers as well. Songvisava and Jones had to train diners to attempt a way of eating they may not have expected when walking in the door. In traditional Thai cooking, all the dishes come out at once. That's important to the flavor, they say, it gives balance. The spicy, the sweet, the savory…it's all hand-picked to create a balanced experience. They're strict about that. And it's Bo's biggest frustration when customers try to insist dishes come out in courses.
"That clearly tells us that they don't know anything about Thai food or us," Bo says.
So while the Bo.Lan team works to make the customers comfortable, they also stick to the philosophy that people need to have an open mind. It's not just about respecting the chef's curation of the flavor but respecting the culture — not westernizing it to fit your own expectations of fine dining.
All of these gambles have paid off. Opened in 2009, Bo.lan has a Michelin star, has been voted one of the best 50 restaurants in Asia. Bo was voted the best female chef on the continent.
This success isn't totally unexpected to Bo — she works hard, is incredibly passionate, and was confident in her abilities and the foods themselves. She wouldn't have started the restaurant if she thought it would fail, she explains. The real stress was on her relationship. The restaurant was well received early on, but the marriage… that had its moments.
"When we first started, it was a lot harder because we were both young and both new to each other and also to the kitchen and having our own the business," she says. "There are so many stress levels that we had to encounter and at the beginning, we didn't really know how to manage that or how to draw the line."
"Also," Dylan chimes in. "when you are running or owning a restaurant together, there really isn't a time when you're not running and owning a restaurant together. It's such a 24-hour business that it requires a bit of patience and understanding."
That took some trial and error to learn, but as they matured things grew easier.
"It's getting better and better every year," Bo says. "We understand each other a lot more, we learn to compromise to each other in a better way."
"You can read that as me just doing what I'm told," Dylan says dryly. Bo smiles.
"You've gotten better at that."

Along with the phenomenal food, one thing that makes Bo.lan unique is its commitment to sustainability. Bo and Dylan's goal is to operate restaurants with nearly zero carbon emissions. They're people who love food. And if you love the taste of real food, they say, you have to do what you can to preserve it or we'll all end up eating only lab meat sooner rather than later. So they change their menus nightly and they develop them around what their local farmers and producers have rather than the other way around. It's a symbiotic relationship which they say is vital to sustainability.
"Our farmers and our producers gave us a greater understanding of the impacts of global warming and the impacts of climate change and how that affects their livelihood and, in turn, our livelihood," Dylan says. "And I think we just wanted to make our small part of the world a better place for the next person. Leave it better than when you find it, so to speak"
And as they grow their culinary empire, adding in more casual fare to the mix, Songvisava and Jones work continually to make things more sustainable and more authentic without compromise. Eventually, they just want to be off the grid completely. Put down roots in the middle of nowhere, with a restaurant that is fully running off its own power, generating zero waste — a destination for people to travel to in itself
"The philosophy we had from the first day is we don't have to compromise," Bo says. "Every day we go to Bo.lan, we know that we are supporting our small-scale farmers, our small-scale fisherman, and encouraging them to keep doing what they're doing so we have a good product to do what we have to do well, yeah?"
"The fact that we're actually doing what we say we're doing. Helps me sleep well at night," Dylan adds. "It's not just a marketing term."
"I think you have to believe in what to do," Bo says, "and just stick to it."