While plenty of hotels claim to be "redefining the hospitality space," few are actually doing it. Hotels, like everything, move in waves and fall victim to trends. But on my recent visit to Eaton DC, I did feel like I was glimpsing the future. The property is one-part hotel, one-part coworking space, and exhibits a deep focus on culture, making the boutique hotel more than a simple place to lay your head at night.
Opened in 2018 in the heart of downtown Washington DC, the Eaton DC was created by Katherine Lo—AKA the daughter of the founder of Langham Hotels. Her goal was to create a hub for artists and creatives alike, alongside some excellent on-site F&B offerings. She succeeded, the property hosts one of the city's best speakeasy-style bars and some inspired food. Add a baller wellness center, rooftop, and coworking space, as well as a slew of additional amenities (see below) and we can confidently say that this is one of the absolute best spots to stay in the city. Its central location is the cherry on top (and a very necessary cherry, because in DC you really want your hotel to be centrally located).
WHY IT'S AWESOME
As I mentioned, Lo is big on community and creativity, meaning that in addition to actively courting forward-thinking guests, the hotel's coworking space and on-site café regularly welcome some of the city's most revolutionary thinkers and creatives through its doors daily.
For those in need of a creativity spark, this is undoubtedly the place to be.
From a wellness perspective, Eaton DC's also ahead of the game. In addition to a 24/7 gym, the hotel's on-site wellness center offers a variety of holistic treatments, including massages, sound baths, infrared saunas, reiki, meditation experiences, and more. With regards to the in-room minibars, health-forward options such as trail mix, kombucha, and other mindful snacks line the shelves. (Not saying we didn't miss our refrigerated can of Coca-Cola and Hershey bars at 2 AM, but these choices are probably better.)
IN-HOUSE FOOD + DRINK
Eaton DC is home to four on-site F&B concepts, each of which I found to be worth visiting (though DC has great food, so exploring is vital too!). Downstairs, the all-day Baker's Daughter café is great for grabbing quick breakfasts (including toasts, sandwiches, and breakfast tacos) and pastries (muffins, croissants, etc.) on the go, as well as beer, wine, and cocktails at night (open 7 days a week from 7 am to 8 pm). For heartier fare, head to Michele's, spearheaded by Michelin-starred chef Matt Baker. Baker, also owner of DC-based restaurant Gravitas, cooks up French-American fare inspired by his Houston and Louisiana roots—think vegetable étouffée, fried whole fish, double smash burgers, and fried chicken sandwiches. Chilled seafood, caviar, and various raw bar items (oysters, hamachi crudo) are also available. Open 7 days a week.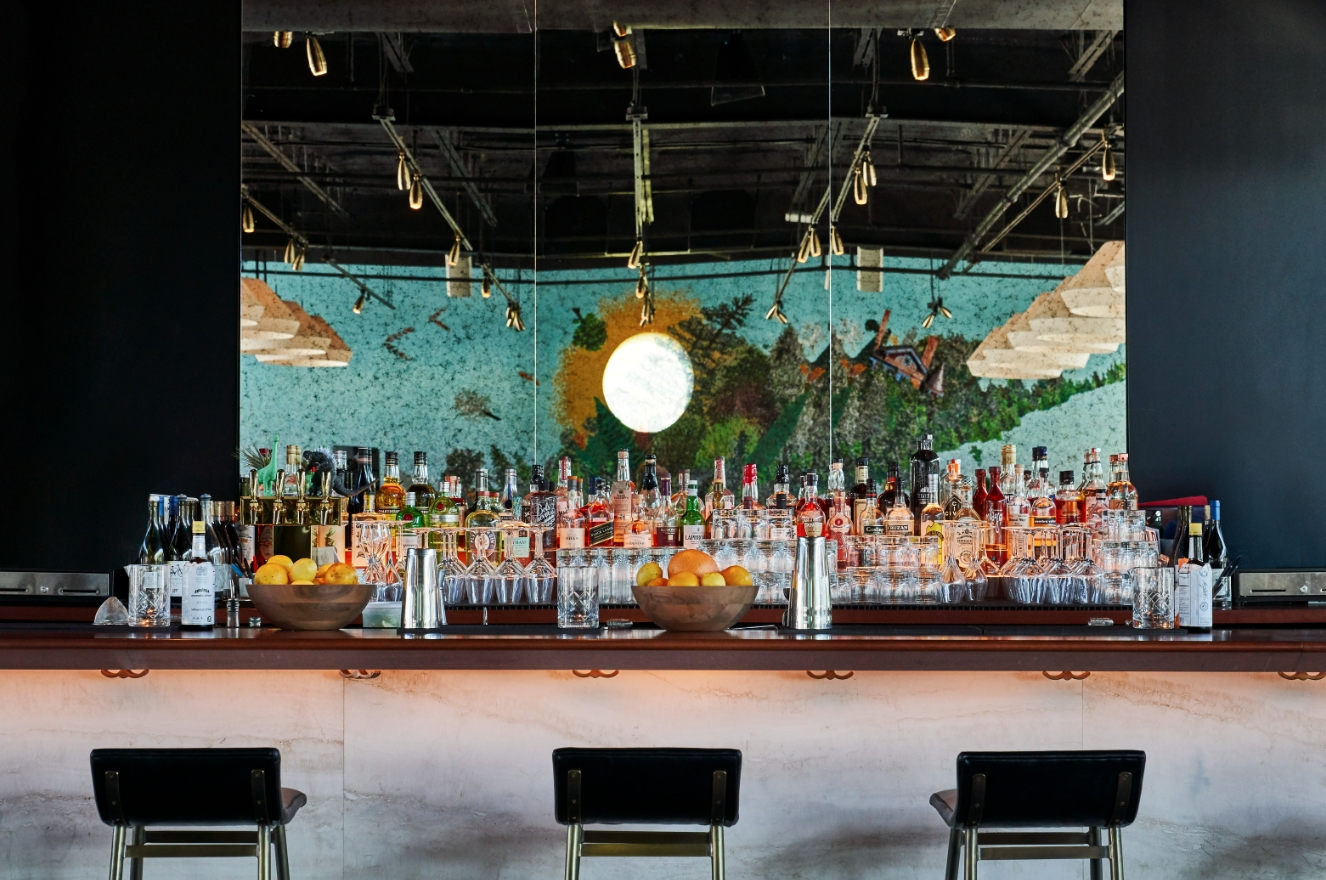 What Eaton DC truly does best is cocktails. For a more party-focused vibe, the hotel's rooftop bar and lounge, Wild Days, is where it's at. Known for its tacos, small bites, and refreshing cocktails, Wild Days also serves up breathtaking views of downtown DC, which can be enjoyed indoors or outdoors.
I enjoyed the impossible tacos, chips and guac, and impossible chili & vegan queso washed down with Panda, Panda cocktail (Hendricks Gin, Campari, pandan, poconut, Foro Sweet Vermouth), followed by the WAKE UP! (and then came the SHOT), made with Haku Vodka, Mr. Black Coffee, cold brew, cacao, and biscotti. Note: Most cocktails are half-price during happy hour.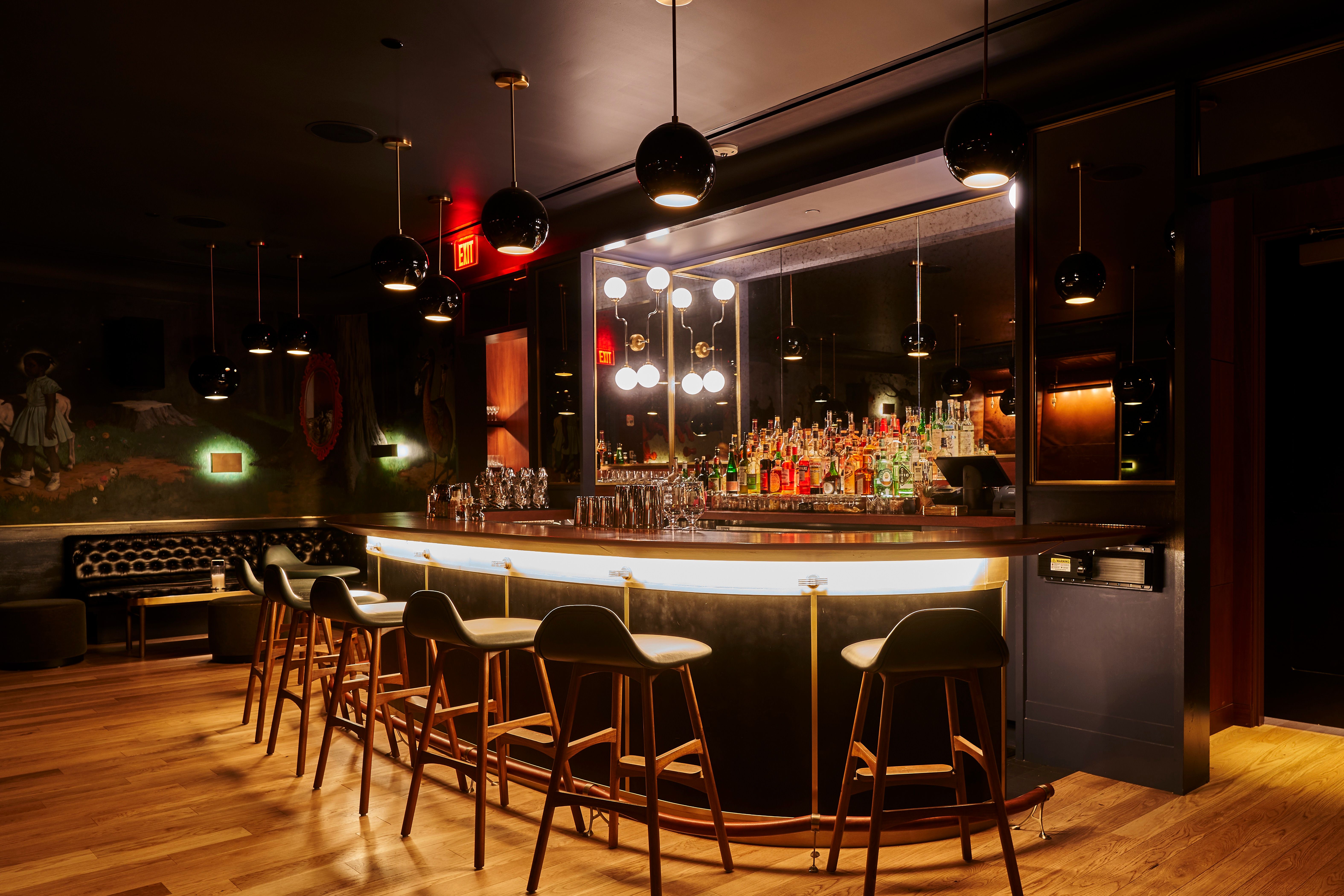 The true star of Eaton's show is its concept cocktail bar, Allegory. Located on the ground floor, this speakeasy-style bar is accessed through the hotel's library area. Inside, stunning murals depicting the story of Ruby Bridges told through an Alice in Wonderland lens line the walls of the dimly lit space, which is complete with a hodgepodge of booth, table, and barstool seating options. Renowned mixologist Deke Dunne has been at the helm of the bar's beverage program since 2018, focusing on innovative cocktails that also reflect the Ruby Bridges-Alice-mashup.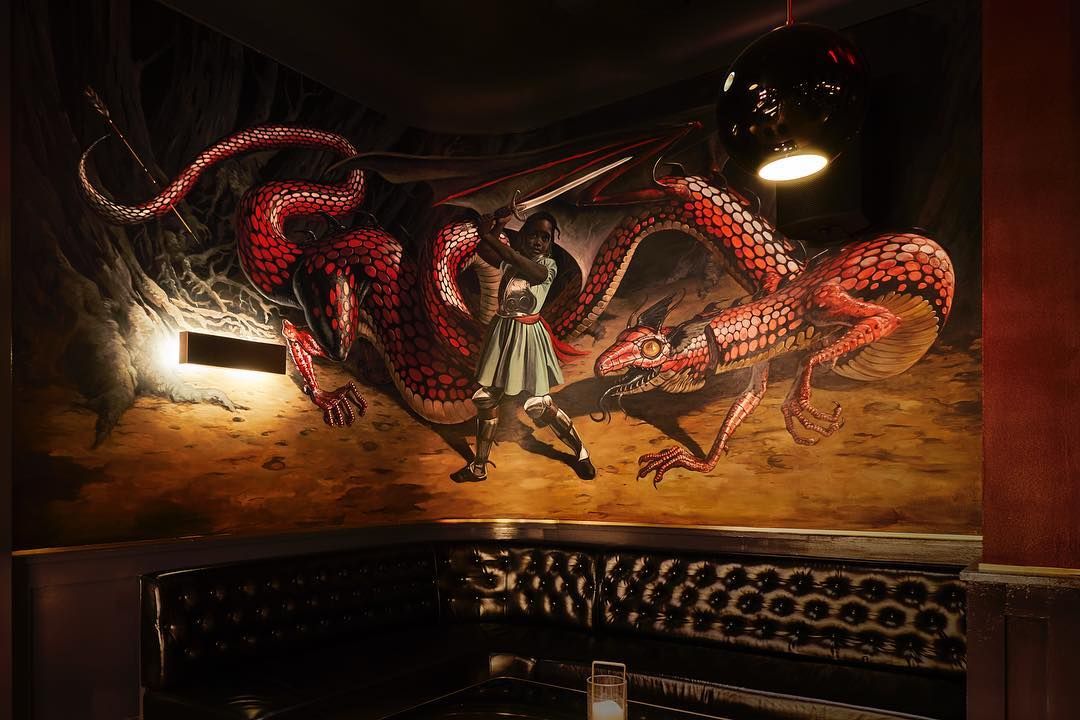 A star of the show?
The Through the Looking Glass, made with Ketel One Vodka, Caravedo Pisco, Chayote Fino, yuzu, and Champagne lime sherbert. Stronger libations include the Crow from Tobago (Michter's Rye, Hapusa Himalayan Gin, Trinidadian curry, Amontillado, lacto-carrots, strega, lime, and cacao), as well as the Unicorn (Equiano Light Afro-Caribbean Rum, Pandan, chili, eucalyptus, coconut, and sesame). Note: Each cocktail on the list states ingredients used, as well as its final ABV.
Even if not staying at Eaton DC, no trip to the city is complete without a visit to Allegory. Walk-ins only, no reservations accepted.
AMENITIES
Free Wi-Fi
Complimentary coffee and tea from 7am-10am in the lobby
24/7 fitness center
Free access to Eaton DC's coworking space
Pet friendly
Wellness classes
Grown Alchemist bathroom products
Smart TVs
Daily Housekeeping
ROOM TYPES
Eaton DC offers five different room types across their 209 individual accommodations: Cabin Rooms, Study Rooms, Art Gallery Rooms, Pied à Terre Junior Suites, and Residence Junior Suites. All rooms—even the smallest Cabin offering—feature cozy sitting areas, hardwood floors, Himalayan salt lamps, organic bedding, smart TVs with casting abilities, in-room record players, and a selection of books.
The bathrooms don't fall short, either. Cabin and Study rooms feature tiled walk-in showers, while a few select rooms boast porcelain tubs. All rooms are outfitted with 100% natural Grown Alchemist bath products, as well as plush towels, hair dryers, and the basics. Junior Suites also have expanded living areas with sofas, as does the Residence Junior Suite, which also comes equipped with a 6-person dining table.
Overall, the retro feel of the room, earth-tone colors, and brightly colored accent rugs offer serious 1970s vibes in the best way possible. My suite was so cozy, I actually had a hard time pulling myself out of it to explore. Pop a record on, grab a book, and you'll see why.
THE BEST THING TO DO WITHIN A 15-MINUTE WALK
Located downtown (on 12th and K Streets NW), Eaton DC's ultra-central location renders it walking distance from some of the DC's main attractions, including the National Mall and the White House, as well as major shopping areas. There's even a subway stop just a four-minute walk away, making exploring other DC neighborhoods easier than ever.
While the obvious answer here is the White House or the National Mall, my main focus when traveling is eating and drinking. For a bountiful first meal of the day, head 15 minutes north on foot for a classic diner breakfast at Ted's Bulletin—and don't skip on the homemade pop tarts. Come evening, Silver Lyan (a 12-minute walk from the hotel) is undeniably one of the best cocktail bars in the city, and although it may sound cheesy, a trip to Joe's Stone Crab (a 9-minute walk from the hotel) is simply unmissable. The menu is vast, and while the obvious choices include crab bisque, crab louis, and of course, stone crab, don't sleep on the seared sea scallops, oysters Rockefeller, crispy fried shrimp, and slew of potato-based sides.
BEST THING TO DO/EAT/DRINK WITHIN A $20 CAB RIDE
A $20 cab ride gets you pretty far in DC, especially when you're as centrally located as Eaton DC. Barbecue lovers, there's no better way to spend your cab fare than by heading to Federalist Pig in Adams Morgan. My partner enjoyed a hefty serving of pork belly and pulled pork shoulder, while I opted for sides of crispy brussel sprouts and gooey macaroni and cheese.
For those looking for a place to eat, drink, and shop, exploring the DC's Union Market is an absolute must—and be sure not to miss the world-class drinks mixed up by AJ Johnson at Serenata/Zumo. In addition to slaying classic margaritas and palomas, the joint equally excels in fresh-pressed juices (mango passion and cocada, made with coconut milk, coconut flakes, date paste, and vanilla are to die for), as well as homemade corn pasteles, smoothie bowls, and salads.
BED GAME
Extra large, incredibly plush, and outfitted with organic bedding—need I say more? The bed was comfy as hell, and the perfect place to lay my head after a long evening of cocktail bar hopping around the city. Think the perfect balance between soft and firm, with ultra-cool bedding and solid pillows.
RATING: 10/10.
SEXINESS RATING
When it comes to sexiness factor, Eaton DC definitely doesn't fall short. The rooms' plush beds, retro decor, and in-room record players create a seriously sultry ambiance, and having direct access to the hotel's on-site cocktail bar or rooftop bars at just an elevator ride away makes letting loose (and stumbling back home) easier than ever.
RATING: 9/10
VIEWS & THE PHOTO OPPS
Honestly, the views from Eaton DC are pretty hit or miss. While some are spot on and offer stellar views of the cityscape, others are quite shielded / simply look over the main road. However, the outdoor fire pits definitely earned the rooftop an extra half point. Personally, I preferred the vibes indoors at Wild Days.
RATING: 6.5/10
BEST SEASON TO VISIT
The obvious answer is cherry blossom season, which generally takes place in late March or early April, though late spring and fall are beautiful, too. Like most of the northeast, summer can be brutally hot—and winters can be equally intense—so it's really a matter of how sensitive you are to exploring the city in extreme temperatures.
IF I HAD TO COMPLAIN ABOUT ONE THING
I will say that the top-floor suites can definitely hear the noise of the rooftop bar, so keep that in mind when booking. If you sleep like a rock, or simply have the energy to party all night long, then these accommodations are perfect for you. Though if you're anything like me and need full quiet to get some much-needed R&R, don't spring for the higher floors.
BOOK IT:
Expect to pay $349-$379 a night for Cabin Queen, Study Queen, and Cabin King rooms, and $449-$549 for suites (more on weekends).
INSTAGRAM IMAGES TAKEN AT EATON DC