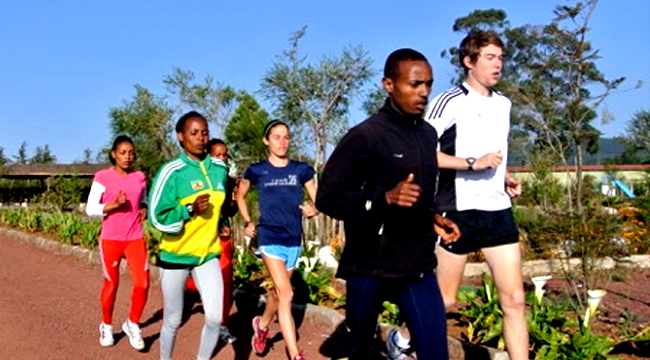 When runner Becky Wade was about to graduate college, she knew that she wanted to travel the world before settling into any sort of career. She longed to experience different cultures, find friends across the globe, and discover her purpose through getting lost. She wanted to learn while wandering. Travel costs money though — especially if you want to take an entire year off to do so and haven't entered the workforce yet. Which is where the (very awesome) Watson Fellowship comes in.
The Watson Fellowship awards new college graduates the opportunity to see the world with a generous year-long stipend. They don't expect you to work at any point, volunteer, or even come up with a tangible end product. They simply want young people to have world-broadening experiences that will enable them to become leaders (in any field) with a more empathetic and knowledgeable perspective of other cultures. The big condition of the fellowship: You're forbidden from stepping foot back in the U.S. for an entire year. That's it. Basically, the sky is the limit from there.
For Wade's proposal, she decided she wanted to see the world by meeting with other runners and running clubs in various countries. She wanted to learn how communities around the world structured their lives around the sport and how they interact with and approach running in ways that were similar or different from her own experiences.
"It's such a pure and inclusive sport and something that's practiced everywhere," she says. "So it just made sense to connect that to travel."
Wade won the fellowship. And though she initially planned on visiting just a handful of countries, she took the award and… ahem… ran with it, visiting 22 different nations. She never paid for lodging, instead relying on personal recommendations of people to stay with and, at times, cold-emailing clubs, coaches, and professional runners to ask if someone would be willing to put her up. Every dollar of the grant went toward food and transportation.
The trip inspired a book and it not only allowed Wade to make friends and experience other cultures, as she had hoped, but also ended up elevating her own running career by changing her perspective.
Shortly after Wade returned from her travels, she ran her first marathon — the California International Marathon in Sacramento — and won it. Magazines touted her as "America's Best Young Marathoner" and, in many ways, that success was a product of the life-changing year she'd had traveling. She's now full-time a professional runner. And her trip, which proved to her that running transcends the superficial barriers that keep us from connecting to other cultures, also helped break down personal barriers to her success as a long distance expert.
We were able to catch Wade recently just hours before she flew to London to compete in the London Marathon (she came in 11th place, in what was the hottest London marathon ever on record). And she shared with us the ways travel can deepen and strengthen your running career.
1. You'll meet the lifelong friends and running partners who will encourage you throughout life. Because runners are cool people.
I am so fortunate that as a 23-year-old, 5 foot, ninety pound American girl who'd never really traveled, that I honestly didn't have any security or safety issues. I got pickpocketed, had my wallet stolen, and got lost so many times, but I really felt like the running community stepped up and helped me out.
I didn't have a cell phone or a smartphone. So, there was a lot of learning how to trust my gut when I was traveling, but I will say this, for the most part: Everyone who I met, ran with, and stayed with was excited about my project and about meeting me. They were exactly the kind of people you want to meet and spend time with while you travel!
Runners are, in general, very friendly and social. It's a really easy sport to do with other people and develop a community around. The cool thing about running is that it's really easy to relate to all runners — from the super recreational hobby jogger to the professional runner because, we're doing the same thing, we're just doing it at different paces or different quantities of miles every week. It's such a pure and inclusive sport and it's something that's practiced everywhere. It really lends itself well to travel.

2. Seeing the ways people run around the world will help you center running on joyfulness.
This trip was the best thing I could have done for myself as a professional runner, in order to have a long and joyful running career. The sport itself, marathoning, is really difficult and can be a grind at times and very solitary– even if you are with a group. I think having traveled the world before I actually started my marathon career, and just seeing that there are so many different ways to approach the sport, opened my eyes and made me appreciative of the flexibility and the adaptability that good runners have when they're able to balance a fulfilling life with running. I think the two go hand in hand for long careers.
My trip really just taught me the benefits of being adaptable and flexible, that there's no one "right" or correct approach and there's usually a way to do it if you want to do it.
It's definitely an ongoing challenge because, like in any sport, there are inevitable slumps and injuries and long periods where I'm not seeing improvements. Sometimes, I can feel like I'm running myself into the ground. But doing different distances and racing in new places, especially if that involves traveling, and making it more social, shakes things up. It makes it less about me, and the specific things that I eventually want to accomplish, and more about: how can I find joy in the sport right now?
3. Travel allows you to open yourself to new possibilities and accomplishments. The flexibility you learn will translate into being a better runner.
By nature, long-distance runners are creatures of habit. We have our routine and we're perfectionists. We like predictability and control. That's what I fall into when I'm not careful. And so, traveling is such a good way to shake me out of that. The year that I spent traveling has been good for me because, since I was staying with other people, I was totally on their agenda as far as when we were running and how much we were running and what we were eating and when, and what we were going to spend our time doing. That (flexibility) is not something that's easy for me. I am always going to be working on it, but that was one of the biggest takeaways of my whole year.
I spent two months in Ethiopia, and the girls that I was training with there, not only did they not have specific plans for what they were doing every day, but they didn't even wear watches. I learned very quickly that whatever preconceived notions I had about a run were going be totally wrong.
My first run there, I told them I just wanted to run for 30-45 minutes, something easy. I'd just gotten off the plane, it was a 30-hour trip, and I wanted to shake my legs out. I think an hour and a half later we came rolling back in, and my instinct was to get all tight and rigid, and be like "What the heck are we doing, you said we were gonna go on a short and easy run!" But they're just so with it that they believe if your body feels good, you should push a little bit. They run, unusually for training, in a single file line, and so if you're not the line leader you basically have to tuck in and roll with it.
That lends itself extremely well to any race I think but, especially, the marathon, where there is so much time, so many moves, and so many things to respond to and adjust to on the fly.

4. Connecting across different cultures to runners around the world will help you remember to connect to your fellow runners in any race, and to look at each other as a source of encouragement rather than a roadblock.
Seeing how a lot of the people who I got to spend time with on my trip run has helped me to be able see races more as a shared, very difficult, endeavor rather than just a competition.
Traveling made me see that there are ways of training other than measuring everything and calculating. Judging how good of a runner you are by numbers is useless. You know that, but, it's easy to fall into the trap of becoming obsessed with them.
In big races, once the gun has gone off, and the packs are forming, I look around now and see who's in the group. I know and see what other people are trying to run, and we try to encourage each other, because ultimately, what we're doing is super hard. And just because one person does really well, doesn't mean I'm going do worse.
Becky Wade's book about her running adventures around the globe, Run the World: My 3,500-Mile Journey Through Running Cultures Around the Globe, is available on Amazon and other places where books are sold.