At first glance, travel and running don't seem like natural allies. Dreams of travel often come with a sense of relief at the chance to break from our workout and diet routines. We want to put on our "out of town" hats, get a little tipsy, and order extra bacon on our cheeseburgers. But maybe this is all wrong. Maybe we're missing out on something by not incorporating exercise — running even — into our travel plans.
We wanted a real answer to what running while traveling brings to the overall experience, so we sat down for a chat with one of the discipline's most ardent believers, Cassie De Pecol. You may remember De Pecol as being a true "mad one" — the first woman to travel to every country on the planet. De Pecol accomplished this task with the idea of promoting sustainable travel to the world and did so while keeping herself as healthy and fit as possible. Meaning she's run in countries most people haven't ever heard of.
Currently, De Pecol is prepping for her first full Ironman in Boulder, Colorado. While most of us would prefer to train on a home track and sleep in our own beds after intense workouts, Cassie is a world traveler and has to get after it wherever she lands. That very idea feels like a great place to start a conversation about what running while traveling can bring to the overall travel experience and how travel can elevate the running experience in return.
When did you start running on your travels? Was it just something that always felt like a necessity, or did you have an "ah ha!" moment while traveling the globe?
I was 18 when I really started running on the road. I studied abroad in Costa Rica my first year of college and found that running was the easiest way to stay active and fit while also seeing as much of the countryside as possible.
It's super easy to make excuses for why not to exercise when travel. How do you stay motivated?
It makes things a lot easier when you have a 'virtual race' lined up.
What's that?
So, throughout my expedition, I'd register for virtual races. That's where you compete on your own time anywhere in the world, on a route of your design, and, yes, you even get a medal mailed to you!
When you have a goal, it's easier to get up in the morning and knock out a mile or two. While it doesn't have to be a priority when traveling, it doesn't take much to get up an extra 30 minutes or an hour earlier than you'd regularly wake up in order to get a few miles in.
It sorta feels like yoga dominates the travel exercise world — at least if Instagram is to be believed. Are there other exercises that help you be a better runner?
Honestly, I've never found yoga to help with my fitness goals. With that said, after every training session, I find it crucial to spend 10-30 minutes stretching core muscle groups that I've worked that day. Flexibility is important. I'm more of a sprinter, but I am running distance in preparation for my upcoming Ironman. While it's not my favorite, I've found a few techniques that have helped me become better at it.
Can you elaborate on that?
First is mindset: Thinking time instead of miles. The thought of high mileage — especially while on vacay or traveling — can be daunting. Second, I find sprints to be useful. HIIT sprint exercises (High Intensity Interval Training) over the course of an hour or an hour-and-a-half have definitely increased my VO2Max* and my endurance. I'll incorporate jump squats, smith machine lunges, Bulgarian split squats, speed skaters, pistol squats, IT band shuffles, and, of course, core work like planks, cable crunches, and hanging leg raises.
*Oxygen intake while training.


Let's take a step back for a moment. Let's say someone wants to start training for a marathon. There's a million different pieces of advice out there, some contradictory even. What advice can you give to someone starting out?
I haven't yet competed in a marathon and will be doing so for the first time for my Ironman. The farthest I've gotten so far is about 17! So I'm not sure I can properly offer advice on that.
I think that makes you the perfect person to give advice! Starting to run is the hardest part.
Okay, with any long distance race, it all comes down to mindset, nutrition, and stretching. I've competed in a few half marathons and half Ironmans. I've noticed that the mind can either make or break your race. That and proper stretching (of course along with training) will really prevent injury during a race. I've made the mistake of not stretching prior to one of my half Ironman races, and my knee gave out 7 miles into the run.
What do you think is the toughest hurdle to breaking through and becoming a runner? What was the biggest hurdle for you?
The mental commitment to getting up and going for a run is tough, and, personally, the most taxing. I can't eat or drink three hours prior, and even to this day, I struggle with managing nutrition on long runs because of cramping. When it comes to swimming, biking, or weight/strength training, I don't have to take that into consideration.
What's different when you run?
It can sometimes be an all-day affair if I have a long run that I have to get in — like training for my Ironman — which can make it seem daunting at times. As with meditation, or any big lifestyle change, you have to adapt and find ways that make it both fit into your daily life while becoming something that you enjoy. I always say it's important to inspire yourself in order to become better.
Can you break down how you decide where and for how long you're going to run when you travel? Do you find local runners to train with? Run solo?
I'm a lone wolf when it comes to most things in life, including training. Beating my own times is what works for me and I honestly find it more motivating to run farther and longer when traveling as opposed to when I'm home. Being a big nature person and less a city one, I always favor running through the countryside or small towns. It's my favorite way of being able to dive into the culture and get a true sense of how people live their lives and what the natural landscapes and ecology is like.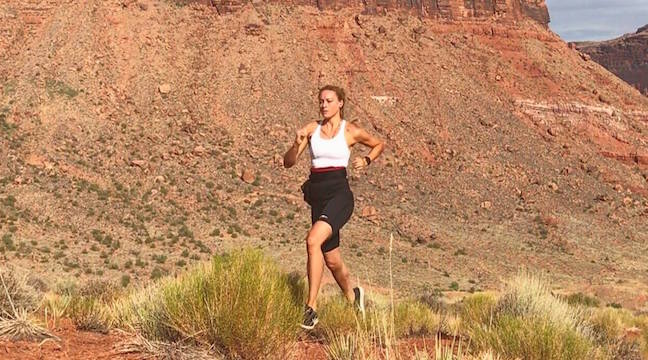 Traveling the world can feel like an endurance exercise. What have you learned through running around the world that varies from just old school traveling?
It's easy to veer off the beaten path when you go for a run in a new place. First of all, you are able to garner so much more energy and a greater wellbeing by incorporating running into a travel experience. And it allows you to travel farther and longer.
But it's those off-road experiences that make travel feel so much more authentic and raw; whether you're staying at a luxury resort somewhere or backpacking. Personally, it gives me endorphins to want to keep going and continue to explore. In the back of my mind, I also know that it's helping me in the long run for my future races.
What time of day do you love to run?
The mornings are when I choose to run while traveling. I'll usually go for an hour or two, depending on how much time I have. Of course, it's important to enjoy the new destination, so I make sure to bring my phone or small camera with me to grab photos along the way.
Why mornings?
The mornings are pretty much the same for people all around the world, and I really enjoy the scents of smoke burning from the fireplaces of peoples huts or houses, the smell of brewing coffee, and friendly 'hellos' to the vendors selling sweets on the side of the road.
Morning runs or long walks have been my primary way of exploring new places when I travel.
Where are your favorite runs around the world? And which run out there would you love to make your everyday run?
The Amazon Rainforest in Ecuador made for some interesting runs when I lived there, just need to watch out for those snakes! Zion National Park had some beautiful trail runs. Beach running in Thailand — though it was very humid, which made it a challenge. And for a more crisp, small town run, Queenstown, New Zealand.
Most recently, my favorite run has been Half Moon Bay in California. Something about the mountains, vegetation, wildlife, and coastal bluffs make it so interesting and fun. That would definitely be my everyday run.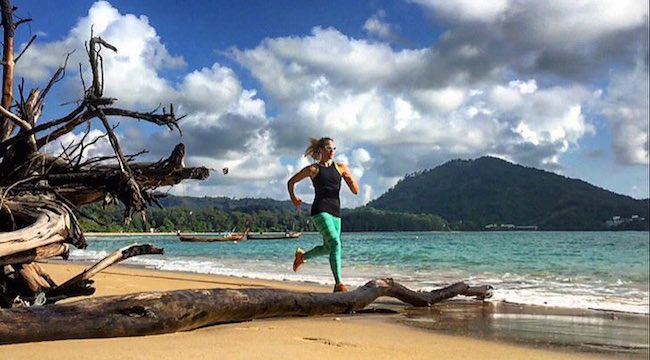 What has running taught you about yourself?
It has taught me that good health is the most important and valuable of all personal assets on this planet; more than money, friends, family, etc. Because without it, we wouldn't be able to see family, friends, to travel, or afford the experiences that are meaningful to us. Staying on top of my health through clean eating and training while on the road has been vital towards ensuring that I can live a positive and impactful life of inspiring others and myself!
Also, it has enabled me the opportunity of truly diving into cultures and local traditions around the world that I otherwise would have missed out on had I not gone for that run. It's literally where I meet people.
Where do you want to run after your Ironman? Is the World Marathon Challenge on your horizon?
Well, I'm training for a full Ironman race this summer, a full 140.3 miles with 26.2 of them running. Prior to that race, I will be traveling quite a bit and my runs will take me to Arizona, Argentina, California, NYC, and beyond, with a half Ironman coming up in between.
There's also an endurance record attempt that I'll be doing that does involve running and travel, so keep an eye out for that!
What does running give you that other exercise does not?
Knee problems! Just kidding. Running is the best form of exercise specifically when traveling because you don't need anything else but your running shoes. I also love that it builds strength in most muscle groups.
How so?
I actually find that my arms lean out when running a longer distance.
Last question, how does running while traveling change the travel experience?
When it comes to travel, running enables you to really experience cultures and environments from a local level. You're able to veer off the beaten path and I find that people are open and welcoming you into their homes for a coffee or tea when you run away from the pack. You can see and hear wildlife that otherwise might not be around when you are with a group. The silence of your surroundings when on a run in a foreign place is beautiful. It makes it all worthwhile.