For almost a year, I've thought that the most wonderful, exciting, ingenious way to get your barbecue on was via filing cabinet. Hear me out: your grill may be amazing, but can it smoke meat on several different levels (heat settings!) and conveniently look like a piece of office furniture that thieves would ignore if they stopped by to snatch your valuables during your family cookout? Sure, you'd be out TVs and jewelry, but at least you could enjoy a nice piece of chicken that you'd hidden where your tax returns should have gone.
Check it out, this guy's a genius:
Don't get it twisted: Carcinogenic metals make for the most delicious meat. But none of that matters anymore, because filing cabinet BBQ guy has been vanquished, disappeared, replaced. For your next big outdoor party, you should be thinking bigger. You should be thinking about cooking all your fine cuts of protein in a Cadillac Deville. And good news: One is available in Dallas. Only gonna run you $1,800 too. (Or best offer! Could be yours for $1250.)
Behold!!!!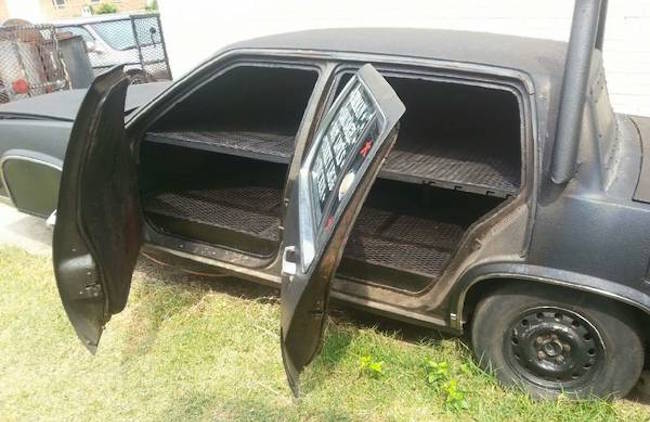 Here's everything you need to know about your lean, mean, luxury car and grilling machine:
ONE OF A KIND!!!!!
This is an custom homemade BBQ trailer grill. 1988 Cadillac Deville Smoker weight 2600 capacity 1300 heavy duty & gagged steel great for parties, weddings or family unions. Has it's own hitch to pull anywhere. Great investment! SERIOUS buyers only!!! 1800 OBO. please text me or leave a message…willing to negotiate please text me or leave a message…I will get back with you ASAP!
I'm assuming gagged steel means "gauged steel," although you may want to make sure this car isn't into some weird BDSM stuff before you buy it and then haul it out for your toddler's birthday party. Could be worse than that time a movie theater played 50 Shades instead of a film about a talking sponge for a kids' matinee. Still, the person writing the ad sounds pretty excited about getting rid of this thing, so we'd ask a few questions before buying.
Also, please invite all of us over for a shindig if you end up being the lucky buyer. Call it a finder's fee.