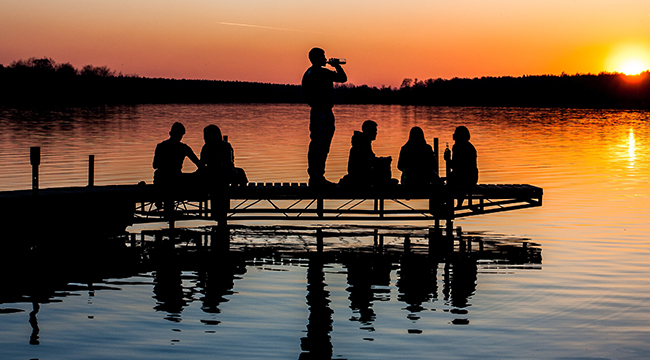 Choosing where to travel is always a bit of a head-scratcher. There are just so many places to see out there. There's the backpacker trails across Europe and Southeast Asia, road trips from Cairo to Cape Town, #VanLife-ing across the US, sailing adventures around El Carib, Incan trails, Arctic adventures — and that's just scratching the surface. It's a lot to take in and a a literal whole world to choose from.
With spring officially here, we thought we'd take a look at some corners of the world that have buzz right now. We asked American Express Travel where they're seeing the biggest increases in searches and bookings around the world for spring 2018. An interesting set of destinations are dominating this year. Spots that'll entice the most seasoned vagabond to new corners of the planet.
Let's dive in and maybe make some spring travel plans!
Also, check out Uproxx's Cheap Flights coverage to find the best flights, hotels, and packages for all your spring travel needs!
Pape'ete, Tahiti
The siren's call of the South Pacific is real. American Express Travel clocked a 25 percent uptick in interest to Tahiti so far in 2018.
Actually, is hitting up Pape'ete and Tahiti even a question? It's paradise after all. Go! Explore! Soak in that sun, lounge under swaying palms, dive into the azure seas and spear tasty fish for dinner, dance around a beach fire, hike through jungles, drink a little too much local 'shine, and come home with a new sense of self.
Sound good?
Savannah, Georgia
https://www.instagram.com/p/BVcyMOlAe7c/
Savannah had a 26 percent bump in travel interest this spring. It's easy to see why. The colonial town is street after street of swaying Spanish moss, colonial architecture, oyster bars, rum houses, and that warm that feels like a comforting hug in the springtime.
Come summer, that heat turns humid and oppressive. So now's the time to go!
https://www.instagram.com/p/BVfu4V0gLmi/
Amsterdam, Netherlands
Not gonna lie, this one feels like a little bit of cheat. Amsterdam is always lit. Even in the doldrums of winter, you can find a nice little coffee shop to waste away the days while rolling joints, or eat your way across the city, or just chill in a museum taking in some culture.
That travel plan works 24/7, 365 in the 'Dam. But spring is nice because bike season is back in full swing.
Cusco, Peru
Interest in Peru, Lima, and Cusco is up 56 percent this spring — which is their autumn. Summer is waning in Peru and that means the weather is mellow and the tourist season is post-peak. This might be the perfect time to finally trek the Incan Trail, see Machu Pichu, and partake in a little ayahuasca transcendence.
St. Louis, Missouri
St. Louis is a great addition to any list. St. Louis has a great food scene that hasn't blown up yet (much like Pittsburgh's). It's also at the crossroads of America with a great baseball stadium, a dope riverfront scene, and some of the best BBQ anywhere.
This is a domestic trip that won't dissapoint.
https://www.instagram.com/p/BgeVXwQhKQA/
Doha, Qatar
The UAE and Dubai dominate the Middle East travel conversation these days. Now, it's time for Doha and Qatar to shine.
Searches and bookings are up 79 for spring 2018. The peninsula nation sits in the Persian Gulf and is one of the richest countries on the planet. You can escape the oppressive desert heat by hanging out in some of the biggest malls you'll ever see or spend your days exploring the local restaurants, markets, and mosques. You'll feel a world away and come back with a wholly unique experience.
Santorini, Greece
Santorini, like Amsterdam, is a classic traveler's stop. The island is the definition of postcard perfect. The white houses with blue roofs, the idyllic beaches, the beautiful seafood feasts, the wine and olive oil … it's all exactly as advertised.
You'll come back tanned, well fed, and chilled out.
https://www.instagram.com/p/Bgn399FBurR/

Santiago, Chile
It's autumn in Chile right now, which is a lovely time to visit. Santiago, Chile's cosmopolitan capital, marked a 121 percent increase in travel bookings this spring. The place is on fire! Santiago is a breathtaking city surrounded by mountains, filled with street art, brimming with great food and drink, and loaded with beautiful architecture.
Now's the time to check it out for yourself.
Botswana
Botswana has seen a 200 percent increase in travel bookings and searches. That's a lot of love for one the wildest corners of the planet. Botswana is a great place to start a safari adventure and see truly wild nature at its wildest. There are huge swaths of land reserved for animals to live out their migrations without human interference.
It's nature at its purest.
Moscow, Russia
https://www.instagram.com/p/BZy5XUiAApM/
Interestingly, Moscow leads the pack with a 238 percent increase in travel interest. We'll let you draw your own conclusions as to why.
Still, politics aside, Moscow is one of the great metropolises on earth. The city is a massive place where everything is bigger. The buildings are bigger. The meals are bigger. The nights out are bigger. The memories are bigger.
Moscow is the sort of city where you can have a transcendent meal and mind-blowing night out one day and the next just grab a bottle of vodka, a jar of pickles, and sit in a square and hang with the locals the next. It's a city of contrasts and extremes and we're hyped on it.