While the ocean remains untamed, the precision and balance needed to carve towering wave faces and dance inside roaring barrels represent more than just a professional sport. They are the pillars of a unique art form all its own. While soccer is often called "the beautiful game," surfing certainly deserves a shout-out in that conversation, too.
And just like soccer, surfing is global. While certain countries are deeply associated with certain sports, beaches are everywhere and so are great waves — making pro surfers excellent travel ambassadors. From the coasts of Australia to the shores of Hawaii, there are plenty of barrels to ride and people to meet along the way.
On the World Surf League 2023 Championship Tour, surfers travel the globe riding the best waves on the planet (while taking plenty of time to chill). We got the chance to ask eight female WSL CT surfers about their favorite breaks and what they do (besides surfing) while they're there. Check their answers under the video!
Bettylou Sakura Johnson (HAW) – Hale'iwa Beach (North Shore, Oahu, Hawaii)
My favorite break to surf is probably my home spot of Haleʻiwa Beach (North Shore, Oahu, Hawaii), it's one of my favorite waves in the world and I grew up on that wave. I like that it's very powerful and it's a very strong, dominant wave. You have to match its power of it or you won't be able to surf the wave as well as it offers. I always have a good time no matter the current out there, so that's what makes it so beautiful.
Other than surfing, I love just hanging out with friends on the beach and fishing and diving. That's also the main barbecue spot for families there because it offers the perfect gathering spot.
Brisa Hennessy (CRC) – Swimming Pools (Mamanucas, Fiji)
My favorite break to surf would probably be in Fiji at this perfect right hand point break called Swimming Pools. I love the area, it's where I live part time and it's very simple living. It has everything you need: ocean, salt, sand, clarity, warm water, and it just brings the best out of you.
When I'm not surfing there, I like to snorkel, stand-up paddle, kind of everything that involves the ocean. It's a place where I feel the most relaxed and calm, it's a special place for me.
Courtney Conlogue (USA) – Teahupo'o (Tahiti, French Polynesia)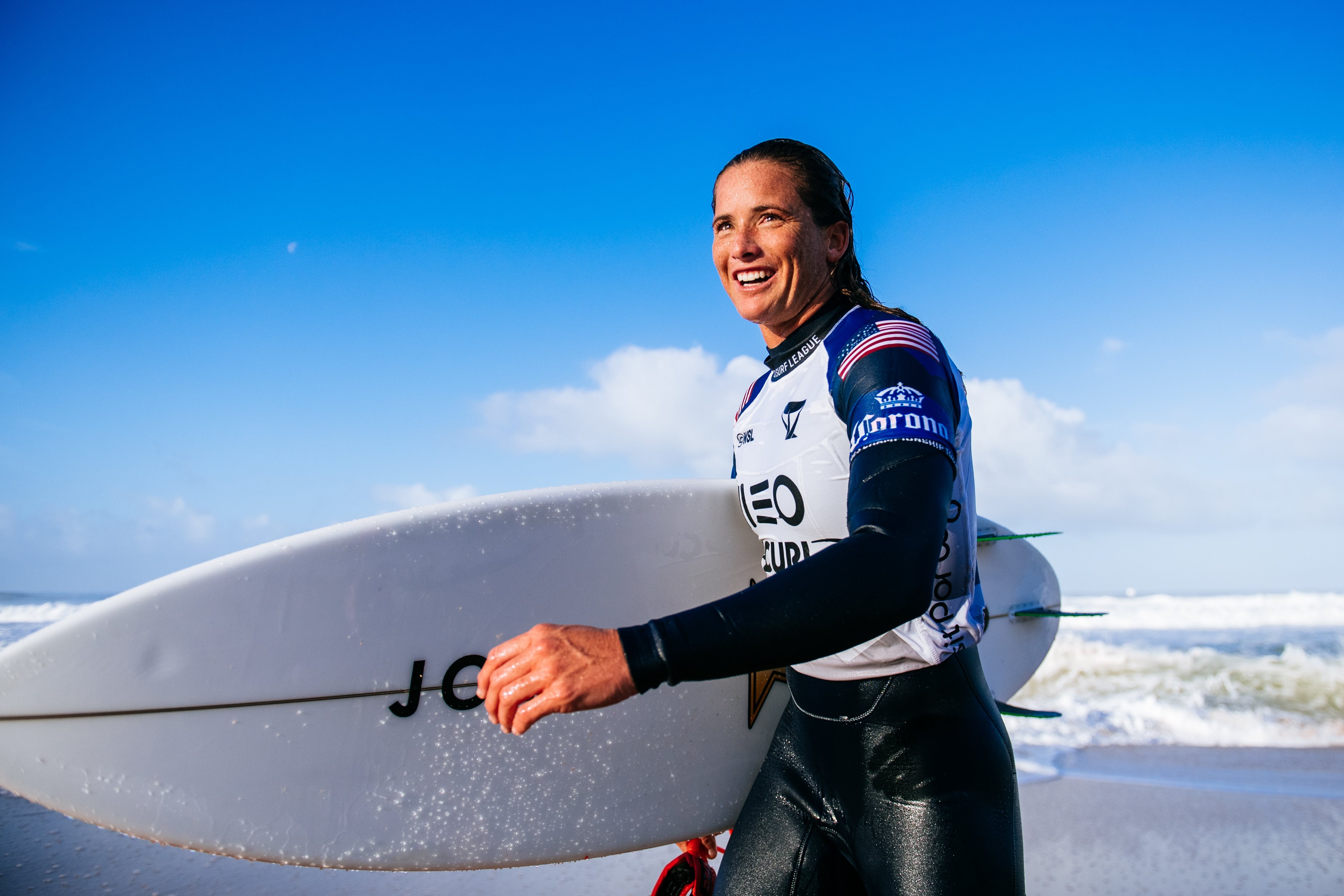 My favorite break to surf is Teahupoʻo (Tahiti, French Polynesia). For me, I just really love the beauty of the wave and the power. There's something about the energy and the lineup that is just amazing. It's very powerful yet graceful at the same time. It's the perfect balance.
It's also a great area for fishing and cruising around.
Isabella Nichols (AUS) – Jeffreys Bay (Eastern Cape, South Africa)
I think Jeffreys Bay (Eastern Cape, South Africa) has got to be my favorite wave to surf. South Africa is just so beautiful, the culture there is amazing, the wildlife, the waves are insane, the food is incredible, and the people are just beautiful too.
Outside of the water, I like to go on safaris, find great places to eat, go around and find new breaks, and hang out with some really good friends I have over there and have some authentic South African barbecues.
Lakey Peterson (USA) – Jeffreys Bay (Eastern Cape, South Africa)
On tour and throughout the entire world, my favorite break would have to be J-Bay (Jeffreys Bay, Eastern Cape, South Africa). I love that wave and the place. Any right hand point break is kinda gonna be my favorite. The overall environment and aliveness of it all kinda reminds me of West Oz (Western Australia) the same culturally. There's so much happening, the ocean is alive, the animals are alive, and it's thriving. It's a beautiful place.
Africa definitely has a special place in my heart. When I'm not surfing, I'll usually go down to Cape St. Francis for the day and hit up some good cafes and play some golf. Obviously, the safaris are always a great option for fun things to do.
Sophie McCulloch (AUS) – Stradbroke Island (Queensland, Australia)
I love some places at home on the sunshine coast, there are a lot of fun beaches. Otherwise, I love going to Stradbroke Island which is also in Queensland. They can be really peaky and fun with short paddle outs. You can do a little bit of everything, get tubed or do some cool turns. It allows you to tap into your creative side on the water.
The lifestyle on Stradbroke is also really nice — there's a big coffee culture. You can go for an early surf because the sun rises really early. The climate is nice and temperate most of the year. I'm always so grateful when I'm able to be back there in my home.
Tatiana Weston-Webb (BRA) – Teahupo'o (Tahiti, French Polynesia)
My favorite break to surf is probably Teahupoʻo (Tahiti, French Polynesia) because it's very beautiful and it has always felt like a home away from home. It's one of the most gorgeous places ever.
There's not much to do there besides surfing, haha. But if you're really looking for something else outside of the wave, there are great locations for workouts, hanging out with friends and watching the sunset, and playing soccer on the lawns.
Tyler Wright (AUS) – Fiji
Fiji has some cool waves. The waves, water, culture, and people there are all amazing.
When I'm not surfing… Basically, you can do anything to do with being in the ocean here. There's great: swimming, snorkeling, fishing.