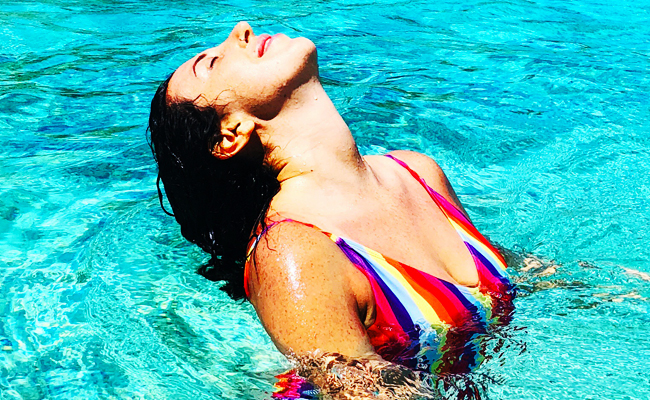 I never, seriously ever, thought I'd make it to Tahiti. It just seemed like a pain in the ass to get to — a string of 118 islands designed for people with yachts, newlyweds, and the over-fifty, retired, and exclusively-Orthopedic-shoes-wearing crowd. Besides, Hawaii was more accessible — why not just go there?
In a sense, it seemed out of reach, and out of my domain. A far off place that I'd never actually see.
So when my editor told me I was going to take United Airlines' inaugural direct flight from mainland U.S. to Tahiti, the first of its kind (Hawaiian Airlines flies direct from Honolulu), you can be sure I spent the next twenty minutes screaming "I'm going to make out with a dolphin!" before proceeding to wax the shit out of every inch of my body.
How is this relevant to you? If you've been dreaming of Glacier Freeze Gatorade-colored water, bungalows on stilts, and fresh pineapple juice, you now have much more convenient access to one of the world's most Insta-worthy, dream-vacation destinations. I returned from my trip predicting 2019 is going to be the year of the South Pacific — the next Tulum, the next Iceland, the next Cartagena for young, hip travelers all over the world. That means you've got to get there before the package touring crowds arrive.
Here's why:
It's become super accessible to get to.
I'm a young traveler, who presumably should be able to hang with the rigamarole of transit. But to know me is to know my inspirational ability to kvetch, or "complain," as we Jews say. I mean, does anybody actually like long layovers and multiple flights? There's only so many Shiseido counters and 5:00 AM Burger King sandwiches one woman can take!
Needless to say, I appreciate a good direct flight. On this route, I literally plopped my ass down, took a nap, did a Korean sheet mask like any good Chrissy Teigen disciple, ate a brownie, ate a second brownie, watched that Mr. Rogers documentary for the third time and cried about it to some guy named Mark, apologized to Mark for waking him up to talk about Mr. Rogers, and then landed to find a group of Tahitian dancers performing a ceremonial welcome. All in all, it was a very successful journey.
The implications for this new flight path reach more than just simpler air travel. Could you now, perhaps, weekend in Tahiti? *Takes a drag out of cartoonishly long CruellaDe Vil cigarette holder*
All jokes aside, spending a three or four day weekend in the South Pacific is no longer just for the Mariah Careys of the world (in fact, because the island is so expensive, a long weekend might be a budget traveler's best option, but more on that later).

It's wild and unspoiled by mass tourism.
At first, United was only set to make this flight a seasonal endeavor, but the high demand for seats prompted an expansion to year round access. Clearly, people want to go. And, in my opinion, it's not only the allure of a tropical paradise, but something much more essential to young travelers. It's a chance to see a place unspoiled by the masses, that still holds the unstained beauty that comes with a profound respect indigenous people have for their land. (Sure, Franco-European colonization has left indelible marks, modifying a culture that needed no modification, but that is a different article written by a much more knowledgeable source).
I recognize Tahiti is not exactly under the radar, but compared to Hawaii, or Fiji, an island like Mo'orea is raw. You won't find dozens of hotels lining the beach, or gift shops on every corner. You'll find locals leading you to sky high waterfalls while sharing the mythology of an ancestral princess. A young girl who chose a man her father didn't approve of and would soon be murdered; who traded her life to the gods in exchange for union with her prince. Gods who, upon joining the two star-crossed lovers, took their tears to form a triage of waterfalls. Waterfalls you're now dancing under with a new sense of meaning.
It feels authentic, is my point. Suddenly, the Chainsmokers-wannabe videographer to your right wearing a pinky ring and flying his drone into your head seems a bit out of place.
The experiences you can have are unique and varied.
I decided to ask the man responsible for putting this together, Patrick Quayle, Vice President of International Network Planning for United Airlines, about his inspiration for bringing Tahiti to more travelers. "I was trying to create unique content," he explains. "I wanted to offer travelers access to a place with more memorable experiences. Tahiti has this raw quality that felt unique and different."
That raw quality is what makes island hopping Tahiti a distinguishable adventure, and what sets it apart from islands of similar milieu. Take that neighboring island of Mo'orea, for example, Of course, there's the expected (albeit super freakin' cool) excursions like parasailing, snorkeling with sting rays and reef sharks, pearl hunting, and riding ATVs through pineapple fields. But beyond your initial imagined experience of island life, there's a feeling you get driving through the windy coastal roads peppered with French and Chinese accents. Or while watching honeymooners unsuccessfully take 5,000 photos of pink, purple, and orange swirled sunsets.
I remember this one moment in particular. We had taken a little speedboat to a private beach (because our over-water bungalows weren't bougie enough). I took a walk around the island, partially to explore, partially to flee an "influencer" who said things like "lately I've really been operating on this raised vibration" and "wanna see nudes of these twins I had sex with?"
I rounded a corner, sat down on the less manicured sand, and looked out at a view I wasn't entirely sure I deserved. The beauty was unmatched; it's so awe-inspiring, it shocks you out of any funk. It was an opportunity to gain perspective that didn't ask for or need my consent. Like, who cares about the bitter break up you're going through back home or your boss who texts you on Saturday asking for #content when you're looking out toward 3,000 miles of uninterrupted ocean? I mean, your ex is a dick (and your boss a genius), but for a moment, all you can focus on is how unbelievable it is a place like this exists, that it wasn't sculpted by man, but by some series of forces we need NASA to help us understand. And I didn't even smoke weed that day!

You can make it work on a budget with a combo of splurges and creative options.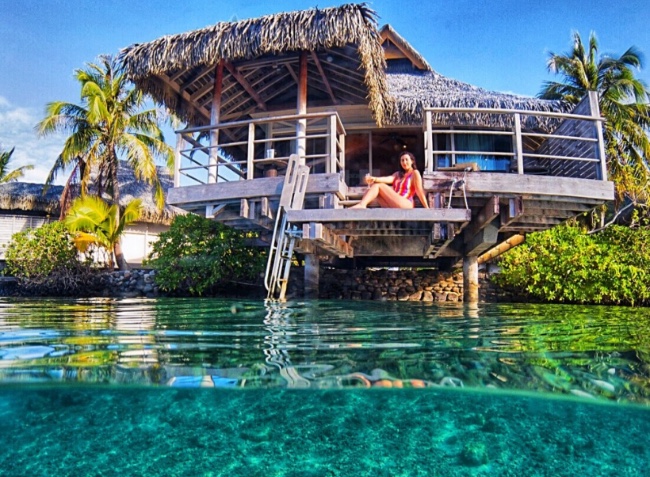 The islands of Tahiti aren't exactly set up for backpackers. There are a couple budget-friendly hotels in the capital city of Papeete, and a decent selection of AirBnb bungalows that fit more budget-conscious travelers. Even still, traveling to Tahiti can cost a pretty penny — a splurge you save two years for (and relish every second of). Because it's located in precisely the middle of fucking nowhere, everything's imported, and that means marked up prices.
To give you an idea, I was swimming in the hotel pool with a group of travelers, and figured "why not pour tequila on this view?" To my surprise, a single margarita ran $26 USD. The average higher end hotel cost is around $500 a night, and excursions, like parasailing, cost about $150 per person.
If you're not in the mood to empty out your pockets, there are a few hacks. For one, consider shorter stays. Sure, we'd all love to stay in French Polynesia for weeks on end, but I'd rather spend four days having the time of my life than ten days counting my pennies. Mix in AirBnb stays with a few luxury nights. Zero in on the most important activities to you, and find out if group rates are available with the new friends you made at the swim up bar.
Back home, skip morning lattes and that extra old-fashioned for a while and put it into a coconut fund. Or just get married and make everyone else pay for it as a wedding gift. Then get a divorce and start a GoFundMe so you can buy a shack on the beach in Bora Bora. These are all very practical suggestions.
It's almost too Instagrammable.
Possibly the most important part of any trip is how shareable your surroundings are, according to me, an Instagram gremlin who says things like "can you get one from below?" and "it's fine, I'll just FaceTune your weird eye thing later." Call me a nightmare, I'll agree, but it is extremely fun to share your trip with friends, family, and that guy who ghosted you six years ago but still watches all your Insta Stories.
Now, I wouldn't go so far in the direction of drone-boy, where you might miss the chance to see a sea turtle gliding through the water because you're too obsessed with getting a weird backflip boomerang to actually enjoy your surroundings. But get that 'gram, honey. The islands that make up Tahiti are unbelievably Insta-worthy. Between the turquoise water, lush mountain backdrops, and reefs filled with fish you've only ever seen in an aquarium, your Instagram game will be poppin,' and that brat from Accounting who's always condescendingly saying "bless your heart" will be so jealous. Isn't that all we can hope for?

But remember, as Tahiti explodes in people from the US visiting, you have to travel responsibly.
I care about the environment, but you won't see me with a clipboard outside of Whole Foods asking you to save the whales. However, with the destruction of places like Phi Phi Don in Thailand and Boracay in the Philippines, it's important to remember that these natural beauties are a gift we should hold sacred. While this flight path is going to open up opportunities for many more people to experience Tahiti, it can also come at a price. So, in the least preachy way I can think to phrase this, let's remember to be kind to the locals, clean up after ourselves, and respect our fish friends, who are just trying to enjoy the view, too.
This trip was hosted by United Airlines. Read the Uproxx Press Trip Policy here.