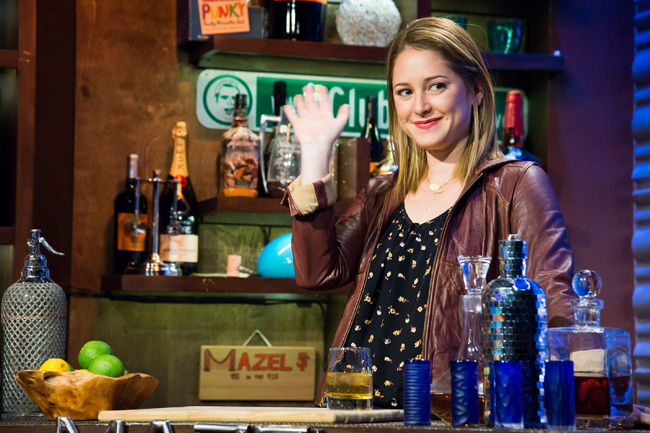 Brooke Williamson already owned two LA restaurants, Hudson House and The Tripel LA (along with her husband, Nick Roberts), when she was tapped for season 10 of Top Chef. That she was willing to drop everything to compete is a testament to the kind of boost that the show can still give your career (how many other reality competitions can you say that about these days?). It was a gamble that ended up paying off when she made it all the way to the finals before losing to winner Kristen Kish (three dishes to one), despite having won the most challenges that season (four), even taking home a Toyota Prius, which she won for the Chris-Pratt-and-Anna-Faris-homecoming-party challenge (Brooke's winning dish? Lamb-stuffed squid on black rice with coconut milk). Making her the Aiken to Kish's Studdard, so to speak.
Since the show, Brooke and her husband Nick have opened another restaurant, Playa Provisions, also in LA (where they both grew up). This past week, Brooke, Nick, and their son, Hudson, were all in Montana, where Chef Brooke was the chef of honor, tasked with cooking a five-course meal for about 50 guests at The Resort at Paws Up's "Bounty of the Blackfoot." Guests got to follow Brooke and family around the Missoula farmer's market while she shopped for the local produce she'd be cooking that evening (a task very much in the vein of a Top Chef-challenge). She settled on multi-colored carrots, kohlrabi, pea tendrils, a few different kinds of radishes, beans, two kinds of kale, and a few other items, all while the other guests and I pumped her for cooking tips (dress your kale with olive oil early, and let it soak for 45-60 minutes before eating to make your kale salad more tender).
Somewhere between that morning's prep and the evening's cooking, I got to interrupt the surprisingly un-stressed chef during a family lunch to ask some dumb Top Chef fanboy questions and try to get her to complain about food. It went… medium well. You ever meet people who are just sort of easy to talk to in an effortless way that makes you wonder why everyone isn't like that? Brooke and Nick were like that.
—
VINCE MANCINI: Did you get to do a lot of guest chef spots like this before Top Chef?
BROOKE WILLIAMSON: Not even close to as much, no. Now I think people see me as a draw for their clientele and something different and exciting.
Do you get to do it a lot?
I do. I'd say several times a year all over the country. Pretty much mostly in the United States, but yeah, I've been to some really awesome, fun places.
Did your businesses change a lot after that Top Chef experience?
Absolutely. There are so many different reasons why I did the show, but ultimately, why I do this sort of stuff is not just for my own fun and benefit and, you know, travel desires, it's to fuel our restaurants. That's our livelihoods. So anything I can do to keep people coming in and keep us in the know is 100% why I would want to continue doing it.