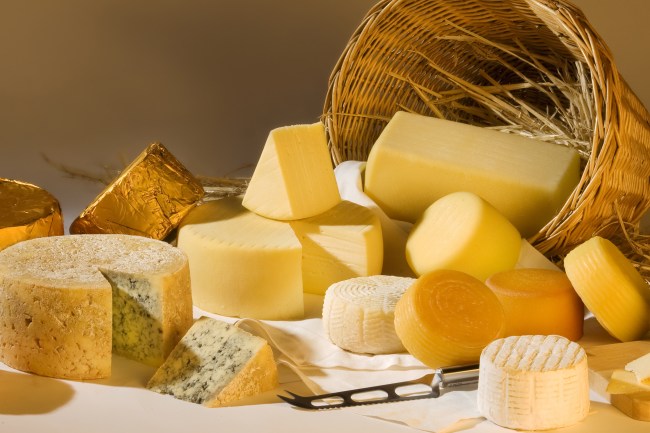 If ever there was a "problem" that was deliciously solvable… it's this. It's a predicament that may be rooted in economic turmoil but the U.S.'s current cheese stockpile is one hell of a bonus for the cheese addicts out there. Cheese bandits, listen up.
The reason for this cheesy mountain isn't quite as exciting as the mountain itself. Excess milk production, plunging prices, and a weakening euro mean the EU has been able to grab customers in Asia and the Middle East, while U.S. sales have fallen. All that excess supply stateside is building up in U.S. refrigerators.
The USDA has come out saying that cheese inventories at the end of March were the highest since 1984. They have since gone on to detail that more than half of the supply is American cheese, while Swiss accounts for about two percent, and the rest the government classifies as "other." Is anyone else super curious what the "other" is?
Even though sales have recently increased, things are still pretty dire for European dairy farmers. They've warned for months that rock-bottom prices are putting them in a tough situation. Raw milk prices in the EU have slumped to the lowest levels since 2010. U.S. prices have also started falling, with cheddar on the Chicago Mercantile Exchange trading this week at a five-year low. From the looks of it the era of bacon everything is about to end. If dairy stays this cheap expect all-cheese everything for the next couple years.
So, rev up those pizza ovens. Get that macaroni boiling. Hell, if nothing else boycott McDonald's cheese-less Mozzarella sticks, they've not got no excuse. We've got 1.2 billion pounds of cheese to eat. Surprisingly, we're hearing no complaints.
(Via Bloomberg)