To mark the first ever VMAs, Madonna strode the red carpet in the outfit she would later wear while writhing about on the stage during her performance of "Like a Virgin." Designed to shock, it did, standing out among tuxes and pseudo-prom dresses. Celebs have looked forward to the VMA red carpet as a chance to get creative ever since. It's the anti-Grammy Awards. Non-stuffy, targeted at the youths, and a little more open to titillation and weirdness. It's almost competitive, but of course, there are many who seize their moment on the red carpet for the love of the game and the satisfaction of their more exhibitionistic impulses. It's all of these people that we're choosing to highlight here over the true fashion barrier breakers as we countdown the very wildest red carpet moments in VMA history. Because who doesn't love a meat skirt?
Pamela Anderson and Tommy Lee (1999)

To place this in context, this was one year after Pamela Anderson and Tommy Lee divorced and eight years before Lee and Kid Rock took to fisticuffs during Alicia Keys VMA performance. Their general appearance says "This isn't a fancy dress party?" Lee went with a flasher costume, choosing to wear a trench coat, some Converse low tops and a knitted hat. But, look at that lining. That is a Burberry coat; that is a coat that cost two grand. This is a flasher who sends his stylist to Bergdorf Goodman to rustle up some samples and then stands in the mirror opening and closing the trenches to assess fit, comfort, and whooshing. Anderson's costume is less clear. She donned beaded Capri pants, a corset, and a giant pink feathered hat (a full two years after Jamiroquai brought the oversized hat back… to f*cking stay). She really is the best. Together, the two make up the superhero duo that we neither need nor deserve: Pink Hat and the Perv.
Pete Wentz and Simi The Semi-Exploited Psycho Monkey (2006)
In 2006, Fall Out Boy was at the start of their fame. They had both performed and won the MTV2 award the previous year for "Sugar, We're Going Down" and were nominated for two awards at the 2006 show. To distinguish himself from the other boys, Pete Wentz, the bassist of the band, donned a cape and a Capuchin monkey named Simi. From where I sit, the cape is the more egregious choice with its fancy clasp and all its wool-ness. However, the monkey proved the more troublesome. When agitated by the flashbulbs and crowds, it started to bite people. In an interview, Wentz declared the monkey was a "bad, bad, bad, bad idea." At least the Simi waited for another awards show to bite Shakira.
Kanye West (2009)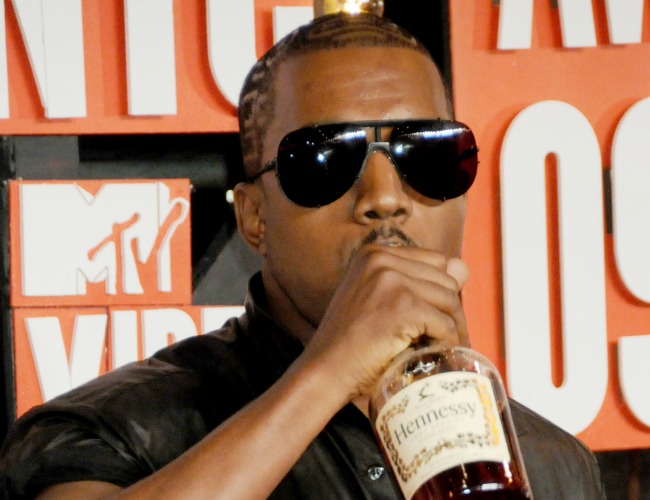 No, Kanye West wasn't dressed particularly wild on the night of the 2009 VMAs and he brought no pets. Which is a huge downer since Kanye's dope life probably includes some dope pets. Yeezy nonetheless tied himself forever to that event when he leaped onto the stage, grabbed the mic, and made Taylor Swift famous. No stranger to having a little something-something to knock the edge off, Ye outdid himself when he hit the red carpet with a bottle of Hennessey, alternately swigging from it and letting it hang limply at his side like a tuckered out Simi after all the biting, but in bottle form. The night can be charted chronologically by the amount of liquor left in the bottle. And though he didn't drink the whole thing alone (Pete Wentz says he got some), West certainly had enough to let his love of "Single Ladies" overcome basic manners. Even if we can all agree he was… right? Not the first to show up to the event drunk, Kanye was the first to pre-game on the carpet. What do you expect? He is a visionary.
Snoop Dogg (2003)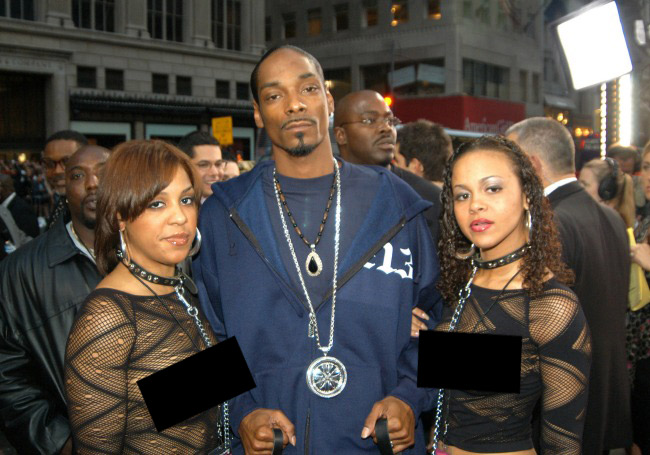 Even with all parties as consenting adults, there is still something shocking and unsettling about a man walking two women on leashes. It's further confused when he is dressed like your Uncle getting ready to head to a card game at his friend Sal's. What's the message here? Obviously, it's a display of power and one that is complicated when the man is one who is so enthralled with pimping. On this night, Snoop actually performed "P.I.M.P." with 50 Cent while his guests, sans leashes, and literal former pimp Don "Majic" Juan, danced by his side. In a 2013 interview with Rolling Stone, Snoop Dogg would discuss his own literal time spent pimping after he became famous. Said the star: ""It was never about the money; it was about the fascination of being a pimp . . . I said, 'F**k it – I'm finna do it.'" Presumably, that same attitude led to the women on leashes.

Mudvayne (2001)

American grindcore band Mudvayne really went for shock value when they paired their white dinner jackets with matching bullet holes. The band, a quintessential part of the metal scene of the late '90s/early aughts, was nominated for the MTV2 award for their "Dig" video, which middle aged people would describe as a lot of screaming over quick cuts of men in scary make-up. They would take home the award. Known among fans for their face paint, body paint, masks, and uniforms, the foursome that night demonstrated they could be as impressive visually as they could be musically.
Rose McGowan and Marilyn Manson (1998)
This is it. This is the iconic dress of the VMA red carpet. Clearly designed to shock, the barely there beaded number achieved it's goal. Whereas some gowns have a panel inserted to create a nude allusion, the Jawbreaker star's opted for full nudity and a dress illusion. Later red carpet looks that evoked this one include Amber Rose's at the 2014 VMAs and Rihanna's at the 2014 CFDA. As for accessories, what better than 6'1″ rock star and then-boyfriend Manson dressed head to toe in iridescent leopard print, his hair matching his fur collar? Her thong, a nod to his print, serves as a reminder that the two are a pair, much like a matching cummerbund or boutonnière would. Of the dress, McGowan declared it "Punk as F" in a 2015 interview with Opening Ceremony, and she was right.
Who will take the baton from these pioneers this year? As always, I'm betting on Jamiroquai and an even bigger hat.