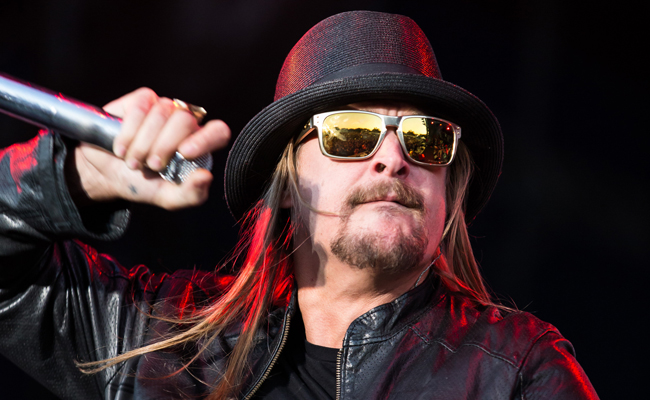 Kid Rock is a man of many hats — most of them fedoras.  American badass, devil without a cause, rock n' roll jesus, and cruise ship director to name a few. The man is even an ordained minister, and he'll marry a gay couple, but he's not looking forward to playing "Bawitdaba" at the ceremony. He also happens to be a regular participant in the celebrity feud game.
Kid Rock's had beef with people in the music business ever since he was juat an aspiring rap-rock superstar in Michigan in a dirty wife-beater. The singer turns 44 today and will release his 10th album, First Kiss, next month — no small feat in the music business. You don't build a reputation in the industry simply from mashing a bunch of Bob Seger and Run DMC songs together alone, though. To better understand Kid Rock, let's look at some of his most famous celeb beefs over the years.
Kid Rock vs. Insane Clown Posse
Before Kid Rock became the most rap-rocking redneck in America, he was just a rap-rocking redneck in Detroit with an underground following. Insane Clown Posse invited Kid Rock to record on their track "Is That You?" and all was well in the juggalo universe for a brief minute. Whatever happened to sour the relationship isn't exactly known, but the feud would play out with both of the Detroit-based artists attacking each other in song lyrics. According to ICP's Violent J, they just simply never understood the musical appeal of one another.
"Kid Rock has never understood ICP and what it is that we're about. He has always hated our music, our shows, our painted up fans and our whole aura. If you listen to his old albums, dissing ICP by name was a common thing for him to do. He has spent a lot of time trying to figure out what it is that people like about us. And believe me, we have always wondered the same thing about him."
The strife between Kid Rock and ICP has gone on for two decades and most recently came up last August when Kid Rock was rumored to be in possession of a glass dildo that was given to him by an ICP associate named "Dirty Dan" Diamond. The dildo was being sought as evidence in a sexual harassment case involving a former ICP employee and Kid Rock took it upon himself to fire back at allegations that he ever had the sex toy.
"All parties involved in this ICP glass (sex toy) case can shove one. There are only two possible explanations for what your client said," Rock writes to Diamond's attorney, Brian Koncius of Bingham Farms. "Either he is an absolute pathological liar, who for some insane reason decided to make up a (BS) story using my name or 2: he thinks he's a comedian and was trying to be funny."
So who knows where this mysterious glass dildo is now. I suspect it's in the apartment of some juggalo wedged between a Big Money Rustlas DVD and 2-liter of Faygo.
Kid Rock vs. Tommy Lee
In 2002, Kid Rock was briefly engaged to then-still-pretty-hot Pamela Anderson. Then they called it off. Then they got back together. Then they got divorced, but were still together. It was an on-again, off-again romance that had ex-husband Tommy Lee wondering if the sex tape he made with Pam years earlier meant nothing. Watching Pam marry another rock star who could rival him in std infections fueled Tommy Lee's anger and it all finally erupted in a scuffle at the 2007 MTV Awards in Las Vegas. Rock said that after returning from the bathroom Tommy Lee was in his seat, and that's when he had to open up a can of American badass on him.
"This was unavoidable. I had to do what I had to do because this was a long time coming. You know, I came back from the bathroom and he was sitting right there. It was even more disrespectful after everything he's said, I was like that's enough, that's it."
Naturally, Tommy Lee has a different side of the story on his encounter with Kid Rock.
Speaking on his Web site, TommyLee.tv, Lee recounts his encounter with Rock at the VMAs as follows: "here I am minding my own biz [when] I get a tap on the shoulder from Kid Pebble … I stand up and embrace him with a semi hug and say "Hey dude … What up"?? He punches me in the face … well if ya wanna call it that!? … more like a b*tch slap! … Wuss!!"

Lee, 44, then says, "I go to knock this jealous no career havin' country bumpkin the f— OUT … and before I can have a meeting with my fist and his ugly ass mug … security guards … NOT MINE at the Palms grab me and haul my ass outta the award show threatening me that if I move they'll break my arm … yeah whatever!!"
"Kid Pebble" haha, way to put Mr. Devil without a cause in his place, Tommy Lee.
Kid Rock vs. Steven Tyler
At one time Kid Rock and Steven Tyler were more than cool with one another. Kid Rock was actually asked to give the speech when Aerosmith was inducted into Rock and Roll Hall of Fame, and later invited to sing with the band on "Sweet Emotion." But that was way back in 2001 before American Idol became one of the new circles of reality TV hell.
When Kid Rock found out that Steven Tyler would be guest judge on the reality show in 2010, he didn't hold back and said it was the "stupidest thing he's ever done in his life."
"He's a sacred American institution of rock 'n' roll, and he just threw it all out the window. Just stomped on it and set it on fire. I think whoever's advising him, we should bring back the guillotine, or whatever they call that thing. And if it was himself, he needs some serious counseling. I love him to death, but I gotta speak the truth."
You can't stop the Rock n' Roll Jesus from preachin' the truth. Steven Tyler didn't pull a Tommy Lee, but instead chose to ignore Kid Rock when the two were in attendance at the Kennedy Center Honors, telling reporters that Kid Rock was probably just "jealous."
Kid Rock vs. Justin Bieber
This one isn't so much a feud — mainly because Bieber never responded — but more of Kid Rock offering Justin Bieber a warning that he's on the Vanilla Ice fame track. Rock went on the Howard Stern show to promote his "$20 Best Night Ever" concert tour and said that watching the pop star is "100 percent like watching Vanilla Ice all over again."
Heed the warnings, Bieber. If you ever plan on being a rock n' roll Jesus, American badass, devil without a cause, or some other self-dubbed pseudonym, you'll knock of that choreographed dancing and remix a Lynyrd Skynyrd song asap.