Amazon Prime Video is bringing the love with some laugh-out-loud funny rom-coms that feel just a bit different from the fare other streaming services are offering up. There are quirky classics, modern dating mishaps, heartwarming family dramas, and plenty of A-listers to be found on this list, but the films all have one thing in common: they give us a glimpse of romance with a healthy dose of humor. Here are the best romantic comedies on Amazon Prime Video right now.
Related: The Best Romantic Comedies On Hulu Right Now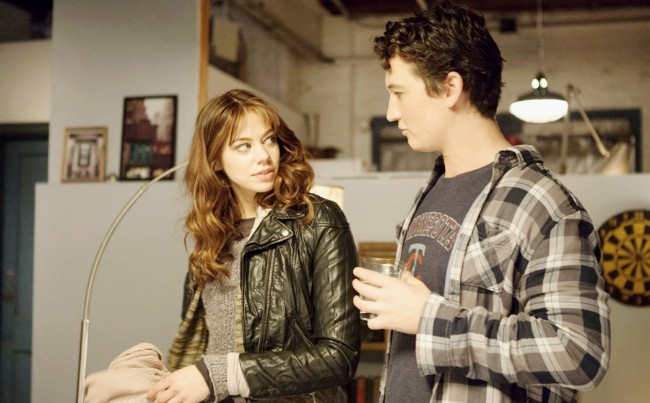 Two Night Stand (2014)
Run Time: 86 min | IMDb: 6.4/10
Miles Teller leads this millennial rom-com with Crazy Stupid Love star Analeigh Tipton about a pair of newly-single New Yorkers and an online connection gone very wrong. Teller and Tipton play Alec and Megan, two people fresh off failed relationships who match up on a dating app and spend the night together. That carefree one-night-stand gets extended past both their comfort zones when a blizzard forces them to live together for the weekend, and the two take that time to perfect their skills in the bedroom. It's a light, unashamed look at the modern dating game that's given a bit of heart thanks to Teller and Tipton's palpable chemistry.
The Big Sick (2017)
Run Time: 120 min | IMDb: 7.6/10
Kumail Nanjiani and Emily Gordon drew from their own unusual love story for their script about a Chicago comic named Kumail (Nanjiani), who falls in love with Emily, a woman (Zoe Kazan) who falls into a coma while in the midst of a rift in their relationship created by the expectations of Kumail's traditional parents. The funny, moving romantic comedy also features strong supporting work from Ray Romano and Holly Hunter as Emily's parents, who form an awkward bond with Kumail as they wait for Emily's recovery.
Bull Durham (1988)
Run Time: 108 min | IMDb: 7.1/10
Kevin Costner plays a washed-up catcher named Crash Davis looking to relive his glory days in this '80s rom-com that's equal mix baseball ode and romantic drama. Costner's Crash is brought back to the major leagues to teach a hotshot pitcher the ropes and he quickly falls for the guy's girlfriend, a baseball groupie who's more than she seems that's played by Susan Sarandon. The two have electric chemistry and a great back-and-forth going for most of the film as Crash wrestles with his dying career and what's next in his life.
What If (2013)
Run Time: 98 min | IMDb: 6.8/10
Daniel Radcliffe and Zoe Kazan star in this charming comedy about a terribly awkward guy named Wallace (Radcliffe) who finds a life-changing connection with a woman named Chantry (Kazan). The only problem: her long-term boyfriend Allan (Adam Driver). The two form a fast friendship and try to navigate their budding feelings for each other despite Chantry's reservations about love and Wallace's history of failed relationships.
Pretty In Pink (1997)
Run Time: 97 min | IMDb: 6.8/10
John Hughes pretty much defined what we now think of as a rom-com, and he did it with this flick starring Molly Ringwald and Jon Cryer. Ringwald plays Andie, a girl from the wrong side of the tracks who's ashamed of her family's status. Cryer plays her best friend Duckie, who's hopelessly in love with her thought Andie only has eyes for Blane (Andrew McCarthy) a rich kid at school who doesn't seem to be as terrible as the rest. Andie and Blane begin dating but are pressured by their friends to end their relationship, culminating in a school dance that sees Andie take back control of her life and reconcile with the guy she's fallen for. It's a classic formula, held up by standout performances from Ringwald and Cryer.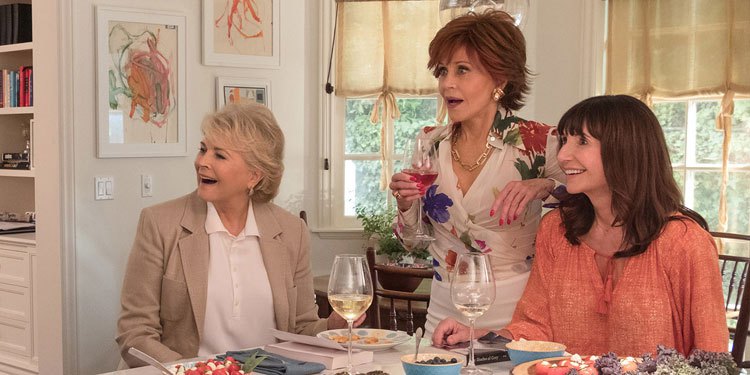 Book Club (2018)
Run Time: 104 min | IMDb: 6.1/10
Diane Keaton, Jane Fonda, and Candice Bergen star in this comedy about a group of mature women who spice up their respective love lives by picking a rather raunchy novel to read for their monthly book club: Fifty Shades of Grey. Each of the women end up improving their relationships, rekindling old flames, and becoming more adventurous while poking fun at the culture surrounding the book in a way that never feels mean-spirited.
Destination Wedding (2018)
Run Time: 87 min | IMDb: 6/10
Keanu Reeves and Winona Ryder star in this rom-com that stays heavy on the sarcasm and leans into the weirdness of new relationships. Reeves plays Frank, a cynical man forced to attend his half-brother's wedding. Ryder plays Lindsay, a heartbroken woman who was once engaged to Frank's brother, also attending the wedding. The two don't quite hit it off over the course of the weekend, but they stick together out of solidarity and soon become attracted to each other, which opens up a whole new can of worms for them and their families.
Brittany Runs A Marathon (2019)
Run Time: 104 min | IMDb: 6.8/10
Jillian Bell stars in this painfully funny story about a young woman attempting a major life change. Bell is Brittany, a 20-something living in New York and whose sedentary lifestyle begins to lead to health issues. She decides to pick up running because it's cheap, and she's broke, and she eventually finds friendship and a community with her running group. As she trains to run the New York City Marathon, dumps toxic friends, squats in an Upper East Side mansion with a stranger, and yes, loses weight, she's forced to confront some hard truths about herself and her past. Even if running isn't your thing, you'll enjoy this one.
Harold and Maude (1971)
Run Time: 91 min | IMDb: 8/10
This oddball rom-com breaks all kinds of stereotypes as it tells the story of a depressed twenty-something obsessed with death, and the 80-year-old woman he falls in love with. Harold attends strangers' funerals as part of his love of all things morbid, which is where he meets Maude, an elderly woman with a zest for life. The two bond over their shared priorities, and Maude ends up teaching Harold valuable lessons about life and how to live well.
Juliet, Naked (2018)
Run Time: 97 min | IMDb: 6.6/10
Another Nick Hornby novel brought to the big screen, this one recounts the unlikely romance between a dissatisfied 30-something woman and a washed-up rocker. Ethan Hawke plays Tucker Crowe, an obscure musician whose only hit record is from 25 years ago. Rose Byrne plays Annie, a woman stuck in a long-term relationship with a man named Duncan (Chris O'Dowd), who just happens to be an obsessive fan of Crowe's. When an acoustic version of his single gain popularity, Duncan, Annie, and Tucker's lives become intertwined and Annie begins to fall for the singer. It's a hilarious look at failed chances and unlikely comebacks, with a bit of romance sprinkled in.