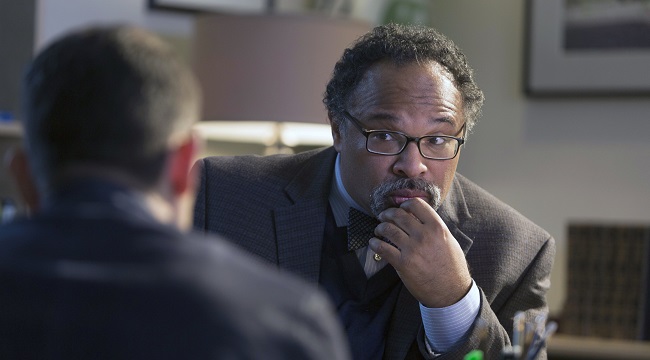 They say there are no second acts in American life, but every now and then someone proves the maxim wrong. One such person is Geoffrey Owens, the Cosby Show alum who was spotted in early September working a day job at Trader Joe's. It was cruel that his cover was so publicly blown, but on the plus side he received an overwhelming amount of support, from fellow actors and from people moved by his story. And that support has even led to new acting gigs.
According to The Hollywood Reporter, Owens just nabbed a part in Fatale, a neo-noir-ish thriller co-starring two-time Oscar-winner Hillary Swank and BlacKkKlansman's Damaris Lewis. Michael Ealy (of the About Last Night remake with Kevin Hart) will star as a man tricked into a murder plot by a crooked police officer, played by Swank. Owens will play his attorney.
The job comes soon after Owens landing parts in Tyler Perry's The Have and Have-Nots, plus a guest-star bit on CBS' NCIS: New Orleans.
Before the Trader Joe's incident, Owens never stopped working as an actor; earlier this year, he was in an episode of Elementary. The story highlighted that actors, even recognizable or even famous ones, work in an unreliable industry that guarantee financial support. When the news broke, many fellow actors rushed to his side, revealing their own odd jobs to make ends meet when times were tough.
Owens is most famous for playing kindly Elvin Tibideaux on The Cosby Show. He quit his Trader Joe's job when he heard the story about him was going to run, fearing the worst. Luckily, he was wrong.
(Via THR)