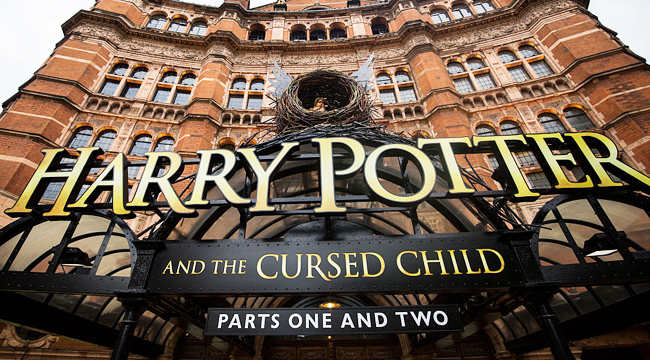 The new play Harry Potter and the Cursed Child is currently enchanting London theatergoers in previews ahead of its July 30 opening date, but those who aren't lucky enough to score a ticket to the West End production will soon be able to get their hands on the next best thing: The play's script. According to booksellers Amazon and Barnes & Noble, readers have been taking advantage of that opportunity in record-breaking numbers.
According to Reuters, Cursed Child is already on track to become Barnes & Noble's top-selling title of the year, boasting pre-order numbers that haven't been seen since the bow of Harry Potter and the Deathly Hallows, the final entry in the Potter franchise, back in 2007. The script is a hit in the digital world, too, with Amazon reporting that Cursed Child is the site's top pre-ordered title in both physical book and e-book formats for all of 2016.
Harry Potter and the Cursed Child picks up 19 years after the main events of Deathly Hallows — shortly after the epilogue scene in King's Cross Station — and follows an adult Harry, a Ministry of Magic employee and father of three who's still coming to terms with his legendary past. That bleeds into his relationship with his youngest son, Albus Severus, who's just starting school at Hogwarts when the play begins.
Potter author J.K. Rowling (who collaborated on the play with writer Jack Thorne) has encouraged those who've seen Cursed Child on stage to Keep the Secrets, though according to Barnes & Noble officials, booksellers are hoping that the release of the script will inspire readers to stage their own versions of the production. That may be fans' best bet of keeping up with the new adventures of the Potters: The Cursed Child play is completely sold out through May 2017. No word yet on when it will make its inevitable stateside debut, but we'll keep our wands crossed — and our noses in the script — until then.
(Via Reuters)