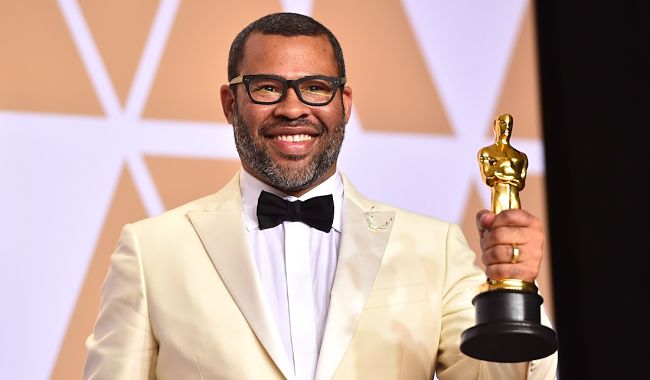 The "fish sex" movie won Best Picture, indie mainstay Sufjan Stevens shared a category with a song from Hugh Jackman's circus miracle, and hot dog cannons are a thing. But maybe the most unbelievable thing to happen at this year's Oscars was Shakiraquan T.G.I.F. Carter, Oscar winner.
Jordan Peele was awarded Best Original Screenplay (the first black screenwriter to do so) for Get Out, and no one was happier for his win than his Key & Peele (and even further back than that, Mad TV) buddy, Keegan-Michael Key. The Late Late Show with James Corden producer Ben Winston captured this glorious moment of pure exuberance after Peele's name was announced.
"I stopped writing this movie about 20 times because I thought it was impossible. I thought it wasn't going to work. I thought no one would ever make this movie," Peele said in his historic acceptance speech. "But I kept coming back to it because I knew if someone let me make this movie, that people would hear it and people would see it. I want to dedicate this to all the people who raised my voice and let me make this movie." And hopefully those same people are ready for Key and Peele's Gremlins 3.
(Via Indiewire)