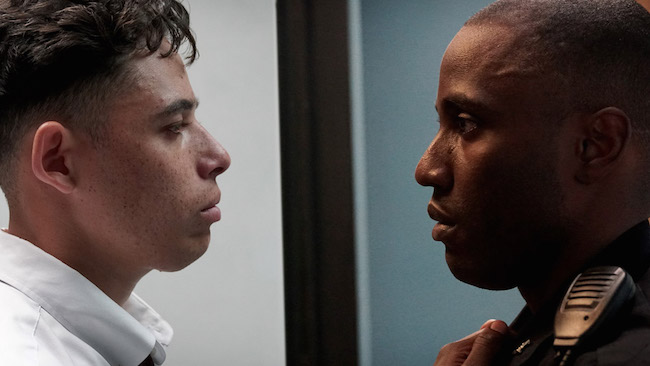 It's difficult to believe Monsters and Men (which just premiered Friday at the Sundance Film Festival) is Reinaldo Marcus Green's first feature-length film. This is the kind of movie to be expected from a seasoned veteran – the kind of film that avoids the worst impulses of new directors and just lets the story marinate, instead of taking it up a couple hundred degrees to prove a point or show off. And this is doubly impressive because this is a narrative that just seems really tough to pull off. It's a story about three separate men, and the stories do intersect, but barely. And Green isn't here to put a nice bow on the top at the end. This is the kind of movie a director has to feel pretty confident he or she can pull off – let alone make as a first movie.
The parallels between Monsters and Men and the Eric Garner case are pretty obvious. An unarmed black man is selling loosies on a street corner in Brooklyn (so the borough was changed). An altercation with police escalates to the point an officer's weapon is fired. Manny (Anthony Ramos) has recorded the killing on his phone and, over the next few days, is hounded by a couple of police officers in an attempt to get him to just stay out of it and keep quiet. Manny has a young daughter and just got a new job and knows he's putting his life on the line by releasing the video. He does eventually put the video on social media and, after, is quickly thrown in jail on some sort of gun charge, one whose legitimacy the film never makes clear.
Dennis (John David Washington) is a New York cop. He knows that this Manny kid is getting a raw deal but he also knows that his life is now in jeopardy since the video was made public. And over the course of his story, two New York City cops are randomly murdered (again, paralleling real life events). When he and his wife have over guests for dinner, they berate him for the death of the unarmed man, even though he wasn't there. It's a tense scene. Dennis is a good cop and tries his best to keep his cool while explaining that every day he doesn't know if he's going to come back alive. His guests admonish him, believing since Dennis is black that he'd be "better."
Dennis' story is Monsters and Men's greatest triumph. To take us to the depths of police corruption, then bring us to the other side. To put us with a good cop who, with some of his colleagues, break out into impromptu pickup basketball games with local neighborhood kids. It's quite the rubber band effect. But Green lets each portion of the story develop with such a masterful flow, it doesn't feel forced – it feels natural. It feels real.

The third story is about Zee (Kelvin Harrison Jr.), a high school baseball star who has blue chip prospect written all over him. He's already being scouted by Major League teams and has "can't miss" written all over him. Zee keeps his head down and just worries about baseball (if anyone knew very good baseball players in high school, this is pretty accurate). When Zee's harassed by a couple of cops on the way home from practice he just takes it – until he just can't anymore. Against his father's wishes, Zee becomes involved in the protests around the city. The scenes between Zee and his father are heartbreaking. His father works for New York's MTA and provides a good upbringing for his soon. His father is also convinced nothing will ever change and his son has a ticket out. What's tough is, while watching, it's hard not to think that Zee's dad might just be right: You know, becoming a famous baseball player just might be better than possibly winding up dead on the street. But Zee ignores his father and joins the protests.
It's hard not to suspect that Green had to fight himself at times with the impulse to offer at least some sort of resolution. We don't really know what becomes of any of these three men. We know they all are trying to do the right thing and each struggling internally and externally with their decisions, but their lives are still hanging in the balance. Will Dennis try to help Manny? Will Zee go on to success? We have no idea. Monsters and Men is at the once depressing and hopeful. And for the life of me, I can't believe Reinaldo Marcus Green had the guts to make this. Not so much because of the subject matter itself, but more the delivery of this subject matter. There's no one main character. We never get any resolution. It's a parallel of real life in more ways than one. This is a huge risk for a first-time filmmaker, and he nails it beautifully.
You can contact Mike Ryan directly on Twitter.