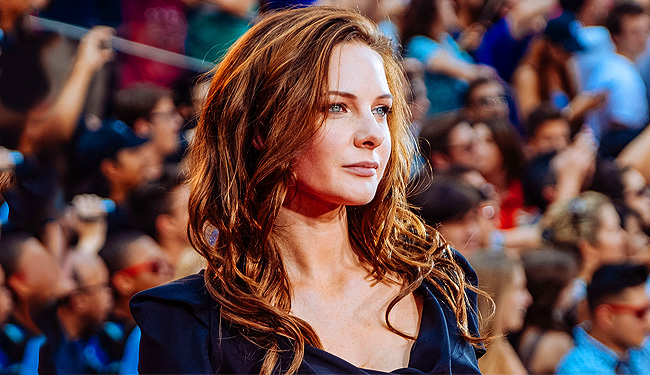 The path to reboot Dune has been as complex and twisty as Frank Herbert's Dune books themselves, and at least as confusing as the movie David Lynch made from the first back in 1984. But this latest threatened movie adaptation seems to be really happening. To wit: The production, which will star young Oscar-nominee Timothée Chalamet, is now officially courting Rebecca Ferguson, reports Variety. The spice must flow, indeed.
Coming off last year's one-two punch of Call Me By Your Name and Lady Bird, Chalamet will take the role of Paul Atreides, royal heir caught up in a political war in the deep, deep future, when humankind has ditched machines and technology, expanded their minds and conquered outer space. After his family is betrayed, Paul must fight back, sometimes while riding sandworms. No word yet on who Ferguson will play, but it's safe to assume it's Paul's mother, the telekinetic-ish Lady Jessica.
Herbert's first Dune book was released in 1965, and with its rich and thoroughly thought-out worlds and its heady blend of science, religion, and philosophy (plus an appendix titled "The Ecology of Dune"), it became an instant classic. Before his death in 1986, Herbert wrote five sequels, which took the story in strange and unexpected places; in book four, God Emperor of Dune, the protagonist is a giant human-sandworm who talks.
Beloved though it was, Dune was also always widely thought of as too complex to turn into a movie. An ambitious production in the '70s, planned by cult filmmaker Alejandro Jodorowksy (El Topo), and which was to features the likes of Mick Jagger, Orson Welles, and Salvador Dalí, crashed and burned during pre-production. (The fiasco was the subject of a very entertaining documentary.) In 1984 it was turned into a film by a still green David Lynch, starring Kyle MacLachlan (and Sting), but it became one of the biggest bombs in Hollywood history.
All this hasn't stopped studios from courting Dune anyway, however hubristically. A TV adaptation for the then-Sci-Fi Channel in 2000 was enough of a hit to spawn films on the subsequent two installments. Since then, various Hollywood players have kept trying to take it to the big screen. Peter Berg (Lone Survivor) was working on one almost a decade back, but that, too, fizzled in the planning stage. This new one is being shepherded by Denis Villeneuve, following such hits as Sicario, Arrival and Blade Runner 2049.
The Swedish-born Ferguson was last seen reprising her role of Ilsa Faust in Mission: Impossible — Fallout.