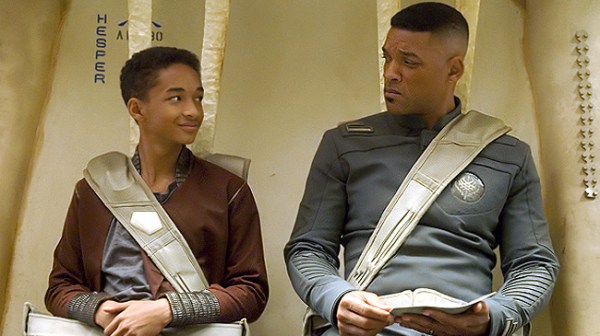 If you've ever looked into self-help, a common theme is repurposing failures as lessons. That's what Will Smith said he was forced to do after the box office and critical disappointment After Earth. The M. Night Shyamalan sci-fi adventure movie was supposed to be a fun father-son outing with his Twitter philosopher offspring Jaden Smith, but instead, it was a flop of epic proportions. But in case you thought that Smith didn't take a hit himself, let him prove you wrong now.
In a new interview with Esquire, Smith reveals that his considers After Earth the "most painful failure" of his career. Yes, even worse than Wild, Wild West, and there's a reason for that:
"Wild Wild West was less painful than After Earth because my son was involved in After Earth, and I led him into it. That was excruciating."
But the Monday after the release got even worse after he was made aware of the box office numbers:
Smith said when he received box office numbers the following Monday, he was "devastated for about 24 minutes," and shortly after, he received a call that his father had cancer. "That put it in perspective — viciously."
No matter what you think about Smith or his wiener kids, that sucks. His whole family hurt that day. The whole experience made Smith rethink his whole career trajectory and re-evaluate his priorities. He describes getting dumped at 15 years old and thinking that if he was "number one," he'd never be heartbroken again. But after experiencing failure not just on his part but his son's, he realized it's not about being at the top, it's about passion:
"That Monday started the new phase of my life, a new concept: Only love is going to fill that hole," Smith said. "You can't win enough, you can't have enough money, you can't succeed enough. There is not enough. The only thing that will ever satiate that existential thirst is love. And I just remember that day I made the shift from wanting to be a winner to wanting to have the most powerful, deep and beautiful relationships I could possibly have."
Call me a sap, but I'm not against getting warm fuzzies over this kind of philosophical shift. Maybe it means that we'll finally get another good Will Smith movie and he won't try to drag his son into it!
Source: Variety