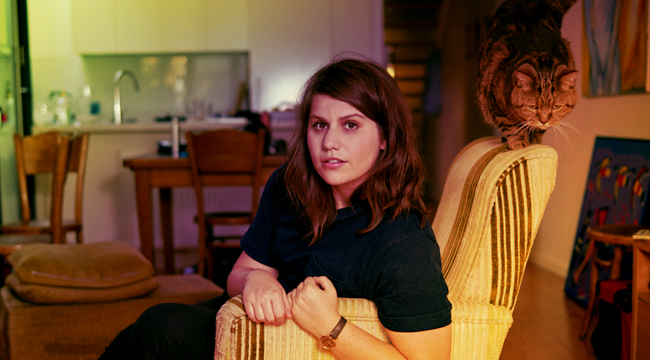 When Alex Lahey first attracted attention in 2016, she was often likened to Courtney Barnett. The comparison was obvious — and, like most obvious things, superficial. Lahey and Barnett are singer-songwriters who write lyrics laced with sly one-liners and lingering anxieties. They both contrast their sardonic sensibilities as writers with music that draws from boisterous '90s guitar-rock. And, yes, they're both Australian.
But while Lahey and Barnett resemble each other in the broad strokes, they diverge considerably in the fine print. Yes, they're both witty and a little sad, but Barnett is noticeably sadder than the naturally ebullient Lahey. Sure, they both clearly were shaped by alt-rock, but Barnett is more early-'90s grunge while Lahey screams late-'90s pop-punk. And, unquestionably, they're both Australian. But Lahey is the one who will make you want to dance around stupidly after drinking too much Foster's.
When Lahey put out her sparkling 2017 debut album, I Love You Like A Brother, she staked her claim as a budding pop tunesmith with a preternatural command of craft. The trappings were scrappy, melodic punk, but Lahey's songwriting style hewed closer to Max Martin in "Since U Been Gone" mode. (It's no wonder that Lahey has also been compared with one of the defining pop-punk bands of the last decade, Paramore.) Lahey's energy and sarcasm were invigorating, but the strength of zippy singles like "Every Day's The Weekend" is that they were built sturdily from the ground up on rock-solid fundamentals — catchy verse, catchier chorus, equally catchy bridge, repeat — making them impervious to the rigors of repetition as they were spun endlessly on NPR affiliates from coast to coast.
Lahey confirmed that she was in it to win it when I interviewed her two years ago. She came across like an extremely well-prepared job candidate applying for the position of legacy artist, name-dropping two peerless icons, Bruce Springsteen and Dolly Parton, as role models. In reference to the latter, Lahey mentioned that she was most impressed that Parton didn't give up her publishing to "I Will Always Love You," even when Col. Tom Parker said Elvis Presley wouldn't cover it otherwise. You suspect that Lahey won't be pushed around, either.
Lahey's new album, The Best Of Luck Club, definitely has a world-conquering vibe. Working with veteran rock producer Catherine Marks (Wolf Alice, The Killers), Lahey has taken the charming basement-bound rock sound of I Like You Like A Brother and blown it up to arena-rock size. The guitar riffs don't simply needle your pleasure centers, they careen just above your skull like an ascending 747. (Lahey, by the way, plays nearly all of the instruments on The Best Of Luck Club, for those still perusing her C.V.) At the climax of my favorite track, "Don't Be So Hard On Yourself," Lahey even makes room for an epic Clarence Clemons-style saxophone solo, like she's just unveiled a pocket-size "Jungleland."
Lahey has hooks for days, so the glossier sound of The Best Of Luck Club not only suits her, but it actually makes you wish that I Love You Like A Brother could've been afforded the same treatment. The lead-off track, "I Don't Get Invited To Parties Anymore," is cut from the same observational cloth as songs from the debut. But it has also the benefit of beefed-up drums and mood-setting synths that make her melodies sparkle like never before. The Best Of Luck Club, in other words, is more pop than punk, and it shows Lahey upping her game to justify steering into that competitive lane.
It helps that Lahey has a strong enough sense of self to not let the production overwhelm her own voice. As big as this album sounds, the songs themselves remained centered on the minutia of how relationships can be shaped and undone by a million different misunderstandings and unspoken regrets. Inevitably, The Best Of Luck Club is a "road" record, reflecting the experiences that Lahey had while touring behind I Love You Like A Brother. (Visiting Nashville dive bars, always one of life's great pleasures, apparently informed Lahey's approach to writing the album.)
Many of the songs unfold like phone calls made from a tour van to a partner back home. "Am I Doing It Right?," which sounds like a lost Pat Benatar classic from the Legend Of Billie Jean soundtrack, has a chorus that reads as a defense of any hard-working, mid-level indie musician: "Don't say that I have nothing to prove / I stay in every cheap hotel room / You may think I got nothing to lose / But am I doing it right when I make every wrong move?" Later, on the lilting album-closer "I Want To Live With You," Lahey shares a fantasy of domestic bliss that ultimately seems unattainable: "Let's have a conversation / Between the kitchen and the living room / Let's combine all our books and records / And forget what belongs to who."
In her songs, Lahey continues to think small, personal, and intimate. But the robust sound of The Best Of Luck Club speaks to her ambition to make the sort of smart, accessible, and big-tent pop-rock records that supposedly don't exist anymore. Of course, this sort of rock LP is far from dead — it's just that the people who lament the so-called death of mainstream rock seem to always overlook women. But women are putting out very good albums like this almost on a weekly basis in 2019! (Yes, pointing this out is beyond tiresome at this point but: Please listen to the new Charly Bliss and Ex Hex albums, as well as the forthcoming records from Mannequin Pussy and Palehound, and then tell me that it's not a golden age for hooky, literate, guitar-heavy rock.) For Lahey, The Best Of Luck Club feels like a new pinnacle. Though she's just getting started.
The Best Of Luck Club is out now on Dead Oceans. Get it here.