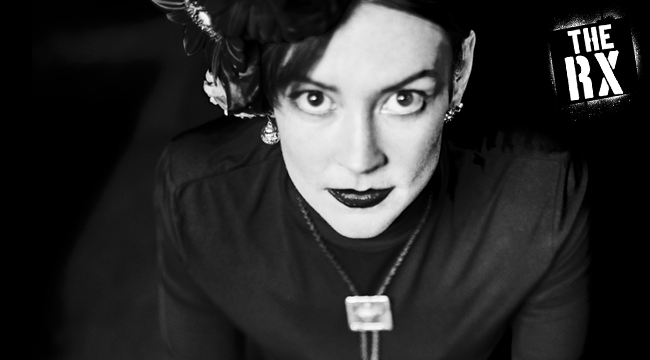 The RX is Uproxx Music's stamp of approval for the best albums, songs, and music stories throughout the year. Inclusion in this category is the highest distinction we can bestow, and signals the most important music being released throughout the year. The RX is the music you need, right now.
Amanda Shires' fifth album, To The Sunset, concludes with a real mic drop. In "Wasn't I Paying Attention," the 36-year-old singer-songwriter and multi-instrumentalist relates a first-person narrative about a man in Nome, Alaska who lends the truck keys to a friend heading into town. What happens next requires a spoiler alert, so skip ahead a few grafs if you want to experience the shocking conclusion to one of the year's best story-songs unfettered.
When I first heard "'Wasn't I Paying Attention," I wondered if Shires had read a similar story in a newspaper, or perhaps was inspired by the recent hit podcast S-Town, about a small-town misfit who meets a tragic end. But when reached by phone last week while traveling via tour bus, Shires explained that the song unfolds more or less how it was explained by her father, who spends half the year in Alaska trawling the Bering Sea in search of gold. Her dad is the song's protagonist, and what occurs in "Wasn't I Paying Attention" actually happened to his buddy.
"Dad told me that he let him borrow his truck, and he went into town, and poured gas on himself and slit his throat and lit himself on fire," Shires recalled, in the same dispassionate, journalistic tone that makes the song so chilling. (The man somehow survived.)
Soon after that fateful phone call, Shires started processing her father's anecdote as art. "I guess what bothered my dad — and then me too — was not knowing his friend as truly as he thought he did," she said. "It sits with you, and it bothers you, and it doesn't go away, and you need help explaining it to yourself. That's when the songwriting part comes."
Throughout To The Sunset, which comes out August 3, Shires tells personal stories as a way of getting at overarching truths about the human experience. There are songs about mothers and daughters, anxiety, and mortality, laced with empathy and Shires' dry sense of humor, as well as the sharpest pop-rock hooks of her career. Working with sought-after country producer Dave Cobb, Shires sets her literary, character-driven narratives to lush, jangly melodies that recall '80s alt-rock mainstays like R.E.M., The Smiths, and Echo And The Bunnymen.
It's a breakthrough for the native Texan, who's been playing music professionally since she was 15, when she joined up with Western swing legends the Texas Playboys as a junior fiddle player. Since then, Shires has been lumped in that amorphous, ill-defined genre known as Americana, where she's among the most respected (if not yet famous) artists. She also moonlights as a member of The 400 Unit, acting as an on-stage foil for her husband of five years, Jason Isbell. (He returns the favor by playing guitar on To The Sunset.)
But is To The Sunset an Americana record? Not if you apply only the strictest of sepia-toned standards. But Shires isn't much concerned with conforming to anyone's idea of what she should be — not when she's in the midst of writing some of her greatest songs.
Like Isbell's 2017 release The Nashville Sound, To The Sunset is ultimately concerned with comprehending the madness of modern times, and the necessary task of reaching out to others in order to connect and heal. But for all of the record's emotional heaviness, Shires remains charmingly irreverent and plainspoken. "We're all in this shit together," she said, with characteristic directness. "Let's help each other get through some shit."
Shires and I spoke about songwriting perspectives, being married to another musician, and the creation of the best album of her career.
Do you consider yourself an autobiographical songwriter? You often write about real events, but you aren't necessarily writing from your own perspective. "Wasn't I Pay Attention," for instance, is told from your father's point of view.
I feel like when I write songs, I have my own experiences to contribute. And then other folks' stories are perspectives, too. And when some people tell me their stories, they don't rhyme, so I just make them rhyme.
You also do that with your mom. "Eve's Daughter" is based on her story, though in the song, you give it the scope of a '70s movie, like Alice Doesn't Live Here Anymore.
It's my mom's story mixed in with some of my own story. Her story is going from living with my dad and having two kids and then they break up, and my mom was moving around. After I had a daughter, certain things for her became things that she wanted to talk about. In the past, if I'd ask her questions about things, she was sort of closed off because you kind of have to have, not only trust, but life experience and frontal lobe development before you can start talking to your kids. And then it takes that long for a child to come back around and actually listen to their parents.
When you were writing these songs, did you know you wanted to make a more rock-oriented record, or did that decision happen later in the studio?
It kind of happened together. I called Dave and asked Jason if they'd go with me to lunch because I wanted to talk about what I was trying to do sonically with the songs. So we went to Chuy's and started talking about it, trying to get the language for what I was hearing into more technical terms, I guess. Because I don't know anything about how you do a lot of things that Dave does. He does things that I don't even know what they are. But I do know that when I talk to him, I feel like he gets what I'm saying and that he's able to translate that, and then we start picking and feeling which things layer well together.
Did you use other artists or albums as reference points in order to articulate the sound in your head?
Sometimes when we get stuck, I might say something like, 'You know that R.E.M. song? That guitar tone.' For "Leave It Alone," I was explaining that I wanted under the drums to feel like… water. But it has to have movement. You know, like how water doesn't stop? And he came up with that sound, and I was like, 'That sounds like what I'm trying to tell you!'
You are classified as an Americana artist, which conjures this fixed idea of acoustic guitars and sad, folksy laments. To The Sunset is the opposite of those cliches. To what degree were you consciously pushing back against the Americana archetype when you were making this album?
I don't mind being labeled as Americana or indie or whatever you want to call it. But at the same time, I think I wanted to push against the fact that when you think of women in Americana music, you think of traditional-sounding things. But when you think of dudes labeled Americana music, it's okay for them to be Nathaniel Rateliff, who I love, or Jason Isbell, who I love, or Chris Stapleton, or Josh Ritter or whatever, and they all do rocking shit. So I was wondering if there was some kind of, I don't know, unsaid thing that said you had to play acoustic instruments and traditional music. I felt like, well, if f*cking Nathaniel Rateliff and Jason Isbell are Americana, then this record, they better like this one, too.
What's more American than rock and roll anyway?
Preach on! Preach on!
I wanted to ask you about what it's like to be married to another songwriter. Obviously, you support each other. But I'm wondering if, on any level, there is ever any sense of competition? Because I find that a lot of times, when people are in a relationship and they have the same career, that can be an issue.
It's never been a competition because he's more supportive than anything, and being married to somebody that writes songs is probably the biggest asset that I have. I don't mean to speak for him, but I feel like he feels that way, too.
I feel like a lot of writers have editors in different kinds of writing, you know? I've got an editor in my house, and so does he. And we trust each other and each other's motivations for criticism. Our songs are our own, but we ask for each other's thoughts on writing because we love writing. One of the reasons we even got together is because we both love books so much.
It's really interesting to play a song for my husband, and have him ask questions about it, and [have him say], 'Oh, I didn't take it like that.' I might move something around a bit. It's just really cool if you get stuck. Like, if you get about 75 percent of the way through a song, to be able to say, 'I'm stuck and I can't figure out why.' Maybe he might not know why, but he might have some ideas of what to try or which path to try or whatever. And I do that for him, too. When he played "Tupelo," I was like, 'You've got to figure out who the character is because right now, I'm not buying any of it.' He basically had to keep one verse and start over. All that to say we love each other a lot and we trust each other.
You and Jason co-wrote the song "Anxiety" from The Nashville Sound. On your new record, there's a track called "Take On The Dark," which is like a pep talk for overcoming your demons. The chorus really sticks with me: 'It's okay to fall apart.' Do you feel like anxiety ever stifles your creativity?
I don't think that it stifles my creativity as much it sort of tries to… miscolor my day. Sometimes you just need to turn a little circle and start the damn day over. Internalize your feelings and understand your feelings and then get the fuck over it. Take some deep breaths and raise your arms up in the air, take a little walk, give it some space, and get back to it. Just allow yourself to feel your feelings, but at the same time, tell yourself some sh*t. Give yourself a pep talk. Get over it.
To The Sunset is out on 8/3 on Silver Knife Records. Buy it here.