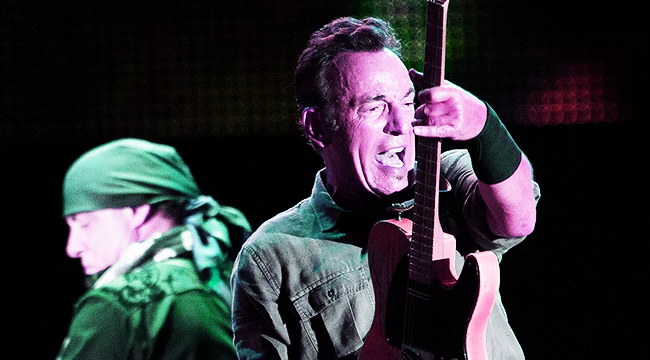 All good things must come to an end, and this week the Celebration Rock podcast concludes its eight-part series on Bruce Springsteen, 20th Century Boss, with a look at some of his most underrated albums, as well as an album that's properly rated as among his worst.
Released on October 9, 1987, Tunnel Of Love has a reputation among some Springsteen fans as his "soft rock, baby boomer divorce record." It's true that Tunnel Of Love doesn't exactly rock, and it's definitely not guitar-heavy. Instead, it's dominated by synthesizers, drum machines, and Springsteen's weary, mature croon. And it is undeniably a divorce record — though Bruce was still married to his first wife, the actress Julianne Phillips, when the album was released. Tunnel Of Love, in a way, is a subconscious confessional record, revealing fractures in Bruce's marriage he might not have even realized at time were there.
If you care about lyrics, Tunnel Of Love is every bit as gut-wrenching as Nebraska. And the music suits those lyrics — this is an introspective record, and the contemplative music inevitably sends the listener inward, evoking a sleepless night filled with various shades of blue poring through a bedroom window, the kind that a married person looks out as he or she wonders why in the hell their spouse still isn't home at 2 AM.
To talk about Tunnel Of Love, I called up John Darnielle, who started writing and recording songs under the moniker of the Mountain Goats in the early '90s. Since then, he's earned a reputation as one of the best songwriters in indie rock, known for a literary style that, like Springsteen, touches both on autobiographical material and, more notably, fictional characters who are sketched out with flesh blood authenticity.
For our final episode of the series, we look at Springsteen's '90s period, which include 1992's Human Touch and Lucky Town, and 1995's The Ghost of Tom Joad. The '90s are easily the least well-regarded decade of Bruce's career. If people make note of this period, it's to illustrate how far he fell without the E Street Band, who finally reunited with Bruce at the end of the decade to great acclaim and popular excitement, and have remained with the Boss ever since.
And yet I've always had a soft spot for '90s Bruce. This period coincides with my coming-of-age years as a music fan. Bruce had been a fixture in my life since Born in the U.S.A., but it wasn't until the '90s that I started to become a true hard-core fan and get deep into his catalog. For fans of my generation, Human Touch and Lucky Town were the first big "new" Bruce albums of our lives.
And then there's The Ghost of Tom Joad, which as a piece of writing stands with anything he has ever done. While The Ghost of Tom Joad wasn't a hit on the scale of Born In The USA, it was an absolute artistic triumph, and a different kind of victory for Springsteen, proving that he was capable of moving forward in his career, past the kind of titanic success that destroys many artists. If not for The Ghost of Tom Joad, Bruce might not matter still matter today as a songwriter and performer.
To talk about '90s Bruce, I called up Tim Showalter of Strand Of Oaks, who over time has evolved, like Bruce, from being a moody folkie to the maker of widescreen rock records like 2014's excellent Heal and 2017's Hard Love. In early 2018, he put out a very good outtakes collection form that album called Harder Love.
Episode Six:

Episode Seven:

Please subscribe to Celebration Rock on iTunes, Stitcher, and Spotify.