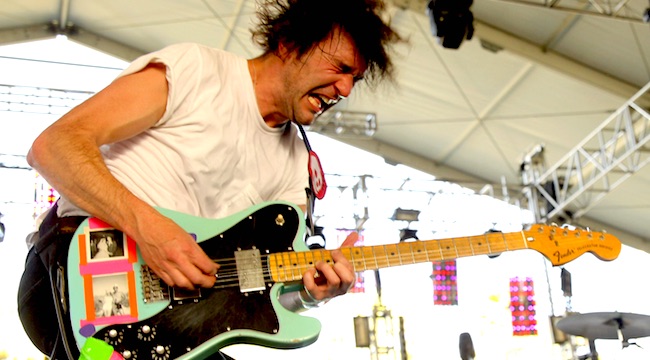 In January 2016, I launched a podcast called Celebration Rock. The idea was to talk with musicians, writers, fans, and other interesting people about albums, concert tours, and lots of meaningless minutia about rock music — present and past, new and old, great and occasionally bad.
During the first season, I spoke with Courtney Barnett, Matt Berninger from the National, the dudes from Stone Temple Pilots, Joyce Manor, Deftones, Modern Baseball, David Crosby, Patterson Hood of Drive-By Truckers and Butch Vig, among other luminaries. I recorded about 40 episodes or so until October, when I took a break. You can check out the archive here.
Well, now Celebration Rock is back, and we'll be posting new episodes every week. For our return, we have a very special guest: Brian King of Japandroids, whose Near To The Wild Heart Of Life is already one of the best albums of 2017. (We ran an editorial version of this interview last month. The podcast version is much longer, and you also don't have to read it.)
We'll be highlighting each new episode of Celebration Rock on Uproxx Music to help spread the word and make sure you don't miss an episode. If you like what you hear, please subscribe to Celebration Rock on iTunes, Audioboom, or Stitcher, and listen below.
[protected-iframe id="3c756cb1ea0b5c960043ad3e9a1e5e2f-60970621-76566046″ info="//embeds.audioboom.com/posts/5678488-season-2-episode-1-japandroids/embed/v4?eid=AQAAAMAnvliYpVYA" width="100%" height="300″ frameborder="0″ style="background-color: transparent; display: block; max-width: 700px;" scrolling="no"]