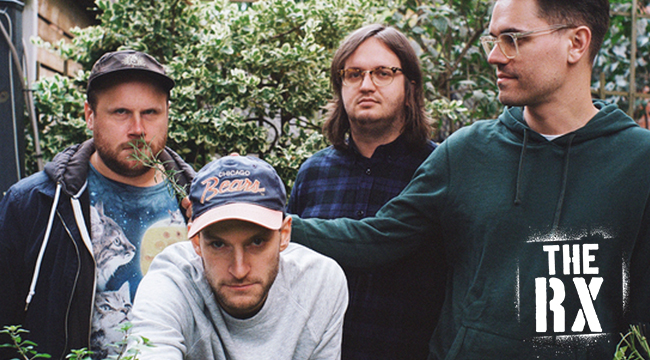 The RX is Uproxx Music's stamp of approval for the best albums, songs, and music stories throughout the year. Inclusion in this category is the highest distinction we can bestow, and signals the most important music being released throughout the year. The RX is the music you need, right now.
Stefan Babcock should have been happy. It was 2018 and his band, the Toronto-based punk-rock battering ram known as Pup, had just toured long and hard behind its acclaimed 2016 album, The Dream Is Over. The title of that record was a quote from Babcock's doctor, who advised that Babcock quit music after shredding his vocal cords from years of screaming his way through hundreds of shows. Instead, Babcock fearlessly stormed back into the rock-and-roll breach, and came out the other side with more fans, more press attention, and a brighter musical future.
And yet, as he prepared to write songs for a new Pup record, Babcock couldn't get out of his own head. Even though he was more successful than ever — Pup will be touring by bus this spring, a rare extravagance for an up-and-coming punk band, and just made its US television debut on Late Night With Seth Meyers — he couldn't help feeling like… himself. Same hang-ups, same persistently dark thoughts. Only now it was compounded by the fear that he would never escape those anxieties. What happens when you finally get what you want and still feel miserable?
"I think it's probably the same for a lot of people," Babcock confided in an interview last month. "Feeling like you should be happy and there's no reason to feel this way, and so something must be seriously wrong with you. It just puts a lot of pressure on you to feel better when maybe putting pressure on yourself is not the way to feel better."
Here's an example of a random, troubling thought that plagued Babcock: "Are any of the people I've had sex with dead?" Yes, on paper, it sounds silly. Maybe even a little insane? But in your mind, perhaps in the middle of the night, it's the sort of stray notion that can slowly fester into a full-blown crisis over impending mortality.
Fortunately, Babcock was able to put that poisoned idea into a song. It's called "Morbid Stuff," and it's the title track of Pup's exceptional third album, due April 5. It also opens the record on an appropriately pensive note. "It really is a laundry list of all the f*cked up things that run through my head on a daily basis," Babcock said. "Starting off the record by wondering if anyone I had sex with is dead pretty much sums up a lot of the album."
While Morbid Stuff is a reflection of Babcock's fraught mental state, it's really only half the story. On every Pup album, there's a clear dichotomy between Babcock's words — neurotic, conversational, sensitive, and bitingly sarcastic — and the music, which is rousing, party-hearty, pedal-to-the-metal punk rock of the first order. On Morbid Stuff, Babcock's lyrics are more despairing, but the music is also catchier. It's the darkest and poppiest record Pup has ever made, and also the best.
"We still want to be a fun band, and that's always been the goal," drummer Zack Mykula said. "It's like, you gotta pick your times to be the overbearing doomsayer, and I think we're pretty good at juxtaposing those elements."
"I don't want leave anyone on a hopeless note," Babcock concurred. "The whole point of this band is to feel like you can do something positive with something that is absolute garbage."
Pup isn't just a fun band, it's an actual band, at a time when actual bands are few and far between. Formed in 2010 by three childhood friends who brought Babcock into the fold in college, Pup is a gang of buddies who would be hanging out and annoying each other with stupid jokes even if they didn't happen to play together in an ascendant rock band. ("It's somewhere between being brothers and being married to each other," Mykula said of the group's dynamic.) And that comes through loud and clear in the music. Part of what makes Pup's albums so endearing is that listening to them feels like being surrounded by your best, do-or-die pals.
While many contemporary indie acts are essentially benevolent dictatorships, in which a dominant singer-songwriter hires musicians to perform the music live, Pup is a four-headed beast in which each player makes a crucial contribution to the overall whole. For instance, the heaviest and most pissed-off cut from Morbid Stuff, "Full Blown Meltdown," started out as a caustic rant by Babcock about how the music industry exploits mentally ill musicians. ("How long will self-destruction be alluring? / It's good for business and baby, business is booming.") But once the band's bassist Nestor Chumak introduced the song's relentless stoner-rock riff, Babcock was inspired to add some jokes and just, well, lighten up. "You shouldn't take it so seriously," he howls over the song's breakdown. "It's just music after all."
"There is a natural sense of humor between the four of us, even though we've all struggled at various times with our mental health and the realities of what it takes to be a touring musician," said guitarist Steve Sladkowski, the most studious-looking member of Pup. (He resembles Matt Damon's character in The Talented Mr. Ripley.) "There still should be joy, and you should be able to smile and have a laugh and not take things too seriously."
While Pup started nine years ago, the relationship between the band members goes back nearly 25 years. Mykula and Chumak grew up on the same block, and connected over skateboarding and music by the time they were 7.
"We both got into music at the same time," Chumak said. "I picked up bass and guitar, he picked up the drums, and pretty soon after that we were in bands."
"To be honest, I think it was geographical," Mykula explained with a sardonic lilt. "We grew up on the same street so we had to go to the same school, and I definitely thought the kids who skateboarded on our street were super cool."
Mykula is similarly matter-of-fact in a no-fuss, supremely Canadian sort of way when he recounts how he and Chumak later met Sladkowski in high school. "We wanted to start playing music with a different band, and we needed a guitarist, and he was a guitarist that we knew. So, we started playing with him, and we just became friends. It's pretty organic."
But Sladkowski wasn't a natural candidate for the punk and ska bands that kids in the area were forming to play local all-ages venues. A self-described hippie who loved Phish, "I had long, greasy hair and wore bead necklaces when I was 16," he said. Later, he became enamored with Miles Davis and went on to study jazz in college. Nevertheless, he could also connect with the same Bad Religion-style rave-ups that his peers favored.
"I just liked playing the guitar and I always kind of did," he said. "As a guitarist, you can be a chameleon. And some of my favorite guitar players, still to this day, are kind of chameleonic in that way."
Eventually, Sladkowski said he bonded with Mykula and Chumak as the "little weirdo punks at our school" who would get together on weekends and watch music DVDs. Sladkowski naturally slipped in some Phish in order to marvel at the peerless technique of Trey Anastasio. While Mykula and Chumak weren't exactly on the same jam-band wavelength, they were fans of prog-metal, particularly Dream Theater. (Canadian law also dictated that they listen to a lot of Rush.) These influences seem antithetical to the aggressive simplicity of Pup's musical attack, though Mykula insisted that they continue to inform the band's approach.
"I definitely have my say in the arrangements, and we just try to make it an upwardly mobile arrangement and end with something exciting," he said. "That's, like, the central thing about prog rock."
It would be a stretch to suggest that Morbid Stuff sounds even remotely "progressive." However, Pup did have the luxury of spending much longer in the studio than it did on 2013's Pup or The Dream Is Over, which were essentially "plug in and play" efforts. "Let's try and experiment a little bit more" was a guiding principle for the band, Sladkowski said, though not at the expense of sacrificing Pup's on stage power as a loud rock band.
"Experimentation" in this instance translates to numerous grace notes that add tremendously to the album's durability over multiple listens, whether it's the wistful, XO-era Elliott Smith-style coda that concludes the raging "See You At Your Funeral," or the wall of atmospheric guitar sounds that amp the drama of the slow-burning closer "City."
"I think, personally, it's the best record that I've been a part of," Mykula said proudly.
Now, Pup is back on the road. And those troublesome, festering thoughts no doubt remain. For Babcock, there are mixed feelings about Pup touring for the first time on a bus, which the band will have when it comes to the U.S. in late April. "One thing that I certainly struggle with is the idea of having always been a pretty DIY person and a DIY band," he sighed. "But as things get bigger it's just not possible."
Eventually, Babcock reminds himself that Pup still does have a lot of control — they even have their own record label, Little Dipper. They also oversee their visually stunning music videos, and put out their own zine in advance of Morbid Stuff. And touring with a little more comfort will make it easier for Pup to deliver night after night for its growing fanbase.
Life is good. That's not the same as easy, but it's a start.
Morbid Stuff is out 4/5 via Rise Records/BMG. Get it here.