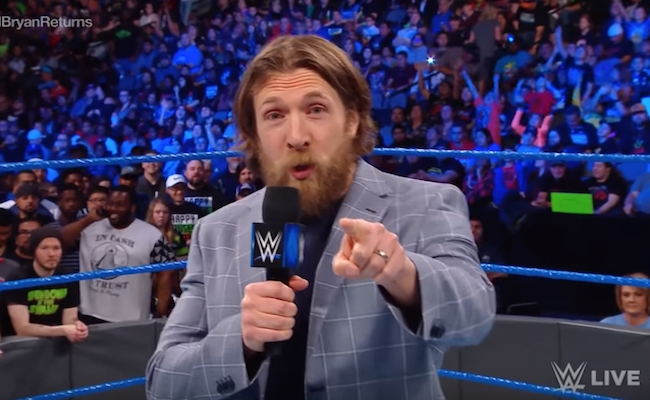 After spending the last nearly three years away from the ring, Daniel Bryan made his long-awaited return in a tag team victory with Shane McMahon over Kevin Owens and Sami Zayn at WrestleMania 34.
When it was suddenly announced Bryan was medically cleared, Shinsuke Nakamura put his name in the hat as someone who wanted a showdown with the former WWE World Heavyweight Champion at some point down the road.
Samoa Joe, who missed the lead up to WrestleMania with a foot injury, added his name to that list, while speaking with Between the Ropes: (H/T Wrestling Inc for transcription)
"He's on the radar," Joe said. "I know that anytime me and Daniel have gotten in the ring it's usually something brutal and spectacular. I wouldn't mind doing it again, I just hope he physically can hold up still."
Bryan seemed to hold up perfectly fine, not missing a beat in his tilt with Owens and Zayn in his emotional return. Joe and Bryan have had their fair shares of epic throwdowns during their time on the independent scene, specifically in Ring of Honor.
Another top contender that wants a long-awaited showdown with Bryan is Roman Reigns, who dropped his challenge to the leader of the Yes Movement while speaking with Planeta Wrestling (H/T Wrestling Inc for transcription)
"I think the 'Yes Man,' I don't get to see the guys from SmackDown all that often," Reigns said. "I know Daniel Bryan has been cleared. I'd love to get back in their with Bryan. I'd love to get in there, kind of do what we did back at Fastlane and have that rivalry. Hell, what kind of match would that be, me and Daniel Bryan at WrestleMania next year? Hopefully, his health continues to get better and better, the sky's the limit for him. So, I think Daniel Bryan would be a cool opponent."
Reigns and Bryan have crossed paths as singles competitors and in tag matches a handful of times over the years, following a similar trajectory into the main event picture. A potential showdown between Reigns and Bryan just screams of WrestleMania main event. Whether that's next year or a few years down the road, the match seems like a natural fit.
As of now, Bryan's next confirmed match is in the Greatest Royal Rumble in Saudi Arabia on April 27, which will air live on the WWE Network. There's no question, though, that Bryan is one of the most sought after opponents on the roster with his return now officially in the rearview.