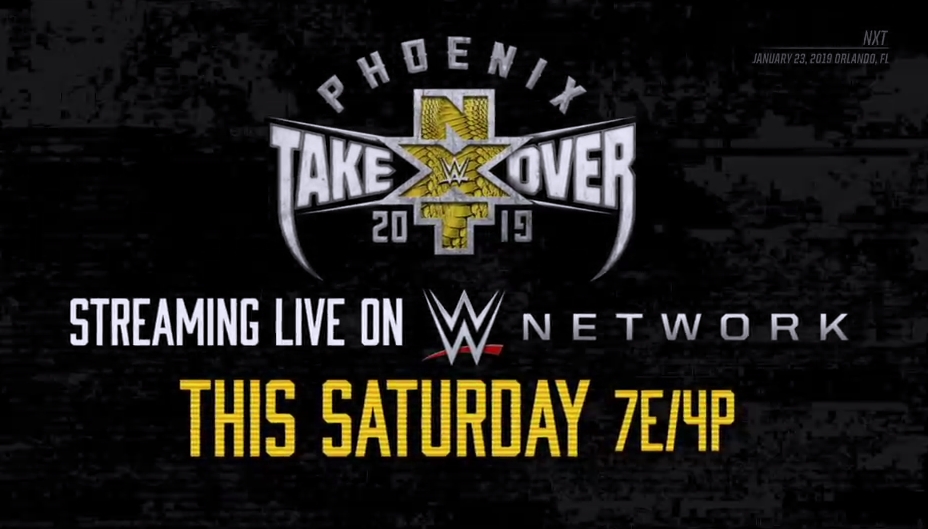 NXT TakeOver: Phoenix airs this Saturday, July 26, live on WWE Network. The latest live special from NXT features Poppy, most importantly, as well as matches for the NXT World, North American, Women's, and Tag Team Championships. We'll be here all weekend with live results, an open discussion thread, news breakouts, and everything you need to know. Here's the card as we know it.
NXT TakeOver: Phoenix Card
1. NXT Championship Match: Tommaso Ciampa (c) vs. Aleister Black

2. NXT North American Championship Match: Ricochet (c) vs. Johnny Gargano

3. NXT Women's Championship Match: Shayna Baszler (c) vs. Bianca Belair

4. NXT Tag Team Championship Match: Undisputed Era (c) vs. War Raiders

5. Matt Riddle vs. Kassius Ohno
As always, we've got your complete rundown of the card and analysis below, featuring predictions for all five matches. Make sure to drop a comment and let us know who you think's winning, and be here on Sunday to see if you're correct.
Here's what we think will go down at NXT TakeOver Phoenix.
Matt Riddle vs. Kassius Ohno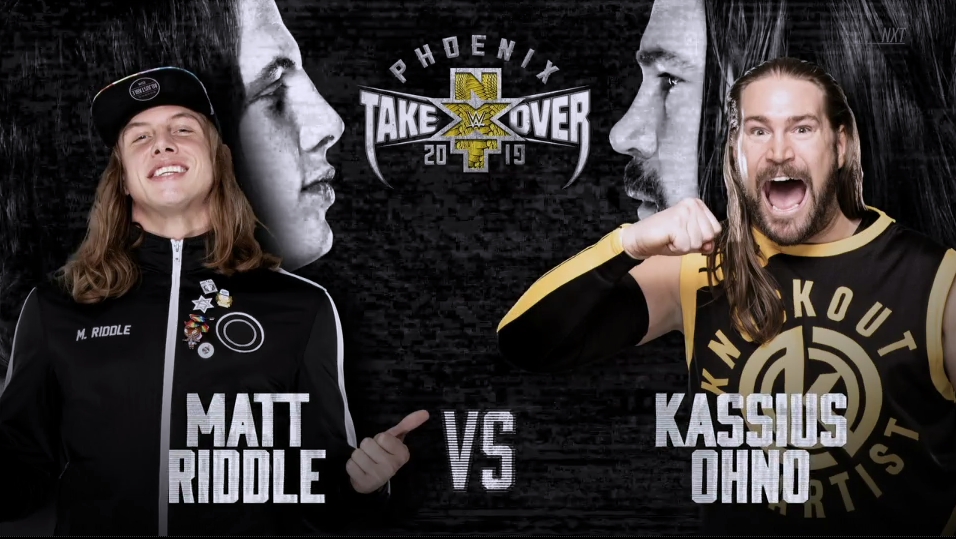 What You Need To Know: A beautiful but Cro-magnon man from the world of MMA showed up in some Game of Death shorts and declared that he loved everyone and everyone is his bro. Kassius Ohno, a man who answers the question "what would happen if Kevin Smith was a wrestler," took offense to that, believing he'd been "passed over" by various newly arriving stars. They had a match, and Riddle won. So they had another match, and Riddle won again. Now, a third match, somehow!
What Will Happen: The first time these two faced off on a TakeOver, the joke was that it was supposed to happen on the hour-long episode taping before TakeOver, but Riddle was too dumb to know how wrestling works and accidentally initiated it during the show. This time, I hope Riddle opens the pre-show calling Ohno out, and Ohno's third loss in a row actually happens next Wednesday between TakeOver highlight videos.
Staff Picks
Bill Hanstock – I'm a firm believer that the first Riddle-Ohno match should have been Ohno's last as a full-time wrestler. Or even the second. It's pretty wack that Ohno last twice, fairly and definitively, and still managed to goad Riddle into a grudge match. Riddle just has to win this one, so everyone can move on with their lives. Either that, or we stretch it out to WrestleMania weekend and put them in an inferno match.
Emily Pratt – I'm guessing Riddle wins, but they go like ten minutes this time.
Raj Prashad – These two should put on a war, with Riddle coming out on top and continuing to work his way up the card.
Elle Collins – This will be more of a match than the last time these guys fought at a TakeOver, but Matt Riddle's still going to win. Sorry Kassius! You didn't sign with WWE so you could win matches. Clearly.
NXT Tag Team Championship Match: Undisputed Era (c) vs. War Raiders
What You Need To Know: The NXT Tag Team Champions are the jerkiest little white dudes you've ever seen in your life. They keep running afoul of a pair of NXT's meanest (and also whitest, but in a different way) dudes, Hanson and Rowe, the War Raiders. They're what would've happened if the Road Warriors had grown up playing Syrim and Fallout. Really all you need to know is that the big guys are probably going to murder the little guys, who are already so afraid of them they cut promos in the back of a locked U-haul.
What Will Happen: I think the War Raiders roll here. Another competitive tag team championship defense could be fun, but it might be just as fun (and more fulfilling to Undisputed Era's overall arc) if O'Reilly and Strong just get murked. Adam Cole and Bobby Fish announcing on NXT TV last Wednesday that everyone in the group would have gold in 2019 feels like code for, "actually, we're going to lose all our gold and end up somewhere unexpected."
Staff Picks
Bill Hanstock – The tag division in NXT is on absolute fire (and has been ever since the advent of American Alpha, really). There are a bunch of teams waiting in the wings that could challenge for the titles next, and since there are more babyface teams than heel teams in the division right now, I'm going with Undisputed Era to retain. Except … what do you do with War Raiders if they lose? Multi-team feud at Mania!
Emily Pratt – This match seems kind of fake to me because it's ReDRagon versus War Machine and they should be in different weight classes! Anyway, this is probably a dream match for some people, which is a nice thing to have, and I think the Raiders win so we fully transition to a goldless Undisputed Era.
Raj Prashad – Undisputed Era has had a great run, but War Raiders are the real deal and could become long-term champs in the NXT tag team division. Going with War Raiders here.
Elle Collins – This one could really go either way, but NXT seems pretty high on the War Raiders, so I'm picking them to take the titles here. Rowe's going to get on his boat and take his championship belt back to the Viking hall he shares with Sarah Logan and present it as the spoils of battle. Then I assume they'll use it to make an elk trap or a baby bjorn or something. Meanwhile Hanson will probably just go to the zoo.
NXT Women's Championship Match: Shayna Baszler (c) vs. Bianca Belair
What You Need To Know: NXT's bad-ass MMA-flavored women's champion and her dopey MMA pals are on top of the world. She's held the title twice, something nobody else has done, and recently cheat-punched her blood rival Kairi Sane into the women's tag team division. Up next, her most athletic challenge to date: Bianca Belair, a physical marvel with prehensile hair who is un?duh?fee?ted?. She's UN?DUH?FEE?TED?.
What Will Happen: Here's the thing that's tripping me up in my prediction. If Ronda Rousey's WWE run is rumored to be wrapping up around WrestleMania, that means they have to do any "Four Horsewomen" stuff they were planning pretty damn quickly or miss out on the opportunity. Maybe they're saving that for when Rousey decides she wants to come back, which would give the Lesser Horses some time to grow, but it sure seems like this is an easy way to get Shayna from the top of the NXT Women's Division to the bottom of Raw's. Binky wins a shocker to retain her clap emojis, and Baszler (and maybe her friends) pop up in the Rumble.
Staff Picks
Bill Hanstock – I feel like Bianca really SHOULD remain UN DUH FEE TED, but you've got Marina and Jessamyn out there scurrying around, so I think she gets handed her first-ever loss via nefarious means, setting up NXT's first-ever (right?) women's cage match on WrestleMania weekend.
Emily Pratt – I would be shocked if it's Belair, and I'm rooting for Belair, but I think Baszler retains. Whoever wins, this is the match I'm most interested in seeing play out because we haven't seen Belair in a big NXT match situation before.
Raj Prashad – There seems to be no end in sight for Baszler, as she should win this one with ease.
Elle Collins – I don't know if you've heard, but Bianca Belair is undefeated. Personally, I think she's going to stay that way, and become NXT Women's Champion. Shayna's had a good long run, but it seems like about time for her to get called up, especially if they want her to do something with her buddy Ronda Rousey, who might be leaving soon. Bianca will also make for a fantastic heel champion, and it will be that much more exciting when her undefeated streak is ended by a babyface in a title match at a TakeOver to come.
NXT North American Championship Match: Ricochet (c) vs. Johnny Gargano
What You Need To Know: Hey homey, what up dogg, North American Champion Ricochet just wants to smack it up flip it and rub it down on the east side, know what I'm sayin'? Ay! Unfortunately he's defending his championship against a man so internally and emotionally broken that he's indirectly feuding with his own wife over whether or not he should be best friends with his worst enemy. THIS IS GOING TO BE SO GOOD.
What Will Happen: My initial prediction here is that Gargano would win the North American Championship to give both members of Evil DIY titles, which you could then play against one another to build something for WrestleMania weekend. On second thought, and especially after reading all the staff predictions, I'll pick Ricochet to retain here. Gargano needs to get as absolutely razor close to being an evil person as he can, but "being evil" isn't the end point. If he's going to be evil forever, sure, he wins the title here and he and his weird friend rule with an iron fist. But I think (slash hope) the idea of the story is ultimately redemption, and Gargano realizing he can't just Ciampa his way to title wins like an asshole may be the more important plot point.
Staff Picks
Bill Hanstock – Gargy wins, probably by kicking Ricochet square in the dick mid-moonsault. How we hate Johnny Gargano!
Emily Pratt – It is extremely wild that a developmental territory has a secondary title. I'll say Johnny Sabboy wins so he and Ciampa can have gold together and rule Full Sail University as Evil DIY.
Raj Prashad – Johnny North America? Picking Gargano to win NXT's secondary title as he and Ciampa run the show for the forseeable future.
Elle Collins – Johnny Gargano is a human disaster right now, but let's be real he's about to be a human disaster with a midcard championship. The new heel D.I.Y. (Disaster Is You) is rapidly becoming a thing, and that story gets a lot more interesting when there are multiple titles involved. Ricochet was a good North American Champ, but it's Johnny TakeOver's turn now.
NXT Championship Match: Tommaso Ciampa (c) vs. Aleister Black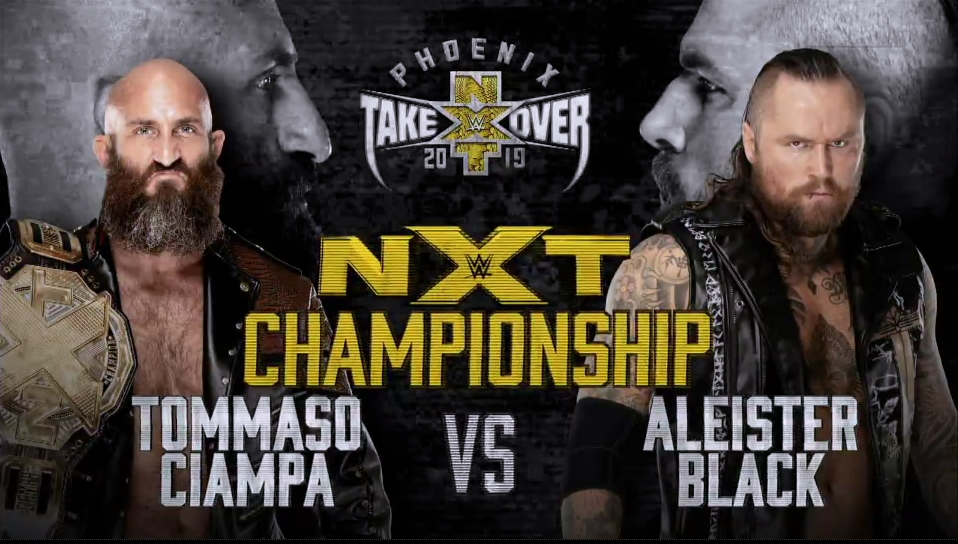 What You Need To Know: An evil troll is NXT Champion, but don't worry; the former champion, a teleporting Dutch occultist, is on a mission to kick him the hell in the face and take it back.
What Will Happen: I think Velveteen Dream's absence from this card is interesting. Going with my Johnny Gargano booking above, if you're going to blow off the feud at WrestleMania (weekend) and Gargano doesn't have a title belt, Ciampa doesn't really need one either. Whether they're staying or going after the match, the Gargano/Ciampa rivalry is all about internal struggle, not who is or isn't champ.
If you have Gargano realize the error of his ways in the Ricochet match, or at least be driven to another level of madness by what happens, he can cost Ciampa the championship here. That'd give us an easy set-up for the final match between the two, and put the belt back on Black heading into the biggest season of the year … where he should a billion percent be challenged by Velveteen Dream, a call back to the other best feud in recent years. You don't want to see a TakeOver New York headlined by a Gargano/Ciampa loser leaves town match and Velveteen Dream becoming NXT Champion?
Hell, put Dream over Black and then have Black show up at WrestleMania with his spoopy entrance and win the Andre, or spin kick the Undertaker into a shallow grave, or whatever.
Staff Picks
Bill Hanstock – Make no mistake: win or lose, Johnny Gargano will insert himself into this match, because he cannot quit these two. His interference will allow Ciampa to win, and the new #DIY DARK will hold the top two singles titles in NXT. WORST TIMELINE COMIN'.
Emily Pratt – Oh man, I don't know? Who has the more TWISTED SOUL? I guess Ciampa? Maybe Johnny Gargano gets involved? I'll give it to Ciampa. This match should be good.
Raj Prashad – Picking Ciampa here to hold onto Goldie for another successful TakeOver title defense.
Elle Collins – What should happen is that Ciampa retains and Black shows up as a surprise entry in the Men's Royal Rumble Match on Sunday and then joins Raw or Smackdown right away. What's more likely to happen is that Ciampa retains, and then Black doesn't show up on the main roster for a long time and we all kind of wonder what's become of him, until finally he does debut. Either way Ciampa retains.
Other things we'd like from this show:
Velveteen Dream meeting Poppy
ACH in the front row, waving at the crowd
a play on the first NXT UK TakeOver where Matt Riddle gets hurt before the show begins and William Regal replaces him with Cesaro
an appearance from Raw legend the Phoenix Suns Gorilla, maybe just to get attacked by Dijakovic
Those are our thoughts on TakeOver: Phoenix. Who do you think's winning what, and why? Let us know down in the comments section, and make sure you're here all weekend for our Royal Rumble weekend coverage!