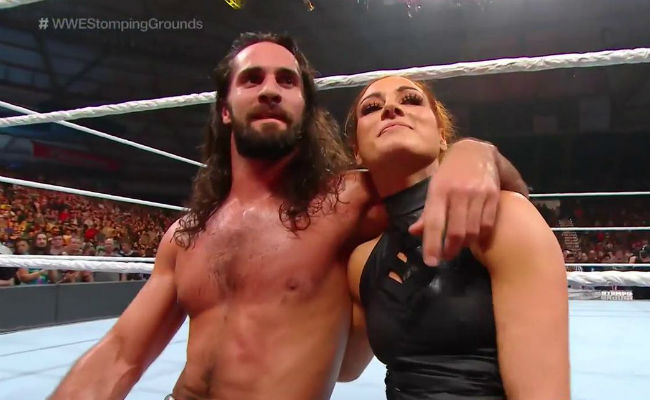 It's been a dramatic twelve hours or so for Universal Champion Seth Rollins. He successfully defended his championship at WWE Stomping Grounds in a match against Baron Corbin that featured corrupt special guest referee Lacy Evans, Becky Lynch beating up corrupt special guest referee Lacy Evans, and real-life couple Rollins and Lynch's biggest moment as an on-screen couple so far. But this wasn't all the drama in which Rollins was involved that night – he also decided to start a brouhaha among wrestling fans on Twitter.

He started by quote-tweeting a WWE tweet promoting Stomping Grounds, adding "Best pro wrestling on the planet. Period." This was publicly supported by some of his coworkers, including Roman Reigns and The Usos. This was definitely something people were sure to have opinions and make jokes about, but not an out-of-place statement for one of a wrestling company's world champions.
Rollins doubled down during the PPV – well, the kickoff show – in response to the good Cruiserweight Championship match that ended with Gulak finally winning the purple belt. "Best pro wrestling on the planet," the Beastslayer tweeted. "See that Cruiserweight Triple Threat? And that's just one night, one match amongst the many. Find anyone else alive who does what I do as well as I do it as often as I do it. Ya can't."
This prompted a response from the man Dave Meltzer recently declared the best wrestler in the world, New Japan Pro Wrestling's Will Ospreay, the 2019 Best of the Super Juniors winner, current IWGP Junior Heavyweight Champion, and entrant in the upcoming G1 Climax tournament. "I'm alive," the Dragon Slayer said (There's a lot of slaying going on in wrestling this spring/summer), implying that he does wrestling better than Rollins.
Rollins would respond to Ospreay, but first, early in the morning, decided to take a detour to call Cageside Seats "dorks" and put over Stomping Grounds. This tweet was praised by Road Dogg.
Then Rollins made his way back to Ospreay, whose often dramatic Twitter behavior, to be fair, is typically very easy to dunk on. The Universal Champion used this opportunity to mock Ospreay's size and put over WWE's new United States Champion Ricochet.
Rollins also put over one (1) non-WWE wrestler, Bill Carr of Team Tremendous.
The point at which Rollins crossed a line for some people was with what is currently the final tweet in this series. In response to comic book creator and artist Jamal Yaseem Igle encouraging him to "dial it down a notch," Rollins responded, "Nah dawg, let me dial it up. I've sat back and watched idiots with no clue talk poorly about the place I dedicate my life to EVERY HOUR OF EVERY DAY. The level I perform at on constant is untouchable. Time to let em know."

It's worth pointing out that Rollins isn't the only WWE Superstar to become more publicly defensive of his workplace after Jon Moxley spoke at length about his problems with the company that eventually drove him to leave. In addition to Rollins' tweets, we've seen Road Dogg and Drew McIntyre respond specifically to the issues Moxley had with the creative process.
I'm not sure how much you can dismiss people who "talk poorly" about the place that had that Lacey Evans goofiness in their main event last night, that currently has a sketchy deal with the Saudi Arabian government, and whose past bad behavior has recently been highlighted by government documents from the vetting of Linda McMahon for her former position as the administrator of the Small Business Administration. There's a wide range of things to talk poorly, or at least critically, about in regards to WWE.
Rollins talked about people criticizing WWE as though they're insulting the performers, but that's typically not the case. Usually, fans unhappy with the current state of WWE (or at least the main roster) decry how they feel such a talented and hard-working (and huge) roster is being misused. While Rollins' company man comments might silence the criticism of some, it doesn't feel like a reach to say WWE just making Raw and Smackdown more engaging would be much more effective in burning that down.