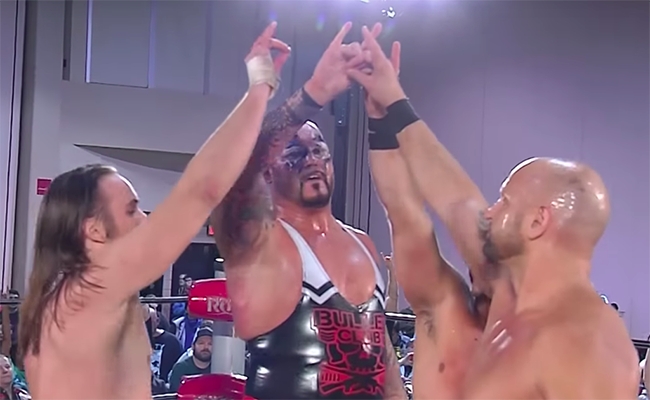 The Young Bucks are undoubtedly one of the most successful pro wrestling acts today. The Bullet Club-affiliated tag team has achieved an incredible level of success despite never having signed with the WWE. Heck, they even made it into WWE 2K18 without a contract, sort of!
Indie wrestling/NJPW fans tend to be split on whether Matt and Nick Jackson should join WWE, but their former Biz Cliz Good Brother Luke Gallows thinks they should. He had the following to say when he spoke with Sky Sports:
"I hope the Young Bucks come in. I think they're highly, highly talented and if you want to make your mark in sports entertainment, if you want your name to go down in the annals of sports entertainment history, you absolutely have to come to WWE. This is the pinnacle. It doesn't get bigger than this. There's no bigger worldwide stage than WWE. So I think the Young Bucks owe it to themselves to come out here and thrive. Japan is a great place to wrestle, but WWE is a worldwide platform and you can't beat that. Their reach is all across the world."
Matt Hardy, who worked with the Bucks in ROH shortly before he and Jeff's WrestleMania return, has also said it would be [read in Woken Matt voice] WONDERFUL! to see the Young Bucks in WWE, and encouraged Vince McMahon to reach out to them.
Despite these endorsements, it's unclear whether the WWE is in the Young Bucks' future. They've said that 2018 could be WWE's last chance to sign them. Since then, they've started Monday Night Wars-ing it up with Cody and got slapped with a cease and desist order re: all things "Too Sweet." They have also courted CM Punk and Hulk Hogan for Bullet Club membership, two men that WWE is not at all sweet with. Also, this appeared to be their reaction to Raw 25:
(I mean, same, but also y'all do have a Bullet Club sub-faction called SuperKliq, so I bet secretly loved it deep down in your DX-mark hearts.)
However, the Young Bucks also recently expressed a desire to wrestle the Usos, and Cody suddenly seems to be trying to keep his bridges back to WWE unburned. So we'll see what happens! Maybe we'll see the Young Bucks All In NXT in 2019, Too Sweeting again and making their Good Brothers happy.