The NFL is America's most ruthlessly capitalist sports league, and the Scouting Combine — not the draft or the Super Bowl — best represents its ethos.
For six days, our most promising gridboys are poked and prodded, tagged and numbered, tested and interrogated. I'd rather see an otter in a cage than steal the jiggle from these cheerful bowls of Jell-O.
The NFL Scouting Combine is a crime against large adult football sons. Look at these great big rambunctious boys: their towering stature, their incredible bulk, their fresh faces and floppy hair. They should be roughhousing in an unfinished basement, not solemnly answering questions from glowering, goateed Easter hams.


And, yes, they jiggle during the 40-yard dash, but I'm talking about spiritual jiggle. Like most viewers, I am not immune to the hypnotic pull of these anthropomorphic football sausages, clad in overburdened spandex casing, as they run in slow-motion, thighs pumping like ham hocks affixed to pistons, my mind melting into a hearty stew of meat-aphors.
It's transfixing, but there's no joy in it.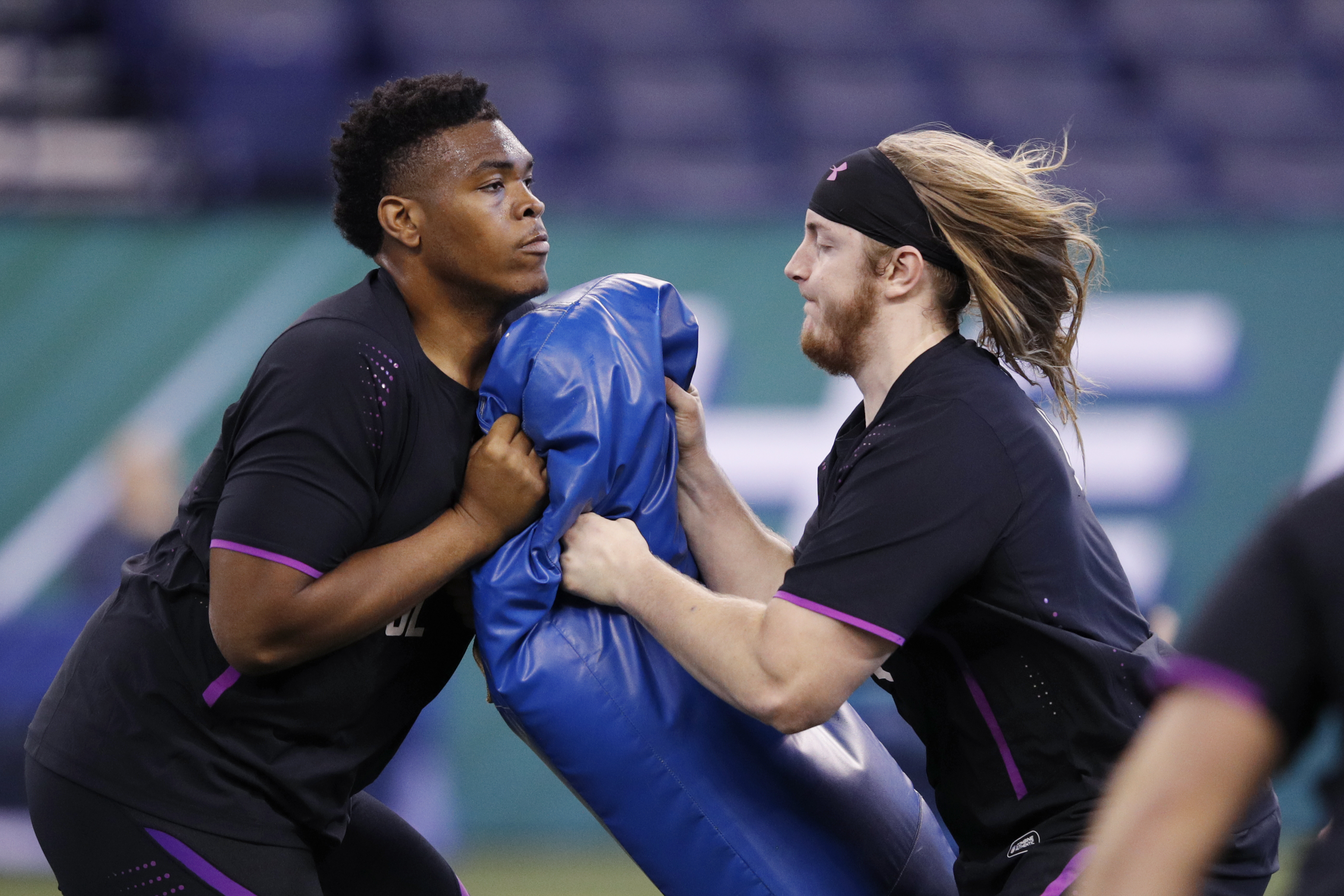 I want to see them run, yes, but not for their future. I want them careening chaotically through a world built for men half their size, not some sterile exercise laboratory. They should be knocking over priceless antiques, crashing through drywall, sitting in comically small chairs, murder-petting rabbits, and apologizing shyly for their irrepressible galumphing.
Bench press? Please. I want to lean out my window on a winter morning, push my stocking cap to the side of my face, and say, "You there! Boy! Tear that tree from its roots!" And then I would press a shilling into Braden Smith's palm for my uprooted pin oak, and offer him a second coin if he chopped it into firewood.
"Do you have an axe?" he'd ask, wide-eyed like a child yokozuna grown in an Alabama strength and conditioning program.
"What's wrong with the side of your hand?" I'd respond, and there would be no coach's son in a visor and Dri-FIT polo to mark poor Braden down for not instinctively using his God-given meatclubs for a menial task. ("NOT A BORN CHOPPER.")


What I'm saying is, ditch the laser timers and barbells and spandex. Let these brawny boys wear something loose and breathable, and put them in an arena filled with playground balls, Atlas stones, several pouches of marbles, various Nerf cannons, and the tennis ball launcher from the original American Gladiators. Fence them in with climbing walls, and cover 50 percent of the floor with trampolines.
You may not get raw data from this event, but you will see art. You will see the human spirit set free, and that is more valuable than any 40 time.
LET THE BIG BOYS PLAY!
STANDOUTS, OFFENSE
– Fastest Adolescent Pie-God: Brian O'Neill, Pitt (4.80 seconds in the 40-yard dash)
– Springiest Bearlike Ur-Teen: Kolton Miller, UCLA (10 feet, 1 inch in the broad jump)
– 320-pound Boy Most Likely to Dunk: Connor Williams, Texas (34-inch vertical jump)
– Built Ford Tough GRIZZLYBOY™: Quenton Nelson, Notre Dame (35 225-pound bench press reps)
STANDOUTS, DEFENSE:
– Runaway Ice Cream Truck: Marcus Davenport, Texas-San Antonio (4.58 in the 40)
– Mustachioed 4th Grader with Flubber on his Shoes: Ade Aruna, Tulane (top DL performer in vertical and broad jumps)
– Hydraulic Pressington, Jr.: Harrison Phillips, Stanford (42 225-pound bench press reps)
– Pubescent Rhinoceros: Vita Vea, Washington (5.11 in the 40 at 6-4, 347 pounds)
– The Kid from Big, Except He Wished to Turn into a Kettlebell Fired from a Cannon: Da'Ron Payne, Alabama (4.91 in the 40 at 311 pounds)
– Best Clapper, Somehow: Shaquem Griffin, UCF