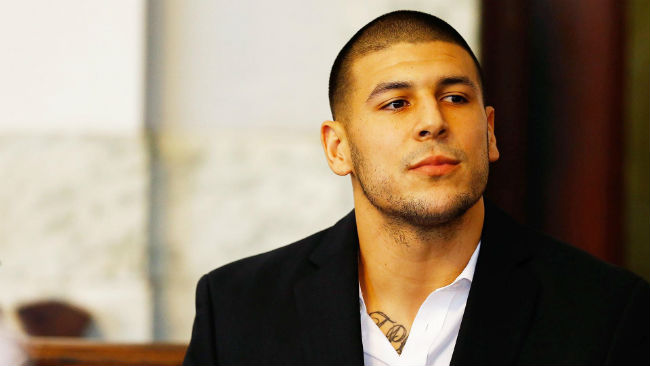 The life of Aaron Hernandez is over, but the story of his impact is just beginning. The former New England Patriots tight end and convicted murderer committed suicide early Wednesday morning and that final act may set off a long string of legal challenges and financial squabbles.
Last week, Hernandez was found not guilty of two murders dating back to 2012. According to a report in the Boston Globe, Hernandez's death may impact his conviction in the 2013 shooting death of Odin Lloyd.
Though Hernandez was convicted in 2015 of murdering Odin L. Lloyd of Boston, Hernandez's appeal was not complete. Abatement ab initio means "from the beginning," Healy said, and it means that upon a person's death if they have not exhausted their legal appeals, their case reverts to its status at the beginning — it's as if the trial and conviction never happened.

"Unfortunately, in the Odin Lloyd matter, for the family, there won't be any real closure," said Healy. "Aaron Hernandez will go to his death an innocent man."
According to some legal expects, the Hernandez estate could be owed a good amount of money if his legal convictions are indeed overturned. Lawyer Michael Coyne appeared on CSNNE on Wednesday and said Hernandez's bonus money, base pay and NFL pension could still be paid out if the guilty conviction disappears.
Meanwhile, Lloyd's family is very aware of a potentially overturned conviction.
https://twitter.com/TimWhiteRI/status/854770395425255425
"If these convictions are ultimately vacated — both his conviction with Odin Lloyd and his conviction on the gun charge," Coyne asked "Will his estate — will his child and his wife — be able to recover either some of the bonus that's still due to him under the Patriots contract or any of his pension benefits that the NFL might owe him?"
In June 2013, the Patriots withheld $3.25 million of Hernandez's signing bonus. They also refused to pay him his $2.5 million in his guaranteed base salary. New England cited the collective bargaining agreement as their reason for withholding that guaranteed money. That's the money Hernandez's lawyers will likely pursue.

Coyne added: "The question is then: If he's no longer criminally liable, has he violated the provisions of any of his contractual terms? And you know, where there's money like this involved, the lawyers will have a field day."
That means more legal action is sure to follow. This time, however, it will be more about finances than justice.
(Via BroBible)