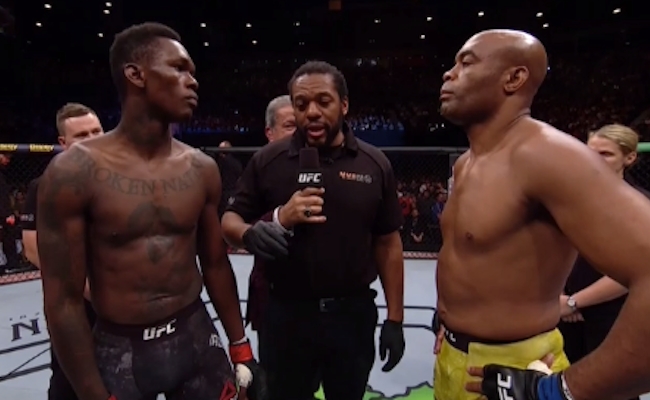 Israel Adesanya (16-0) defeated Anderson Silva (34-8-1) via unanimous decision in the main event of UFC 234 in Melbourne, Australia.
Adesanya and Silva spent much of the first round testing their range. Adesanya buckled Silva's knees with a straight right midway through the round, but Silva battled back, chasing Adesanya around the octagon, clearly irked with his opponent's showmanship.
Early in the second, Silva dropped his hands completely and ate a handful of shots to the head. He had spurts of attacking, chasing Adesanya back to the Octagon's wall before his opponent locked him in the clinch and halted his strikes. Neither Silva nor Adesanya could find their grove, landing one-off shots and backing away.

In the third and final round, Adesanya landed a shot that appeared to close Silva's left eye, before hurting him with a leg kick. Adesanya spent a chunk of the round circling Silva to the left, where he outstruck his opponent for the decision victory.
During an interview back in November, Silva claimed UFC president Dana White had promised him a title fight against the winner of what was supposed to be the main event of the night, Robert Whittaker versus Kelvin Gastelum. Whittaker was forced off the card after an abdominal hernia required emergency surgery Saturday afternoon. White announced on ESPN that the hernia was discovered after Whittaker suffered abdominal issues overnight. As of now, a rematch hasn't been scheduled, and there's no telling what this means for Adesanya, who certainly should be circling a title fight in his future.
Before Saturday's return to the Octagon, the 43-year-old Silva last competed in the UFC in February 2017, when he defeated Derek Brunson via decision. Silva hadn't won in five relatively ugly outings before that victory. He was pulled from his scheduled fight in November 2017 after ingesting a tainted supplement, leading to a one-year suspension from the UFC. Silva has fought just seven times dating back to 2013 thanks to a combination of injuries and suspensions.