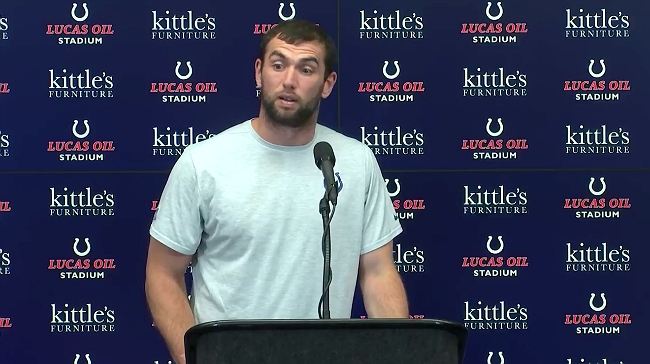 Most franchise quarterbacks get retirement press conferences full of pomp and circumstance. And, usually, a lot of suits. Andrew Luck got none of that on Saturday night as word quickly spread that he intended to retire, a shock to many given the success he's seen in his six-year career.
ESPN broke word that Luck, the first overall pick in 2012, intended to retire on Saturday night, right as Luck was on the field while the Colts took on the Chicago Bears at home. As the news spread that Luck had intended to retire at a press conference on Sunday, things got very chaotic. Fans inside Lucas Oil Stadium found out while watching a Luck-less Colts team lose to make them 0-3 in preseason, and he was actually booed by some fans as he left the field after the game.
Afterward, despite obviously not playing, Luck held an impromptu press conference with media in Indianapolis officially announcing his retirement.
Luck apologized to his mother for wearing "an athletic shirt" during his retirement press conference, as the now-former Colts quarterback took the podium in sideline gear. He also addressed the emotions he experienced deciding to end his career after six seasons.
"I feel so conflicted because of my love of these men," Luck said, adding that the Colts would be better off without him.
Luck became emotional at the end of the press conference's opening statement, especially when thanking his friends and family. He then admitted that he had not yet told his teammates when news of his retirement broke.
"To be honest I was going to tell my teammates after the game and 3 p.m. tomorrow I was going to talk to you guys," Luck said, answering questions after his opening statement. Luck cited four years of pain in his "injury cycle" and said to move on with his life, he needed to not play football.
Luck was honest about his decision to walk away, saying the injuries mounted to the point where he wasn't sure they would heal if he kept playing. He also addressed the postgame booing by some Colts fans, admitting that it hurt.
"I'd be lying if I didn't say I heard the reaction," Luck said. "It hurt, I'll be honest. It hurt."
Luck admitted that the move will surprise many fans, but that the decision had been a long time coming.
"Right now my journey just doesn't include football going forward," Luck said.