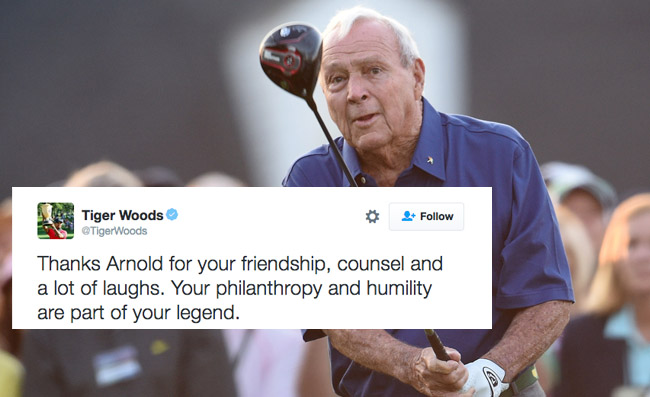 There's no denying how important Arnold Palmer was to the game of golf. The champion effectively popularized the sport and remained an important figure in its development and expansion over the last five decades. Beyond his individual accomplishments, he would be an elder statesman, a guide, and a teacher for many of golf's young players after he stepped off the fairway and into other, somehow even greater spotlights as a household name. He designed over 200 golf courses with his design partner Ed Seay, and owned the legendary Latrobe country club.
Now, the legend is gone. But his reach will go far, and his name will never not be synonymous with the name of golf, and golf will never distance itself from his name. Simply put, if Tiger Woods was the Michael Jordan of golf, Arnold Palmer was the Wilt Chamberlin. Palmer was always on the minds of golfers everywhere, even at 87-years-old and now, in retrospect, just weeks before his death.
Here's Tiger Woods' most recent tweet, for example:
Which led to Woods following-up when he heard the sad news:
Palmer was a gracious competitor, who befriended Woods and helped him along in his career as Woods would go on to smash many of his records. Palmer was also so popular, and his play style so aggressive and eye-catching, that he would transcend sports.
And so, golfers, celebrities, sports writers and close friends (of which Palmer had many across every possible industry) would take to Twitter in an outpouring of emotion. Palmer was giving of his time and expertise, and will live forever through those he touched.