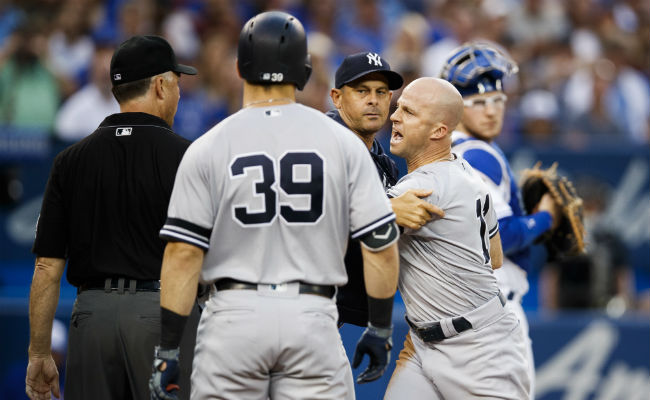 Brent Gardner got ejected from a Blue Jays/Yankees game on Friday night and it somehow wasn't the weirdest ejection of the night. The incident came on a frustrating night for the Yankees that became even more puzzling when an umpire ejected Gardner for, well, not actually saying anything.
The Yankees trailed all night and were vocally upset about the strike zone called by home plate umpire Chris Segal, who had enough of it by the top of the fourth inning. Gardner was in the dugout on Friday night during Mike Tauchman's at bat and, after a low strike call, Segal heard something from the Yankees dugout. Cameras showed other people, including Yankees manager Aaron Boone, yelling about the call. And Segal then threw someone out. But after Boone angrily went out to see who he ejected, it turns out it was Gardner, who was shown on camera holding a bat, a bottle of water and saying absolutely nothing.
n i
Gardner then, predictably, freaked the hell out.
According to ESPN, Gardner was extremely unhappy with the explanation he got for his ejection.
"I didn't even open my mouth, which is unusual for me," Gardner said according to ESPN. "He just wanted to assume, or wanted to take a guess, and he was wrong. And then he lied to me about it — which is a huge problem — and that's what made me a little upset."
The Yankees went on to lose, 8-2, and Aaron Judge had to play on his day off, perhaps the worst thing for an injury-ravaged Yankees team still in first place in the American League East. But the funniest ejection from Rogers Centre on Friday night, however, was an entire team of Canadian tuxedo-wearing Irish rugby players. The group, all in matching outfits and apparently extremely drunk, was shown on the video board and proceeded to spray beer all over each other, much to the delight of the crowd and the chagrin of Rogers Centre security.
An entire visiting Irish rugby team just got escorted out of the Jays game for being extremely shitfaced, they all came to the game in matching Canadian tuxedos, sprayed beer and occasionally paused for pushups all the way to the exits pic.twitter.com/i7PYKey8jE

— ℳatt (@matttomic) August 10, 2019
Apparently, the team was rowdy throughout the night, which is saying something at a Yankees/Blue Jays game where the home team is already out of the playoff hunt. But the beer spraying crossed a line.

They showed them on the Jumbotron and they started spraying beer all over each other and the cops begrudgingly stepped in to toss em, their whole section was chanting "let them stay"

— ℳatt (@matttomic) August 10, 2019
The crowd, however, wanted the rugby players to stay, even chanting in support as they made their way to the exits.
All the ejections stood on Friday, though you could argue that none of them were truly necessary. Life's unfair that way sometimes.