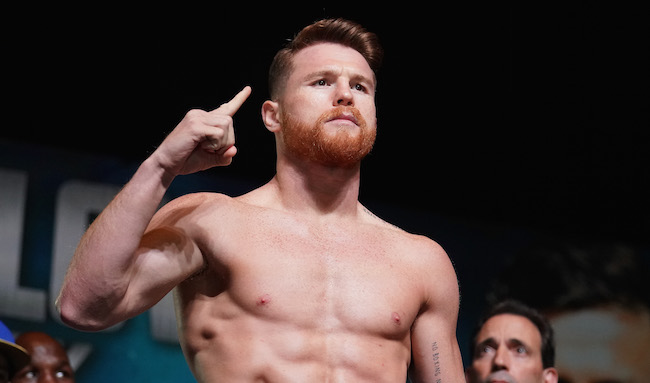 It's been a terrible week for combat sports already with the loss of the big Tony Ferguson vs. Khabib Nurmagomedov fight at UFC 223, and now we're sad to report that boxing is also taking a big hit now with Saul 'Canelo' Alvarez confirming he's out of his big May 5th rematch with Gennady Golovkin.
Golden Boy president Eric Gomez made the announcement during a press conference in L.A. on Tuesday, stating the promotion had heard that it was unlikely Canelo was going to be cleared by the Nevada State Athletic Commission over drug tests that revealed trace levels of clenbuterol in the boxer's system.
"As you all know there is a hearing on April 18 and it's extremely unlikely this will get resolved by then properly and we need enough time to promote this fight," Gomez said.
"I am truly shocked about what has happened," Canelo said. "And for those who have doubts and suspicions about my integrity I have always been and always will be clean fighter. … What Golovkin and his team say doesn't bother me at all. they're not doctors, they're not experts. Sounds like an excuse of him not wanting to fight me to be honest. Like he's scared."
Canelo's team had argued the minuscule amounts of the performance enhancing drug pointed towards tainted meat as the culprit, but the NSAC made a point of implying Canelo would still be suspended even if that was the case when the two sides meet on April 18.
That's a controversial position to take given how other doping agencies react to cases where athletes have tested positive for clenbuterol. The UFC has had several cases since teaming up with USADA, and following an investigation they've issued 'no fault' determinations for athletes in areas where clenbuterol tainted meat is found and testing returned less than a nanogram of the substance. For reference, Canelo's initial failed drug test measured 0.6-0.8ng.
As it stands, Gennady Golovkin is still moving forward with plans to fight on May 5th against an unknown opponent. In order of likeliness, Spike O'Sullivan, Billy Joe Saunders, and Sergiy Derevyanchenko are all possible, with Derevyanchenko using his status as a mandatory challenger for the IBF title to force his way into the May 5th slot.