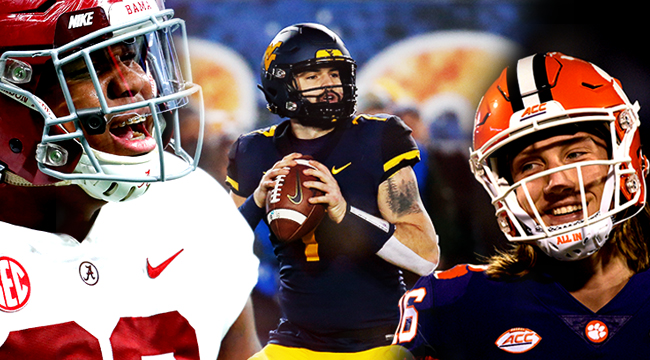 College football's regular season has just one game remaining, with Army and Navy squaring off in their annual matchup on Saturday, but bowl games don't wait for the troops to play before announcing the full bowl schedule.
On Sunday every matchup in college football's postseason was announced and, as always, there are some games that will be worth your while and others that, outside of diehard fans of those teams, will be easily skippable. Before we get to our watchability rankings, I feel a quick note is important. Yes, bowl season is long and there are lots of games. No, they're not all good matchups and you shouldn't feel obligated to watch them all. At the same time, it's OK that there are lots of bowls and teams that go .500 are rewarded with an extra game because that's still important to those kids and programs. Stop complaining about there being too many bowls, you aren't forced to watch them.
With that said, we're ranking the bowl games in terms of the ones you should try to watch, from worst to best and factoring in the stakes of the game, the probability of a competitive game, and whether the teams are fun to watch. Let's get to it.
40. Famous Idaho Potato Bowl: BYU vs. Western Michigan (Dec. 21, 4:00 p.m. ET)
Going off the offshore opening lines (which, admittedly are a bit wonky), only Alabama is a bigger favorite than BYU this bowl season. If you've watched much BYU football this season, you know they aren't exactly an exciting football team and I'd expect this to be a fairly hideous, lopsided game.
39. SoFi Hawai'i Bowl: Hawaii vs. Louisiana Tech (Dec. 23, 10:30 p.m. ET)
The 'Bows have not been nearly as much fun as they appeared to be early in the season, and Louisiana Tech has likely underwhelmed after being competitive at LSU. This may be competitive, but not likely a ton of fun. Also factoring into this low of a ranking is the fact that this game kicks at 10:30 p.m. on the Saturday night before Christmas and many of you will likely have better things to do that night.
38. AutoNation Cure Bowl: Louisiana-Lafayette vs. Tulane (Dec. 15, 1:30 p.m. ET)
Nothing about this game is really appealing. Tulane is going to muck it up and ULL is only exciting when playing another exciting team. It's also going up against a game that should be way more fun in almost the exact same time slot.
37. DXL Frisco Bowl: San Diego State vs. Ohio (Dec. 19, 4:00 p.m. ET)
Can I interest you in some Wednesday afternoon football?! The artist formerly known as the Miami Beach Bowl will feature an Ohio team that will score in bunches against a San Diego State team that's been miserable the last month of the season. If Ohio dictates pace, it might be watchable, but I just can't get excited about watching the Aztecs this season.

36. Academy Sports + Outdoors Texas Bowl: Baylor vs. Vanderbilt (Dec. 27, 9:00 p.m. ET)

There is a chance this game gets weird, but if Vandy's defense shows up it might be the ugly game you'd think it would be when you see it on the schedule. This is the worst of the P5 matchups and that's saying something.
35. Cheez-It Bowl: Cal vs. TCU (Dec. 26, 9:00 p.m. ET)
Speaking of just awful P5 matchups, it's the Cheez-It Bowl in Phoenix. This is the newest of the baseball stadium games, which means not only will it likely be unspeakably ugly football, but it'll look weird because it's being played in a non-football venue. All I'll say is take the Under here.
34. Quick Lane Bowl: Georgia Tech vs. Minnesota (Dec. 26, 5:15 p.m. ET)
The post Christmas day lineup isn't great! Proceeding the Cheez-It Bowl are the Bees and Gophers facing off in Detroit in front of what I assume will be a crowd of 2,000 people. This is Paul Johnson's final game as coach before he rides off into the sunset, so maybe he just unloads all the weird stuff he's ever thought up. That's really the best chance for this game to be fun.
33. Raycom Media Camellia Bowl: Georgia Southern vs. Eastern Michigan (Dec. 15, 5:30 p.m. ET)
Live and direct from Montgomery, it's…this football game. This is basically Tech-Minnesota, but the G5 version and it's on the first Saturday of bowl season instead of on a Wednesday, so it gets to live one spot ahead.
32. Hyundai Sun Bowl: Stanford vs. Pitt (Dec. 31, 2:00 p.m. ET)
I won't lie, the Sun Bowl holds a special place in my heart because it's the only game every bowl season where the players are 100 percent guaranteed to be hungover after a late night in Juarez the night before. Other than that, this is a hideous football game and probably belongs further down this list.
31. New Era Pinstripe Bowl: Miami (FL) vs. Wisconsin (Dec. 27, 5:15 p.m. ET)
No one really wants this game. It is two bigger name programs, but neither came anywhere close to living up to the preseason hype and I have no idea what either's motivation will be to care about winning the Pinstripe Bowl.
30. Bad Boy Mowers Gasparilla Bowl: Marshall vs. USF (Dec. 20, 8:00 p.m. ET)
This bowl is easily three spots higher than maybe it belongs based solely on the fact that you'll get to hear ad reads for Bad Boy Mowers. As for the game itself, it's not great. USF hasn't won a game since Oct. 20 and Marshall just got smoked by a very not great Virginia Tech team to end its season. Bad Boy Mowers though!
29. NOVA Home Loans Arizona Bowl: Arkansas State vs. Nevada (Dec. 29, 1:00 p.m. ET)
Nevada is pretty fun. Arkansas State is…fine. Outside of blowout potential on the side of the Wolf Pack, the biggest problem this game runs into is that it's running into the Belk Bowl and two New Year's Six games that will be playing at the same time as it.
28. Walk On's Independence Bowl: Duke vs. Temple (Dec. 27, 1:30 p.m. ET)
I love a good mid-afternoon kick on a Thursday in Shreveport. This game might be hideous, but with a chance of delivering some late-game excitement in a tight game.
27. Makers Wanted Bahamas Bowl: FIU vs. Toledo (Dec. 23, 12:30 p.m. ET)
Shoutout to Toledo for hitting the jackpot on being the MAC representative in the Bahamas Bowl. You guys did it. As for the game itself, this bowl does have a history of being a wild game, and both of these teams can score in bunches so maybe it's worth keeping an eye on.
26. Belk Bowl: Virginia vs. South Carolina (Dec. 29, 12:00 p.m. ET)
It's not the best Belk Bowl matchup, but this game tends to deliver on the goods and for that, it earns a reasonable spot. Virginia was good early in the year before running out of gas a bit. The Cocks have been competitive with some good teams late. I could see this being a little fun even if not a spectacular matchup.

25. Military Bowl: Virginia Tech vs. Cincinnati (Dec. 31, 12:00 p.m. ET)

The Bearcats are a touchdown favorite on the opening line and this game is only interesting if the Hokies show up on defense. They've been Jekyll and Hyde on that end this year, and if they no show they might get blown out by Cincy.
24. Redbox Bowl: Oregon vs. Michigan State (Dec. 31, 3:00 p.m. ET)
It's possible this is the worst game of the bowl season and I have wildly misranked this. That's the power of the Spartans. That said, the Ducks can be fun and maybe their defense will bring Sparty to life a bit offensively. I love watching Michigan State football games because I'm a sick human being, but for the normal human's list, this might be in the bottom five.
23. VRBO Citrus Bowl: Kentucky vs. Penn State (Jan. 1, 1:00 p.m. ET)
Florida-Michigan, but with less prestige. It's not fun watching Kentucky football right now and Penn State is very much not the team it was a year ago. Also, there are better games to watch in this time slot on New Year's.
22. Cheribundi Tart Cherry Boca Raton Bowl: UAB vs. Northern Illinois (Dec. 18, 7:00 p.m. ET)
A couple conference champs going at it. This will be low scoring but I could see this being a competitive game that's worth some Tuesday night viewing with no other football to compete with. Also what a sponsor for a bowl game.
21. Chick-fil-A Peach Bowl: Florida vs. Michigan (Dec. 29, 12:00 p.m. ET)
No one really wants to see these two play again, not even fans of the two teams. And yet, here they are set to meet in Atlanta. It's two good defenses and two top-15 teams playing so the expectation would be it's at least got some quality to it, but if Michigan brings the A-game it might not go well for the Gators.
20. Dollar General Bowl: Troy vs. Buffalo (Dec. 22, 7:00 p.m. ET)
These are two pretty good G5 teams and I think this could be an enjoyable football game down in Mobile on a Saturday night. Both teams started the season better than they finished it, but I could see them both playing a competitive game in which both teams care about getting a bowl win.
19. SDCCU Holiday Bowl: Utah vs. Northwestern (Dec. 31, 7:00 p.m. ET)
This game is extremely my shit, but I understand if you'd probably have it way lower. It's possible neither team touches 20 points in this one. It's the Rose Bowl game the Rose Bowl was really rooting against over the weekend and the Holiday Bowl scooped it up in a loving embrace.
18. Outback Bowl: Iowa vs. Mississippi State (Jan. 1, 12:00 p.m. ET)
I can't think of a better game to ease you out of a hangover and into the New Year than Iowa-Mississippi State. No one in this game is going to be trying to do too much. There will be lots of defense and not too much explosive offense which means the announcers will likely stay at a nice, calm volume for you. It's the perfect New Year's Day nooner.
17. TaxSlayer Gator Bowl: Texas A&M vs. NC State (Dec. 31, 7:30 p.m. ET)
Both of these teams are good, but neither do anything spectacularly well. This should be a competitive game, provided both teams want to be there. Neither had the best finish to the season, but as long as we get them both motivated, this ought to be a pretty well played and contested game.
16. SERVPRO First Responder Bowl: Boston College vs. Boise State (Dec. 26, 1:30 p.m. ET)
The first game of the post-Christmas slate is in the Cotton Bowl in Dallas between two teams that are hard to figure out. The Eagles stumbled to the finish line after a great start to the season, as the Clemson loss at home seemed to take the wind out of the Dudes' sails. The Broncos weren't their normal, dominant selves this season in the Mountain West, and dropped a heartbreaker to Fresno State at home in overtime, so it's fair to wonder how engaged either of these teams will be. Taking it at face value, though, this should be a pretty good football game.

15. Franklin American Mortgage Music City Bowl: Purdue vs. Auburn (Dec. 28, 1:30 p.m. ET)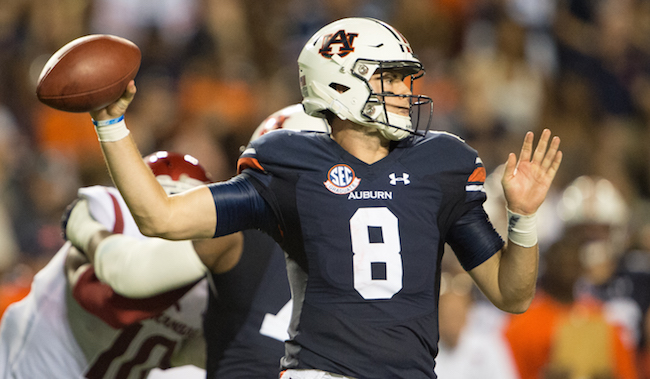 There is only one reason this game is as high as it is: Rondale Moore. Watch this game to watch Rondale Moore, because we must cherish every game of his in college. He's that kind of a special player and he'll have at least one moment in this game that he makes the Auburn defense, which has plenty of talent, look extremely silly. Outside of him, this game might be (very) bad.
14. Air Force Reserve Celebration Bowl: NC A&T vs. Alcorn State (Dec. 15, 12:00 p.m. ET)
The Celebration Bowl is usually quite good and competitive and will almost assuredly be better than at least half of the other bowls. Both of these teams are good and, maybe as important, they care about this game so the effort level is there on both sides.
13. PlayStation Fiesta Bowl: UCF vs. LSU (Jan. 1, 1:00 p.m. ET)
Why this game is kicking at 11:00 a.m. local, I have no idea, but UCF-LSU is a really weird matchup that could be intriguing. LSU is going to be without two of its best secondary pieces and against UCF that can be dangerous. Milton's absence is notable, but they looked damn good in the second half against Memphis as Darriel Mack Jr. found his form. UCF has plenty of reason to show up for this game and the question is whether LSU can match their intensity to dictate the game defensively, because we know they don't have the same level of offensive firepower.
12. Jared Birmingham Bowl: Wake Forest vs. Memphis (Dec. 22, 12:00 p.m. ET)
This game should feature tons of points. Neither team is really good on defense, and both can put up points in bunches on a mediocre defense. That's a recipe for a pretty fun bowl game.
11. Lockheed Martin Armed Forces Bowl: Houston vs. Army (Dec. 22, 3:30 p.m. ET)
Army might run for 500 yards in this game, as Houston will have to try and stop the option without Ed Oliver. Houston should be able to put up a lot of offense themselves, although without D'Eriq King this loses some of the fun potential there. I love watching a well executed option offense, and Army's as good as it gets right now at that. Against Houston they should find plenty of success in what figures to be a fun watch.
10. New Mexico Bowl: North Texas vs. Utah State (Dec. 15, 2:00 p.m. ET)
This is probably the best New Mexico Bowl matchup ever. Utah State is a double-digit favorite and that's probably right, but if you're looking for a track meet this is your game. The Aggies are as good an offense as there is in the nation, and North Texas can score in bunches as well. I think this is the second best of the G5 matchups this bowl season.
9. Rose Bowl: Ohio State vs. Washington (Jan. 1, 5:00 p.m. ET)
Dwayne Haskins has been unbelievable for the Buckeyes lately, and I am interested in seeing him go up against this Washington defense that has put the clamps on teams down the stretch of the season. On the other side, Ohio State's defense is spotty and I'll be interested to see if Myles Gaskin can get loose for the Huskies — and if Jake Browning can actually look good again — to make this a fun game. Also it's the Rose Bowl, which is the best setting in college football.
8. Mitsubishi Motors Las Vegas Bowl: Fresno State vs. Arizona State (Dec. 15, 3:30 p.m. ET)
Fresno State is really good. If you haven't stayed up late to watch much of them this year, tune in to the Vegas Bowl because their defense is the real deal. Sparky will be without its best receiver as N'Keal Harry leaves for the NFL, but they have some ability to push the ball down field still and test this Bulldogs defense. On the other side, Marcus McMaryion can ball, even if they play a fairly conservative style to force teams to try and drive the length of the field on their defense.
7. Valero Alamo Bowl: Washington State vs. Iowa State (Dec. 28, 9:00 p.m. ET)
The Alamo Bowl often delivers a really fun game. There was that wild game with TCU a few years ago where Gary Patterson sweat so much he had to change shirts at the half and then the Horned Frogs had a crazy comeback on Oregon. Wazzu is always fun to watch and how they fare against a good Iowa State defense will be quite interesting to watch.
6. R+L Carriers New Orleans Bowl: Appalachian State vs. Middle Tennessee State (Dec. 15, 9:00 p.m. ET)
These are two very good G5 teams and this should be the best New Orleans Bowl matchup…ever? Both of these teams can play some defense and I'd be surprised if there isn't some drama late in NOLA. It won't be the highest scoring affair, but both teams are really solid and I hope folks watch them because it's a fun matchup.

5. AutoZone Liberty Bowl: Missouri vs. Oklahoma State (Dec. 31, 3:45 p.m. ET)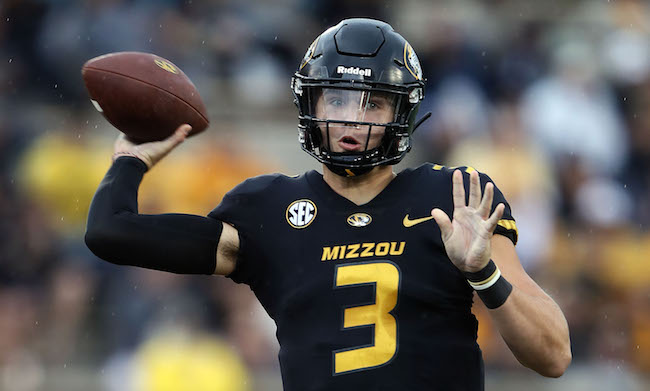 Defense optional in Memphis, baby! These two teams are going to put up points in bunches. The question is if Mizzou can keep up with the Pokes. This is your New Year's Eve track meet surrounded by a bunch of miserably slow tempo games, which will make this game pop even more.
4. Allstate Sugar Bowl: Texas vs. Georgia (Jan. 1, 8:45 p.m. ET)
This is a fun matchup of a couple blue-blood programs that never play each other — they've met four times, most recently in 1984. Georgia should win this game, and if they show up like they did for the SEC Championship game it might get ugly. Still, Tom Herman is great as an underdog and Texas will be real fired up to try and show their stuff against a big time SEC opponent.
3. Goodyear Cotton Bowl: Notre Dame vs. Clemson (Dec. 29, 4:00 p.m. ET)
The first of the two Playoff semifinals might be the more competitive game, but it's also the less intriguing matchup. Both of these teams boast excellent defenses, but the biggest question is Notre Dame's offense and whether it can keep up with Clemson. Ian Book has been great, but he'll need his best game of the season to give the Irish a chance to pull an upset as double-digit dogs.
2. Camping World Bowl: West Virginia vs. Syracuse (Dec. 28, 5:15 p.m. ET)
There are zero stakes here, but this game's going to rule. We know both teams can score in bunches. Eric Dungey should be back by the time they play this game, meaning Syracuse's offense will be close to full strength. Neither defense is especially great, which means plenty of opportunity for big plays, and I just generally think it's going to be the dumbest, most fun game of bowl season.
1. Capital One Orange Bowl: Oklahoma vs. Alabama (Dec. 29, 8:00 p.m. ET)
It's possible this gets out of hand if Alabama's defense, with a month to prepare, shows up at peak performance and frustrates the Sooners offense. However, no one's been able to do that yet and Kyler Murray has now become the Heisman favorite for what he's done in the second half of the season to get the Sooners to this point. Alabama's going to score a lot because every Oklahoma opponent scores a lot. Still, if there's an offense capable of making it a competitive track meet with the Tide, it's Oklahoma.