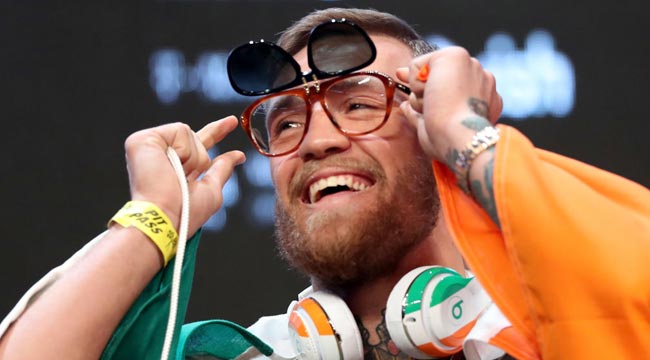 Conor McGregor is close to signing a deal for his next fight, and while he wasn't ready to share a potential date or opponent, he did tease a location for the match: Las Vegas. The former UFC featherweight and lightweight champion shared that detail with TMZ Sports while out on a run in New York, where he's been hanging out since pleading to one count of misdemeanor disorderly conduct last week.
"I love New York City, to be able to be here a free man, walking around this place," he said. "What a city! We'll see what happens. I'd love to fight in [Madison Square] Garden again, but I believe this one is in Las Vegas."
Negotiations between the UFC and McGregor had been stalled out ever since the Irish superstar and a group of his gym teammates stormed the Barclays Center leading up to UFC 223 in April, smashing the windows of a bus bringing UFC fighters back to their hotel. McGregor was attempting to get to Dagestani fighter Khabib Nurmagomedov, who had slapped Conor's close friend Artem Lobov in a confrontation earlier that week. Now that the UFC knows McGregor isn't about to be barred from entering America, a deal can be made for him to fight Nurmagomedov in a proper, legal fashion.
"It's not official but we're close," he told a crowd of reporters and fans outside of his hotel. When asked if he thought the fight would go down in 2018 he responded "I believe so, I hope so. I'm pushing for it."

A return to Las Vegas was always the most obvious choice for McGregor's return. Vegas is the headquarters of the UFC and the organization prides itself on bringing many of its biggest fights there to encourage tourism. Four out of McGregor's last five MMA fights and his boxing match with Mayweather went down in Vegas, and every event saw the strip slammed with tourists.
There are currently two UFC events scheduled for Las Vegas before the end of the year: UFC 229 on Oct. 6 and UFC 232 on Dec. 29. The October date would be just over two months away from now, but McGregor has been back to training for weeks already and the quick promotion time would match the short lead-up we saw in his superfight against Mayweather. So hold onto your butts, because it sounds like we're on Conor watch.