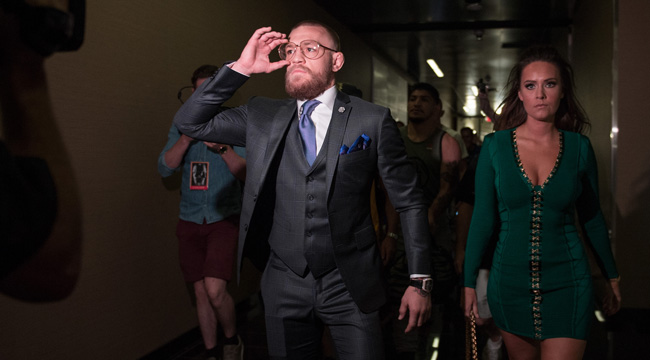 The big question on everyone's mind following Conor McGregor's win over Nate Diaz at UFC 202 is what's next for the Irish superstar. The UFC has already declared Conor would go back down to 145 and defend his featherweight title. But when asked if interim featherweight champion Jose Aldo was next, Conor didn't mince words.
"Probably not," he admitted.
"The belt situation is lingering," McGregor explained during a backstage interview following his victory. "I've got to talk. I've upset Lorenzo [Fertitta] and Dana White there, I know it was [Lorenzo's] last day a few days ago. I was expecting Lorenzo and his family to come [to UFC 202] for me. And I'm speaking to the new people now, so I dunno. I've got to talk about what's next. There's a lot of options. And some might not be this sport. So we'll see."
That's a pretty overt reference to a superfight with Floyd Mayweather, a match up McGregor recently claimed was in the financing stages. Later during the full press conference, Conor elaborated on his disinterest in fighting Aldo so soon after their last fight eight months ago.
"How long was I going back and forth with Jose? That must have been a two year build up," he said. "It's hard for me to get excited about that, especially after his last performance. It was a decision, he didn't go out and get it like I wanted him to get it. So I don't know. We'll see. I'm the 145 pound champion. The interim 145 pound champion is a man that I KO'd in 13 seconds."
If he was worried about the UFC's threat to strip him of his featherweight title if he didn't defend it, McGregor didn't show it.
"I don't think they're gonna do that," he said. "I mean, how can they do that? If they wanna do that, if they wanna give my belt to the guy I KO'd in 13 seconds and bury that division in the prelims and the fight pass and stuff, because that's what they're gonna do, we'll see. How can they do that? What would that do to the division if the guy I KO'd in 13 seconds is the unified champion?"
"So we've got a lot to talk about. I'm in a good position right now, and that was built through hard work, and I'm going to capitalize on that." He ended the press conference on a cryptic note. "There's a lot of stuff in the pipeline. S**t's about to hit the fan, I feel. So we'll see."